Podocarpus, Podocarpus
I honestly can't tell you how many times I have worked different types of podocarpus into my garden designs. When picking plants, I try to choose those that serve many purposes—and look good while doing it—and these evergreen shrubs/trees really check off all the required boxes.
Please keep reading to learn more about these handsome, versatile, and popular plants:
Hardy to USDA Zones 8-11, members of the Podocarpus genus come in different sizes, colors, and foliage shapes. Some grow to 3 feet and others tower to 80 feet. You can expect to find arching, verdant foliage or stiffer blue/grey types, depending on the look you are going for. What makes podocarpus so wonderful, though, is that they all are low-maintenance evergreen plants that deer leave alone. Plus, you can hedge them, sheer them, or turn them into a topiary if you have Edward Scissorhands skills.
To top it off, their roots are not crazy invasive and don't push through sidewalks or patios, meaning you can plant them near walkways or structures. But one friendly reminder: Some podocarpus can get really big if left alone, so unless you are going to routinely hedge your plant, avoid adding them under the eaves of houses as they will outgrow the space.
Usually I try to buy most of my plants in smaller sizes to save money on both labor and materials, but when it comes to podocarpus I aim a little bigger. Time and time again, 5 gallons of these plants have disappointed, so I now search for fuller 15 gallons or, if the budget allows, 24-inch boxes, especially if a privacy hedge is the goal. Pro Tip: to create a hedge, I usually plant podocarpus 3 feet on center and don't heavily prune in the fall to avoid encouraging new growth that can be damaged by cold temperatures.
A few to know (even though there are over 100 species):
Podocarpus gracilior, now known as Afrocarpus gracilior – a fast growing, dense evergreen that left alone can reach a massive 40 feet and 25 feet wide, but can miraculously be trimmed down to stay much shorter. This variety has lush foliage with a fern-like appearance and creates a graceful effect.
Podocarpus henkelii – this evergreen tree can soar to 25 to 35 feet tall by 15 to 25 feet wide but luckily can be kept much smaller by diligent pruning. The notable characteristic of this plant is its gracefully drooping shiny dark green foliage on sweeping branches. Perfect for hedges or screening, and thrives in a sunny or partly sunny spot. If grown in shade, the appearance is spindly and the growth is slow. Moderately frost hardy and drought resistant. This is one of my favorites.
Podocarpus elongatus 'Monmal' – a striking large evergreen shrub or small tree that will slowly grow to 15 to 25 feet tall. Best in full sun or part shade. What makes this plant unique is its cool grey-blue foliage. Cold hardy to USDA Zones 9-11.
Podocarpus latifolius – a slow growing upright and narrow evergreen tree to 40 feet in a garden setting. This plant also has a silver blue appearance and grows best in sun or part sun with regular water.
Cheat Sheet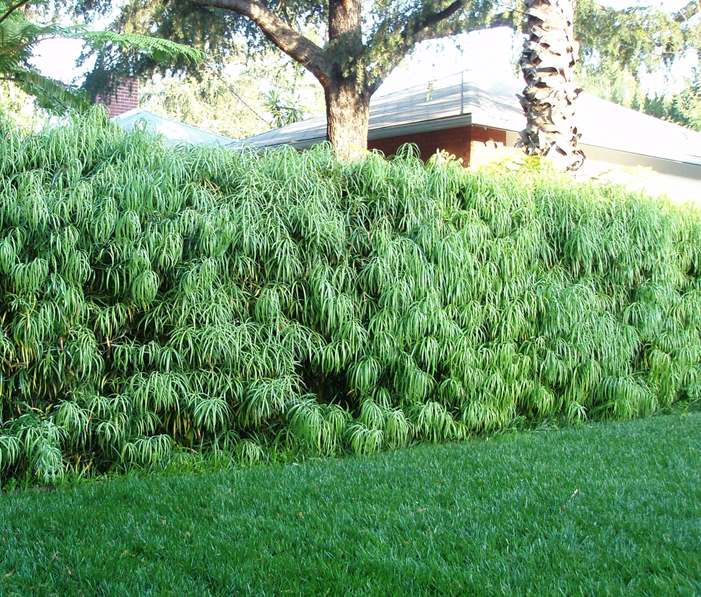 Perfect for evergreen hedges, privacy screening, windbreaks or focal plants. If left alone most make lovely shade trees.
Blends into most garden styles, from modern to cottage and even woodland.
Looks great in rural, suburban, and urban settings.
Can be pruned into balls, cones, or columns—even espaliered.
Deer do not like to dine on podocarpus.
Know that the stems, leaves, flowers, and pollen all contain a toxin and therefore some sources list podocarpus as being toxic to pets.
Keep It Alive
All thrive in full sun to part shade. Heavy shade creates a thin and weak version of itself.
Moderate water needs and likes well-draining soil.
Has a wide tolerance for growing conditions and will even tolerate a seaside exposure.
Prune regularly to maintain smaller sizes and to create a denser appearance.
Fairly resistant to pests and disease.
Not totally needed, but a light fertilization in the spring creates lusher growth.
For more no shrubs, see:
(Visited 1,193 times, 5 visits today)