Penstemon, Penstemon: "Beardtongue"
Whenever I teach schoolchildren about the symbiotic relationship between plants and pollinators, I show penstemons as the perfect example of a flower hummingbirds frantically search for because it has deep, nectar-rich tubes. Similarly, when I am searching for a hardy, long blooming perennial for a planting design, I reach for penstemons.
Please keep reading to learn why the hummingbirds and I use Penstemon.
Photography by Britt Willoughby Dyer for Gardenista.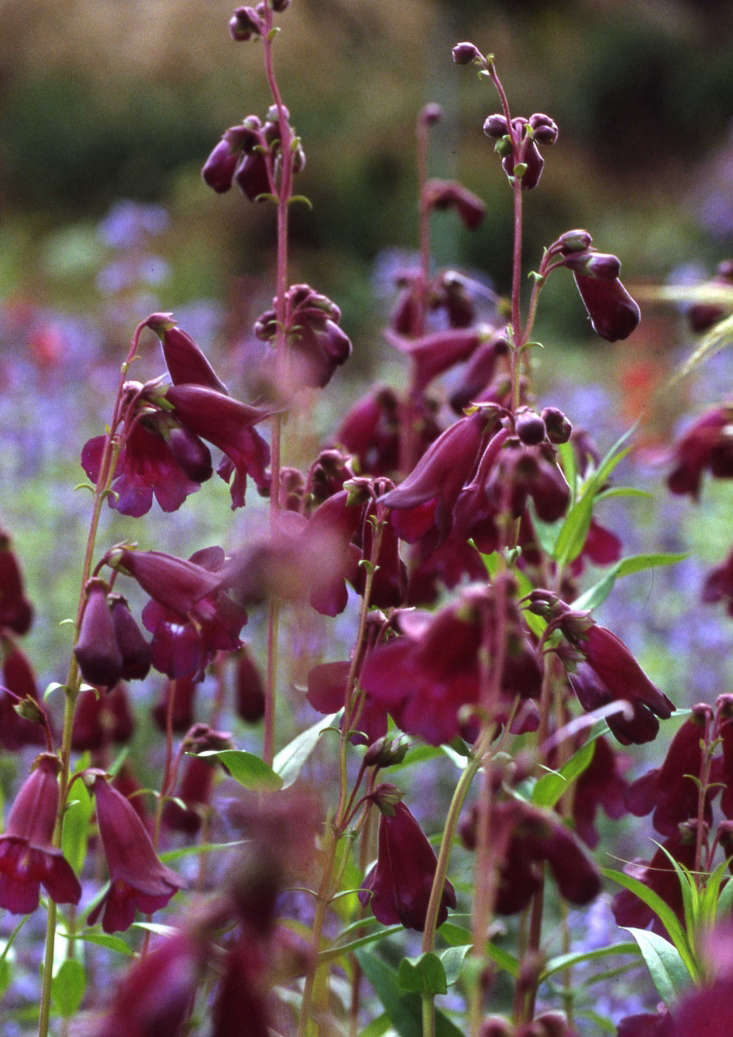 I'd like to begin by thanking the plantain family for giving us some pretty amazing flowers including foxgloves, snapdragons, and penstemon. With more than 300 species, there is a variety of Penstemon every garden theme, design, location, and size.
Penstemon is a herbaceous perennial that characteristically has slender leaves and showy spikes of tubular flowers, in a range of mostly saturated colors including pink, white, purple, red, and occasionally yellow.
In North America, penstemons are used frequently in xeriscape or rock garden designs because many are native to desert areas and can handle the harsh, dry conditions while also providing a colorful impact. But Penstemon also looks right at home in a cottage garden when mixed with perennials such as cosmos, hydrangeas, and roses.
A few favorites include Penstemon 'Midnight', with dark purple flowers and deep  green leaves (an evergreen variety) and Penstemon 'Apple Blossom', with large, trumpet-shaped, pink flowers with a white throat. It is very showy but short lived and needs to be replanted every three to five years.
Cheat Sheet
Bloom time for Penstemon typically begins in late spring through early summer, so try combining with plants that start blooming in mid summer, such as coneflower and black-eyed Susan, to fill the gap.
In addition to hummingbirds, bees also adore the pollen and nectar; Penstemon is a smart addition to a pollinator or meadow garden.
Try planting penstemons in groups of three or five plants for a massed appeal (but avoid crowding them).
Keep It Alive
Being prairie natives, penstemons like fast-draining soil. Sandy or rocky (not clay) is best, and they like to be watered deeply but infrequently once established.
Situate penstemons in full sun for a more upright and less saggy appearance.
While sounding fussy, penstemons prefer to be mulched with gravel (not bark) so their crowns don't rot over the winter.
Penstemon ranges in height from 1 to 3 feet, depending on the species, and will perform best if the spent flowers are pruned to promote re-blooming and tidiness. Cut the entire plant to the ground in the spring.
Read more growing tips in Penstemon: A Field Guide to Planting, Care & Design in our curated guides to Perennials 101. See more of our favorite hardy perennials:
(Visited 1,233 times, 1 visits today)