Mother Fern, Asplenium bulbiferum
With a name like mother fern, this plant must be the end-all-be-all, mother of all ferns, right? You wouldn't be far from the truth. I'm a huge fan of this magnificent specimen and I routinely add it to shady gardens. Hmm…..maybe another common name for this plant should be favorite ferny friend? (I am totally aware that this might not catch on.)
Please keep reading to learn more about this fabulous fern: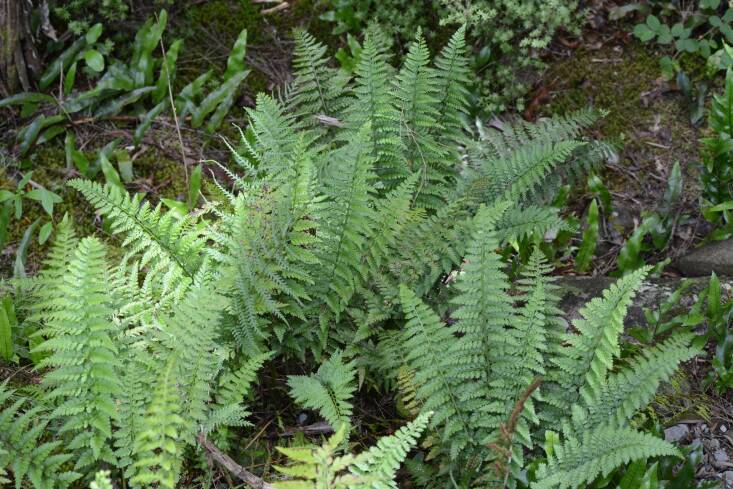 Mother fern also goes by hen and chickens fern, mother spleenwort, and New Zealand common spleenwort. With names like those, you instantly realize that this tropical fern is both native to New Zealand and probably holds some medicinal value to spleens. True on both counts: mother fern hails from the NZ region, and indigenous Maori collected young fronds and ate them raw or cooked. The hen and chickens moniker comes from the fact that the feathery fronds develop tiny offsets at the edges that grow to roughly two inches before falling off and then sprouting into new ferns near the parent plant. This is probably the real reason they call it mother fern.
Hardy to USDA Zones 9-11, this mildly tender evergreen fern really brings a vibrant and lush feel to gardens with its bright green lacy fronds that arch to two to three feet high; the entire plant grows to three feet wide. I like adding this fern to gardens where Japanese maples create dappled shade, where acorus and hakonechloa act as a grassy ground cover, and where other water-loving plants prevail. This fern also looks lovely tucked next to a large rock or around a water feature with fellow ferns and aquatic plants.
If you live in a colder region, consider growing this fern inside. A spot with lots of natural light is preferred. Even a covered porch or patio will work. Avoid hot direct sun through a window or skylight as this will scorch and dry out the delicate fronds. Indoors, this fern also likes consistent moisture but not soggy, so make sure your container drains properly. And if you really want to be successful with this fern, give your indoor plant a mini summer vacation by taking it outside and giving it a shower and some fresh air before bringing it back in.
Cheat Sheet
Perfect for modern, tropical or woodland gardens. Indoors, thrives near north- or east-facing windows.
Attractive plant partners include shade-tolerant palms, ornamental grasses, heucheras, philodendrons, and, of course, other ferns.
This graceful plant also makes a great container specimen, inside or outside the home.
Deer, slugs, and snails unfortunately find this fern tasty.
Keep It Alive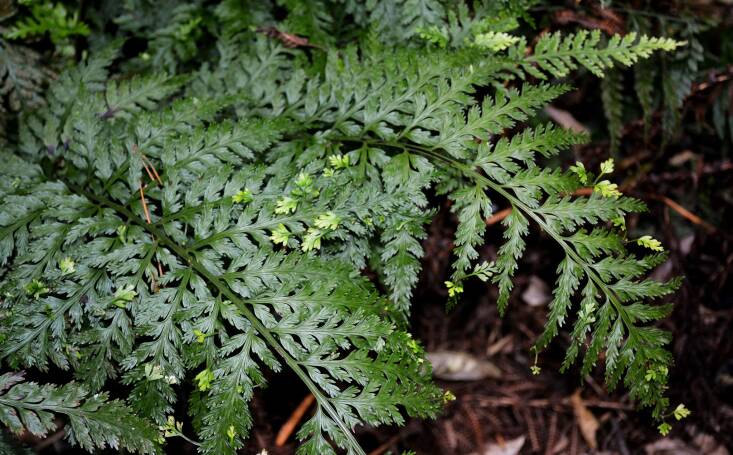 Plant this fern in a shady spot away from drying winds and thirsty roots of large trees. Deep shade is also tolerated.
Keep the soil moist. You will know your fern is dehydrated when the fronds droop and shrivel a bit. You can prevent this from happening by giving it regular water.
To make this fern happy, give it rich soil amended with compost or worm casings.
To protect the roots and help retain moisture, make sure you add an organic mulch around the base.
Carefully trim off any brown or dying fronds, being careful not to cut any emerging new growth.
See also:
(Visited 4,067 times, 32 visits today)
Frequently asked questions
What is a Mother Fern?
A Mother Fern is a type of fern plant that belongs to the Asplenium genus. It is known for its large, graceful fronds and is native to tropical regions.
How do I care for a Mother Fern?
To care for a Mother Fern, it is important to place it in a location with indirect light and high humidity. Keep the soil moist but not soggy, and mist the leaves regularly to maintain humidity. Avoid exposing the plant to direct sunlight or drafts.
Can I grow a Mother Fern indoors?
Yes, Mother Ferns can be grown indoors as long as you provide them with the right conditions, including indirect light and high humidity. They can make beautiful houseplants.
What is the best soil for a Mother Fern?
Mother Ferns prefer well-draining soil that is rich in organic matter. A mix of peat moss, perlite, and sphagnum moss can work well as a potting mix for these ferns.
How often should I fertilize my Mother Fern?
It is recommended to fertilize a Mother Fern every 6-8 weeks during the growing season, which is typically spring and summer. A balanced, water-soluble fertilizer diluted to half strength can be used.
Can I propagate a Mother Fern?
Yes, Mother Ferns can be propagated by division. Simply separate the plant into smaller sections, making sure each division has a healthy root system. Plant the divisions in separate pots with suitable potting mix.
Are there any pests or diseases that affect Mother Ferns?
Mother Ferns can be susceptible to mealybugs, scale insects, and spider mites. Regularly inspect the plant for any signs of infestation and treat accordingly. Avoid overwatering to prevent root rot.
How big do Mother Ferns grow?
Mother Ferns can grow up to 2-3 feet in height and spread. The fronds can reach a length of 2-3 feet as well, creating a lush and dramatic appearance.
Can I divide a large Mother Fern?
Yes, large Mother Ferns can be divided to create smaller plants. This can be done during the spring or early summer when the plant is actively growing. Make sure each division has roots and replant them in suitable pots.
Do Mother Ferns require pruning?
Mother Ferns generally do not require extensive pruning. However, you can trim off any dead or yellowing fronds to maintain the plant's appearance. Use clean, sharp pruning shears to avoid damaging the healthy foliage.