Japanese aralia, Fatsia japonica  
You may have a space in your garden that perplexes you. You stare at the spot, scratch your head, and wonder how you can enliven that dark, dreary corner, how you can distract from that boring, blank wall, or maybe wonder what could provide a year-round anchor to your garden bed. Oh, and the solution can't be fussy or water-hogging. Well, I have a plant idea for you: Japanese aralia. This is one of my go-to plants when a shady garden presents a challenge.
Please keep reading to learn about this problem-solving plant:
Native to Japan and East Asia, Japanese aralia is surprisingly in the ivy family, but don't let that scare you off. It is a speedy growing evergreen shrub sporting large maple-ish shiny leaves. In the fall, the plant produces pompom cream flowers that later turn to black ornamental winter berries. This plant can reach a useful height of 10 feet if left unpruned, which can be an awesome thing if you are trying to add interest to a blah fence, or if your garden bed needs some year-round architectural interest with a tropical flair.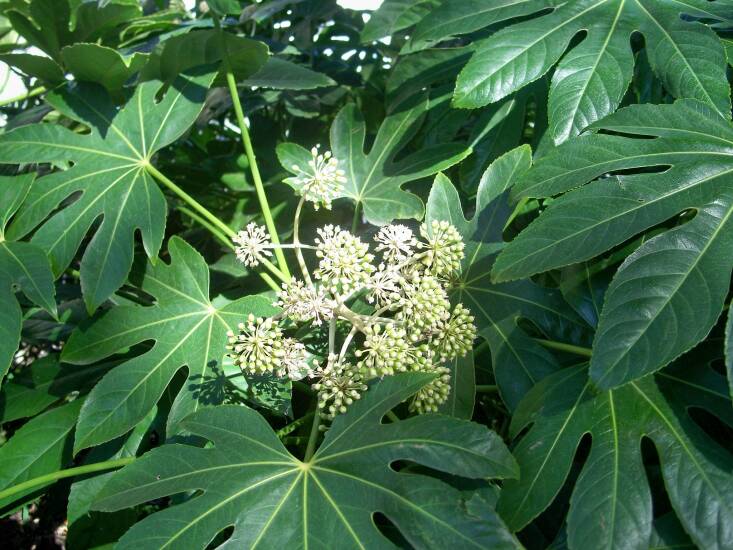 When you add this plant to your garden, remember to take advantage of its strengths by placing it in a spot that gets little light and attention, as it takes care of itself; or place it where you need to block an unsightly view. Of course, you could also highlight its boldness and use it as a focal point in a shady container 0r mixed into a planting bed. When you plant a Japanese aralia, try pairing it with contrasting foliage to accentuate the over-sized hand-shaped leaves or mix it into a planting scheme that also boasts jumbo foliage like Clivia, ginger, tree ferns, and Philodendron.
For an extra visual kicker, search out variegated varieties like Fatsia japoncia 'Variegata' (slower-growing and with leaves smudged with cream and green), 'Spider's Web' (a more compact variety speckled with cream spots) or 'Camouflage' (the perfect melding of lime, yellow, and green that grows a bit smaller, to 8 foot tall).
Cheat Sheet
Japanese aralia looks most at home in Asian, tropical, modern, or city gardens. It's also stellar around swimming pools or water gardens.
If grown in a frosty climate, it makes an excellent addition to your indoor plant family.
Great in large containers as a bold focal plant or to bring interest to boring bare walls or fences.
The oversized leaves look especially lovely when paired with delicate ferny or grassy leaves.
The flowers attract bees and the berries that arrive later are tasty to birds.
Keep It Alive
Grows best in USDA zones 7-10.
Plant it in full shade to filtered sun to also a partly sunny spot.
Like most plants, well draining soil is preferred.
Not super thirsty, but likes moderate drinks of water, less as it ages.
Prune to shape or to reduce its overall size. Pro Tip: I have cut these back really hard and they didn't balk at all.
You can propagate via cuttings or from seed.
For more shade plants, see:
(Visited 1,176 times, 1 visits today)