Bacopa, Sutera cordata: "The Misnomer"
When you're shopping at the nursery, do you ever wonder how all those gorgeous plants get their names? Me neither. But it turns out it's not a straightforward process. Naming goes like this: When a botanist labels a new plant, she gives it a Latin, also known as a botanical or scientific, name. The designation is generally two words, indicating the genus and species (though it might include additional classifying info) and adheres to strict rules called the International Code of Botanical Nomenclature. Every plant that you find in the nursery will have its own, unique Latin name that no other plant has…and it's the one on the plant label that's hard to pronounce.
When it comes to common names, though, things get murky. A single plant might have multiple common names, which can vary by region, and the same common name might be used for totally different plants. Which brings us to bacopa, or Sutera cordata. While true Bacopa monnieri is a water lover that's medicinally used to improve memory, Sutera cordata—which most people refer to as bacopa—has no known health benefits. But it's one of the easiest, most versatile plants to grow. So we are willing to overlook any controversy about its name.
Above: Sutera cordata can have pink, white, or lavender flowers. Photograph by Dinkum via Wikimedia.
Depending on variety, this South African native can grow from 2 to 8 inches tall, and spread from 2 to 4 feet wide. It's covered with tiny white, lavender, or pink blooms from spring until frost, and its grows year round where winters are mild; just be sure to water regularly to keep the flowers coming. It's gorgeous as a ground cover but I love it most in pots where its long, bloom-covered stems look like a floral cascade.
Above: Photograph by Julie Chai. To recreate the look of this mix-and-match container, see DIY Outdoor Planters: A Cool Palette for Hot Weather.
Cheat Sheet
Bacopa pairs well with nemesia, angelonia, low-growing carex or fescue, lamb's ears, coleus, million bells, diascia, and sweet potato vine. To name a few.
A fast grower with a long bloom time, bacopa is ideal in containers.
Perennial in growing zones 9–11, bacopa is a hardworking annual elsewhere.
Keep It Alive
Agreeable bacopa thrives in sun to part sun.
Its trailing tendencies make bacopa a natural for containers, hanging baskets, and as a ground cover.
Count on it from spring to fall; (bacopa will die in frost).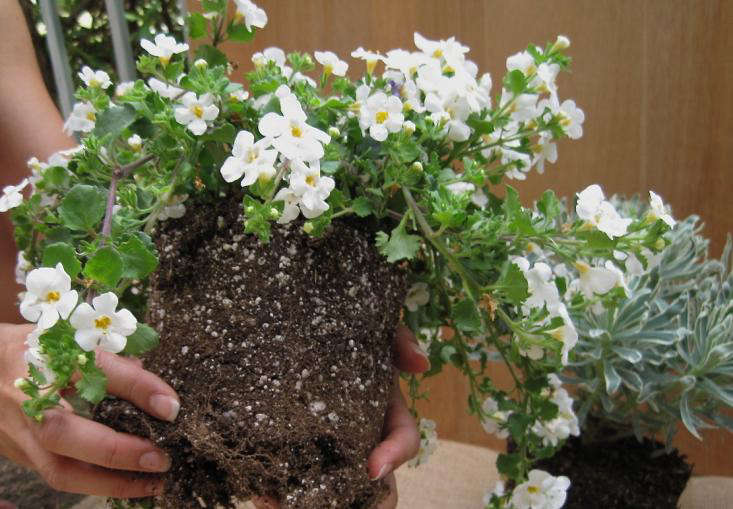 Above: Photograph by Julie Chai.
Keep soil moist, but not soggy, and you'll be rewarded with continual flowers.
For more of Julie's DIY container planting schemes, see:
N.B.: Looking to add perennials to your planters? Our Garden Design 101 guides can help:
(Visited 1,360 times, 2 visits today)