Born in the Netherlands and transplanted to Australia at age 9, Joost Bakker–the son and grandson of tulip farmers–earns a living as a florist, delivering and arranging flowers he grows on his own land to clients in Melbourne.
But at heart the high-school dropout is an eco-entrepreneur who designs zero-waste restaurants, composting toilets, freestanding vertical garden walls, and houses built of straw. He lives in one of them,with his wife and business partner, Jennie, and their three children.
While Bakker is busy capturing rainwater to wash dishes, milling his own oats, using cast-off bones to make broth, giving TED talks, and folding his clients' organic waste into his compost pile, let's take a look around his house in the Yarra Valley, a few miles east of Melbourne.
Above: Photograph via NYT.
Built in 2006, Bakker's 6,500-square-foot home (including living quarters, garage, and workshop) is covered with a steel mesh commonly used to reinforce concrete; the metal scaffolding holds 11,000 terra cotta pots of strawberries grown from seed his uncle sent from Europe.
Above: Photograph via Antarctica Architects.
Beneath the metal mesh screen, the walls of the house are insulated with bales of straw behind a facade of corrugated, galvanized iron. "Our house stays beautifully warm in winter and cool in summer," says Bakker.
Bakker, who has gone on to design other homes for clients, remains an enthusiastic support of straw bale construction.
Above: A Bakker-designed house in Kinglake about a half hour's drive north of Melbourne has 700 straw bales in the walls and ceilings. Photograph via Joost Bakker.
"Most people don't realize that straw is the world's most abundant waste product with over 1 billion farmers producing it," says Bakker. "It's basically the stalk that's left over after the heads of rice, wheat, barley, and other grains are harvested."
Above: Bakker creates vertical gardens for clients; here he waters mint plants growing on the facade of Macquarie Bank. Photograph via The Australian.
Above: Photograph via The Design Files.
On the six-acre site, a former cherry orchard, Bakker's house overlooks verdant hillsides.
Above: Photograph via Antarctica Architects.
"In some ways, Joost's landscaping is even more extraordinary than the house," says architect Brendan Jones of Antarctica Architects, who worked with Bakker on the project. "It's beautifully composed with different trees and shrubs lined up at an angle to the dwelling.
Above: Photograph via The Design Files.
Bakker built the house on a recycled concrete slab foundation and sided the walls in the entry courtyard with 150-year-old wood planks previously used on the Woolloomooloo wharves in Sydney.
Above: Photograph via The Design Files.
A window in the study looks out onto the driveway–and a fanciful spherical sculpture Bakker created.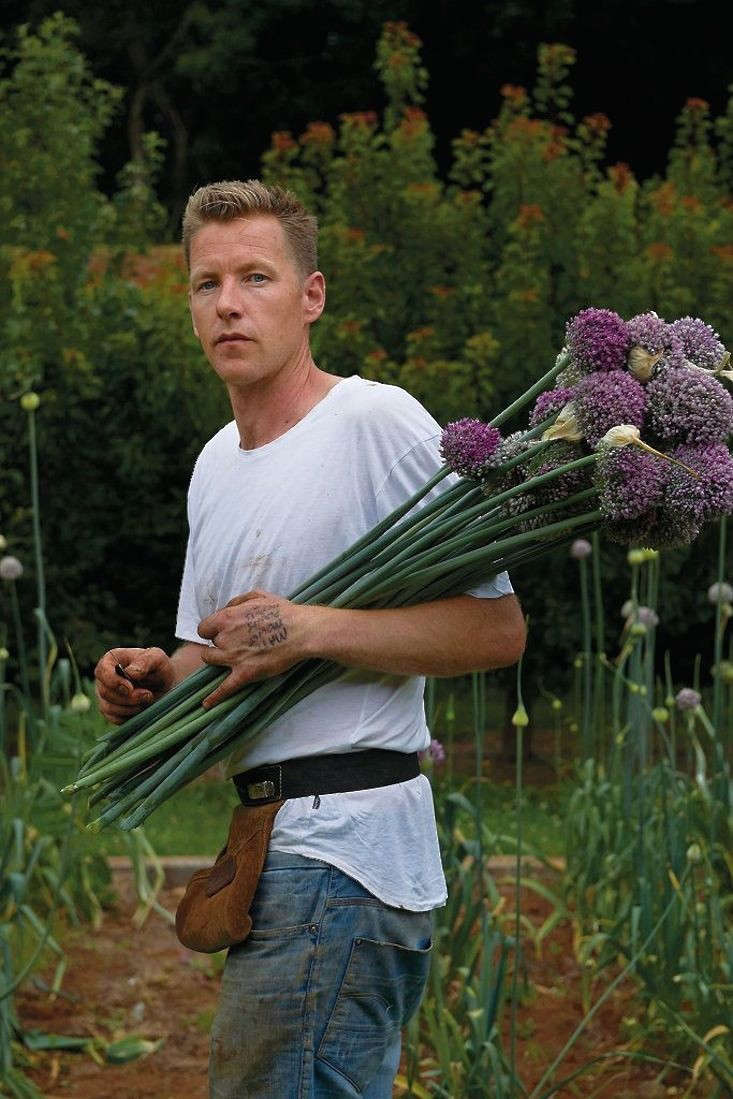 Above: Photograph via NYT.
Bakker raises plants for his clients' floral arrangements on several acres of his property. 
For more inspiration from Australia's gardens, see:
(Visited 334 times, 1 visits today)