My bias against As-Seen-On-TV miracle products kept me from paying much attention to a new generation of lightweight, kink-free garden hoses that stretch and shrink like rubber bands. Until I saw one in action in the garden at SF General Store. The demure black hose lives in a small bucket when it's not in use and has an elegant black skin that looks like fabric.
It's time to replace your heavy, hopelessly tangled hose. In addition to accordion hoses, there's a variety of other kink-free designs on the market, including self-coiling rubber hoses and wall-mounted retractable hoses that wind themselves up neatly when you don't need them. Here are 10 favorite garden hoses you won't dread dragging around:
Above: For more of this garden, see Garden Visit: San Francisco's Foggiest Backyard.
Expandable Hoses
If you've seen them advertised on TV, you may think that expand-and-shrink hoses are as unlikely to find a spot in your home as a Ronco 20 piece cutlery set. But not only are they much more attractive in action than in their packaging, the hoses also have earned kudos from Consumer Reports, whose testers concluded: "None lost flow when folded, twisted, or knotted–a problem with the conventional hoses we bought for comparison." 
Above: Billing itself as "the original expanding hose," a 25-foot rubber X-Hose Pro is $21.95 from Amazon. (For bigger gardens, a 50-foot X-Hose Pro is $37 from Amazon.)
A cautionary note from Consumer Reports, after testing three brands:"If any part is damaged or the hose leaks, expandable hoses can't be repaired like conventional ones. Their manufacturers warn you to keep them out of the sun when you aren't using them….And because they shrink to their original size when the water is turned off, all three are poor choices for use with sprinklers."
Above: Available in green, a Jhose Expandable Water Hose comes in lengths from 25 to 75 feet and with either brass or plastic connectors. Depending on the configuration, prices range from $13.16 to $46.59 at Amazon.
Above: A 75-foot Pocket Hose with brass fittings is $39.99 from Bed, Bath, and Beyond.
Retractable Hoses
A wall-mounted retractable hose is a kink-free, flexible option if you want a hose that disappears when it's not in use. Look for a model that has a durable reel and make sure that mounting hardware is included.
Above: A retractable hose that extends nearly 100 feet and rolls back neatly to live inside a plastic case that attaches to a facade, a Mitroon 30 Garden Hose is the Rolls-Royce of garden hoses; $335 from Lumens.
Above: From Flo Master, a 65-foot Retractable Hose Reel has a swivel mount and is $107 from Amazon.
Above: A Hozelock Wall Mounted Auto Reel comes with a 40-meter length of retractable hose; £142.99 from Two Wests.
Coiled Hoses
Another flexible hose designed to get out of your way when it's not in use is the self-coiling hose. A tried-and-tested design that's been in production for nearly two decades, it's available in a wide variety of lengths and colors.
Above: Oregon-based garden supplies entrepreneur Jeff Thomas invented the self-coiling garden hose in 1997. Today his polyurethane garden hoses are available in a variety of colors and lengths. Distributed by many retailers, a 75-foot Water Right Professional Coil Hose also is available in red for $69.95 from Water Right.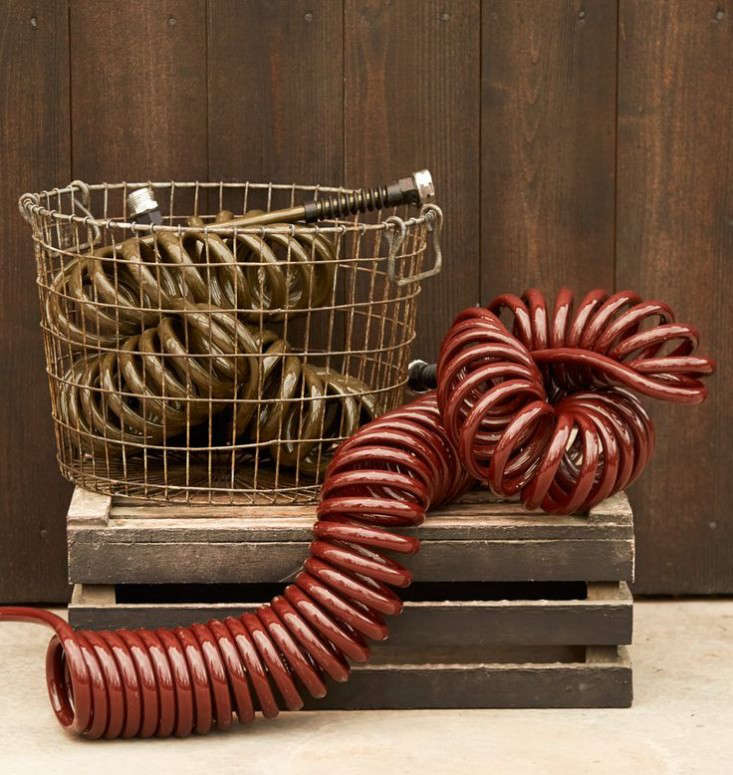 Above: Available in three colors including olive and espresso (shown), a 50-foot Coiled Garden Hose is currently on sale marked down from $59 to $47.20 at Rejuvenation.
Above: A Featherweight Coil Hose weighs 4.1 pounds, stretches to a length of 75 feet and is available in three colors; $69.95 from Gardener's Supply.
Above: A Gardena Professional Spiral Rose Set and comes with a wall mount, a pulse spray gun, tap connectors, and hose connectors. It is £35.60 from Two Wests.
Above: For more irrigation options, see:
(Visited 262 times, 1 visits today)