As a garden enthusiast and writer who covers all things green, I only learned of this incredible resource a few months ago.  I'm happily telling everyone I know that it's well worth the one-hour drive from Providence, RI to Boylston, MA (which is 50 miles west of Boston) to pay Tower Hill Botanic Garden a visit.  A well-kept secret that deserves to be shouted from the rooftops, Tower Hill will appeal to everyone from beginning gardeners to full-blown green-thumb experts, as well as those just looking for a peaceful place to spend an afternoon.
Photography by Christine Chitnis for Gardenista.
Above: Tower Hill has eight distinct gardens. Recently, I toured them with Horticulture Director Joann Vieira, who's been at Tower Hill for 26 years. She knows each garden intimately, as she is responsible for the planning and oversight of every garden on the property.  Her knowledge was astounding.
Above: Joann, and a host of other teachers, master gardeners, authors, and lecturers share their knowledge through special events, classes, tours, exhibits, concerts, and flower and plant shows. Tower Hill maintains an active schedule of events year round.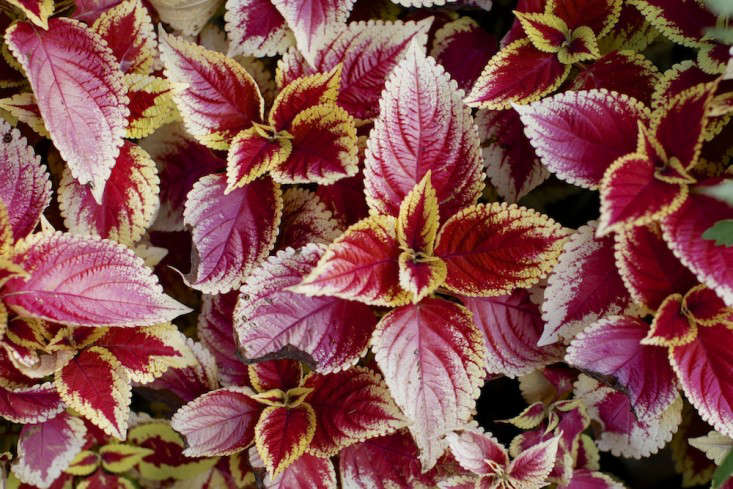 Above: While I typically think of fall as a time to start putting my gardens to bed, Tower Hill proves that fall plantings can be just as vibrant and interesting as spring and summer plants. Here 'Trusty Rusty' Coleus add a bright pop of maroon and yellow to fall beds.
Above: Looking like something out of a Dr. Seuss book, these Lion's Ear adds whimsy and color to the fall garden.
Above: The eight gardens are dedicated to new and heirloom vegetable varieties, as well as cut flowers and herbs. Though functional and intended for harvesting a crop, the garden is still planted in a way that is beautiful and scenic. Tower Hill was a gentleman's dairy farm, with a dairy barn, farmhouse and smattering of outbuildings before the Worcester County Horticulture Society bought it in 1986.  This garden shed is from the original property and retains its original color, which matched the dairy barn it once flanked.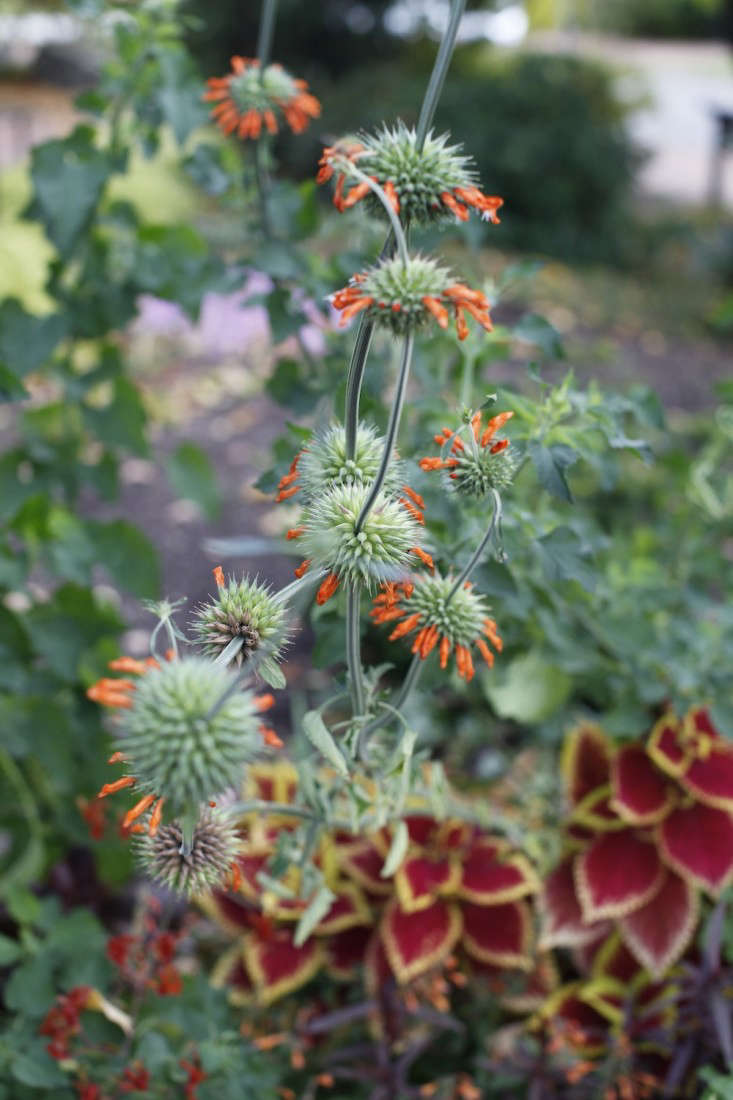 Above: You can easily wile away the hours winding through the gardens and wooded trails.
Above: Indoor garden spaces–the Orangerie and Limonaia–both house non-hardy plants from around the world. Finish the day with a late lunch at the farm-to-table Twigs Cafe.  On warm days, enjoy lunch or dinner on the patio, which offers breathtaking views of Wachusett Reservoir and Mountain.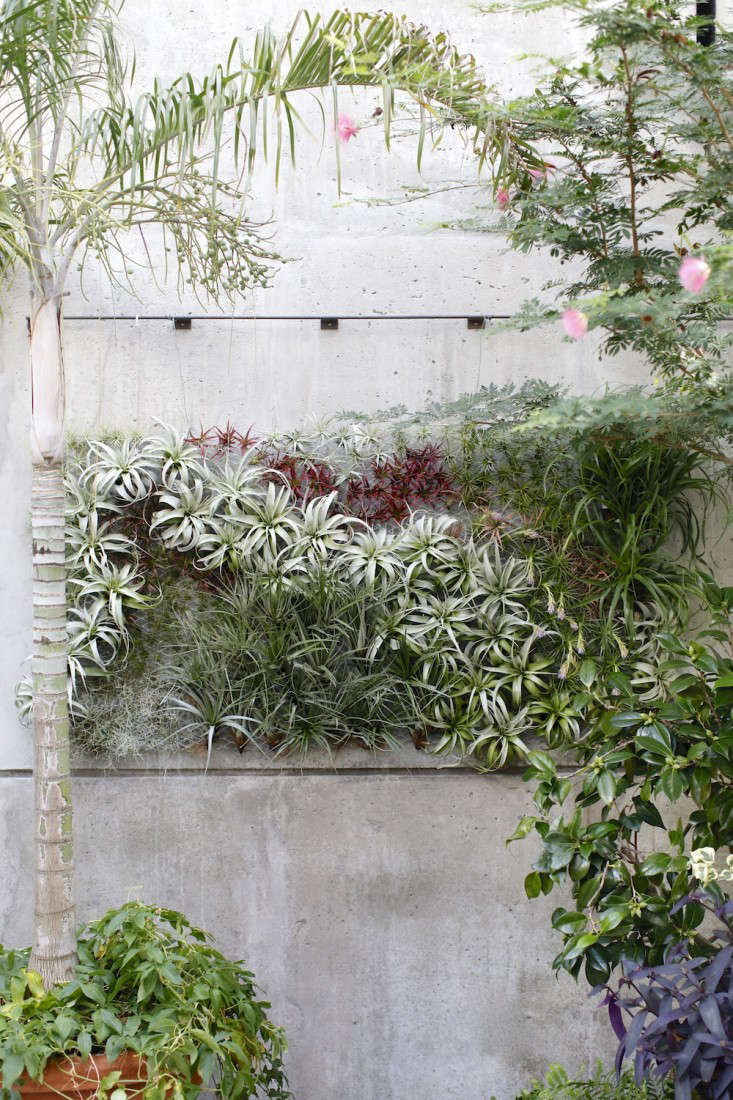 Above: This living wall was a DIY project that the Tower Hill staff put together for a special exhibit.  It's made up of hundreds of air plants individually secured to a wire net.  It now lives in the Limonaia, along with Tower Hill's collection of camellias and citrus plants.
A collection of begonias flanked by liriope and a camellia to the right; and fuchsia, ivy, and michellia to the left, create a vivid vignette in the Limonaia.
Above: Styled after 18th century greenhouses, the Orangerie offers a 4,000-square-foot cool, temperate home for winter-blooming container plants.  During summer months, many of the plants move outdoors and live in the various gardens. The glass roof allows natural light to pour in, and combined with the cathedral ceilings, creates an ethereal effect.
Above: My tour ended with a walk through the Systematic Garden, where plants are arranged "systematically," according to current scientific understanding of their evolutionary relationships, making it something of a real-life encyclopedia of the Plant Kingdom.  A bit over my head in terms of gardening knowledge, but stunning nonetheless!  All the more reason to make a return trip…hopefully for a class…and work on expanding my base of knowledge.  I can't think of a better, more beautiful place to learn.
Headed to Boston? Don't miss the gardens at the Isabella Stewart Gardner Museum or the Lyman Estate Greenhouses in nearby Waltham, MA.
(Visited 41 times, 1 visits today)