It's quite a statement on conventional English gardening to tear out a rose garden and replace it with exotics. In Christopher Lloyd's words, it was done as a way of bypassing rose replant disease but clearly, creating a jungle in East Sussex was going to be much more fun than pruning roses. We take a tour, between bursts of semi-tropical rain:
Photography by Jim Powell for Gardenista.
Above: One of the entries into the Exotic Garden is through an old cow shed, known as the Hovel. The yard next to it was converted by Sir Edwin Lutyens into a rose garden for Christopher Lloyd's parents, Nathaniel and Daisy Lloyd. The paved paths are still there and—surprisingly—a few roses.
Above: Dahlias have played a part in the Exotic Garden from the beginning, adding to the late-season color display for which Dixter is known. They also create an unexpected counterpoint to banana trees and other exotics, being old-fashioned favorites, like roses. Dahlias behave differently in this environment: they appear taller, their colors glowing more intensely against the green shapes.
Above: Lessons in texture and shape, with a circle of variegated yucca enclosed in a triangular bed.
Above: Self-seeded Verbena bonariensis is another cottagey plant that has made itself at home in the jungle.
Above: Texture and shape become accentuated in this enclosed space. The wiry starburst of Cyperus papyrus draws you down the flagstone path, even when there are other choices to make.
Above: Like an Amazonian jungle, this enclosure wraps itself around you at 360 degrees. It touches you as you step over and through it; sight, scent, and smell are on full alert. Audio is provided by other people in the exotic garden (usually hidden) expressing their delight to themselves or anyone within earshot.
Above: Like the High Garden on the other side of the house, the Exotic Garden is enclosed with formidable walls of yew. From the orchard, leaves of banana and bamboo can be seen escaping from the top of the hedge; the only hint that something different is going on inside. An old water bowser is permanently stationed by one of the gaps in the yew walls.
Above: English yew, like the open doors to the wardrobe in The Lion, the Witch and the Wardrobe, leading to a different world.
Above: From this entrance, the fluorescent Dahlia 'Kilburn Glow' is one of the first things to greet you, accompanied by bamboo, banana, climbing Mina lobata (Spanish Flag), and pale roses.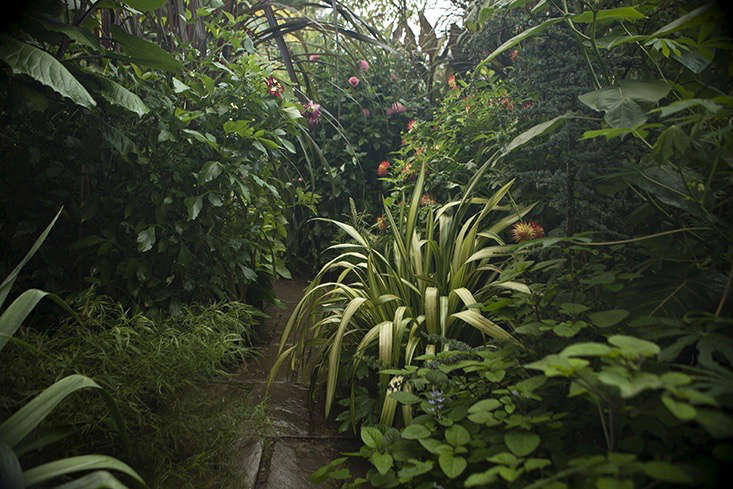 Above: Great Dixter is worth a visit for the nursery alone; it supplies many of the plants shown here. For more information, contact the Great Dixter Nursery.
Above: Dahlia 'Avoca Amanda', bent over so that we can see it. The rest of the plant is at least 7 feet tall. Conifers are a theme around Dixter, appreciated as companion plants for their texture.
Above: Step into the jungle. Dixter's visionary head gardener Fergus Garrett leads study days on exotic gardening in September, as the planting reaches its annual crescendo.
For more glimpses of Great Dixter, see Required Reading: Meadows at Great Dixter and Beyond.
(Visited 764 times, 1 visits today)