Sunflower, Helianthus annuus: "Van Gogh's Muse"
For the gardener, sunflowers are a mixed blessing.  They love sun and heat, and provide statuesque structure and vivid color when wimpier plants wilt in summer's oven.  Their nutritious seeds can feed the birds all winter if you can resist the urge to cut them down in the fall. However, nothing looks as ratty as a brittle, withered stand of sunflowers. They look so miserable that it requires a super-human amount of self-control not to yank them out of the ground. But oh, how glorious they are in their prime:
Photography by Britt Willoughby Dyer for Gardenista.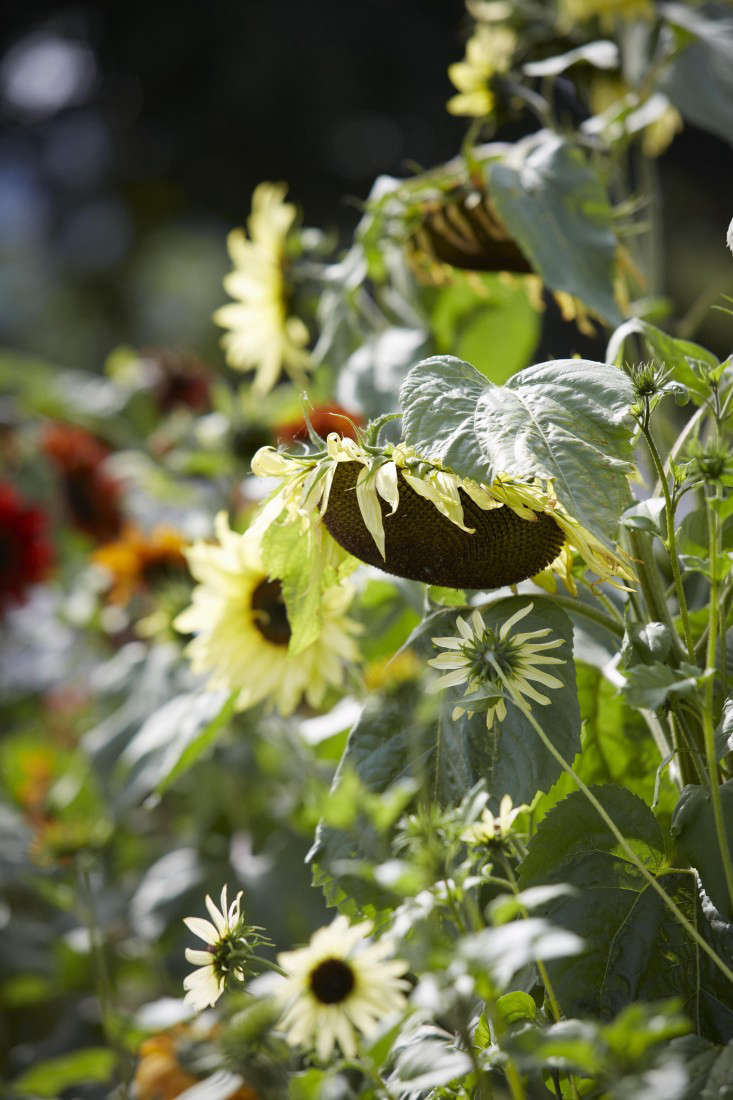 Above:  Helianthus 'Moonwalker' has pale yellow flowers and will grow as high as 10 feet. A packet of 25 seeds $2 from Seedville via Amazon.
There are more than five dozen species of sunflowers (nearly all native to North America). Growing to statuesque heights, they attract the three beneficial B's: bees, butterflies, and birds.

Above: Sunflowers are one of the few common ornamentals that in addition to having a number of practical uses actually exist as a cash crop.  They are widely farmed mainly for the oil in their protein-rich seeds.  Sunflower oil is a healthy and popular culinary ingredient and is also used as a component of animal feed and industrial products such as paint and lubricating oil.
Above: Helianthus 'Autumn Beauty' produces flowers in a variety of colors including yellow, bronze, and burgundy—all with dark centers. A .25-pound package of seeds is $8.95 from American Meadows.
The sunflower has a long history of practical and distinctive uses.  For Native Americans, who are believed to be the first people to domesticate it centuries ago, it was a mainstay of their diets.  Plains Indians ate the seeds and ground them into flour for baked goods.
Above: Helianthus 'Big Smile' is a dwarf variety (24 inches tall in the garden). A packet of seeds is $3.95 from Johnny Seeds.
For artists Vincent Van Gogh and Frida Kahlo, sunflowers were signature subjects. And for the Incas, who worshipped the sun god, sunflowers were considered sacred and were worn in the crowns of priestesses.
Above: Helianthus 'Floristan Red' will grow to a height of about 3 feet; a packet of seeds is $2.75 from Territorial Seed.
Cheat Sheet
In the vegetable garden sunflowers can be used to provide shelter from the sun for fragile plants such as lettuce and cucumbers which can be trained to use the sunflower's sturdy stalk as a trellis.
Plants to avoid placing near sunflowers are potatoes, pole beans and grasses.  There is evidence that the growth of these plants is inhibited by allelopathic chemicals exuded by sunflowers.
To give birds a source of food in winter, don't cut down the aging plants in fall.  Or, if you must, be sure and save the seed heads to put out for the birds when the temperatures fall and snow is on the ground.
Keep It Alive
The classic native sunflower is a fast growing annual that can easily reach a height of 10 or more feet and is best grown from seed placed directly in the soil.
True to their name, sunflowers love sunlight and need lots of it.  (However the ability of their large flower heads to follow the sun's path during the course of a day is apparently a myth.) Plant in direct sun in well-drained soil.
Once established sunflowers are drought tolerant and can thrive even in poor soil with moderate watering.  Deer don't bother them and their sturdy stems seldom need staking.
Above: There is a staggering number of varieties of sunflowers, some perennial, some single stemmed, some branching. There are dwarfs and giants.
Above: A packet of seeds for dwarf Helianthus 'Teddy Bear' is $2.95 from Johnny Seed.
You can have your pick of flower colors from white to yellow to red, mahogany or bronze. Pollen-less types are well suited for flower arrangements.
Above: But perhaps the most unexpected sunflower is Helianthus tuberosus,  commonly and rather confusingly known as jerusalem artichoke.  This plant, which is a perennial,  has a pretty yellow flower but its most remarkable feature is an edible tuber which resembles a potato.
Above: A packet of Helianthus 'Italian White' seeds is $1.95 from Park Seed.
In 1805 the explorers Lewis and Clark are said to have dined on jerusalem artichoke prepared for them by a Native American woman in North Dakota.
For more of our favorite late-season flowers, see Color Theory: 10 Perfect Plant Combinations for Autumn and Fall Flowers: 8 Best Plants, to Move Beyond Mums.
Finally, get more ideas on how to successfully plant, grow, and care for sunflower with our Sunflower: A Field Guide.
Interested in other annuals for your garden? Get more ideas on how to plant, grow, and care for various annuals with our Annuals: A Field Guide.
(Visited 157 times, 1 visits today)