Our resident DIY genius Alexa, who created the ten DIY projects in our new book, Gardenista: The Definitive Guide to Stylish Outdoor Spaces, has a theory about workspaces: the more organized and pleasant they are, the more excited you'll be to tackle a project at hand.
So, to celebrate the release of our new book (and to inspire you to get working in your own garden), we're giving away a pair of dip-dye garden tools featured in the book's DIY chapter. (Pre-order the book and fill out the form below to enter the giveaway contest.)
Enter now; the giveaway contest ends at midnight PST on September 28.  To enter, pre-order the book (ordering information below) and fill out the form at the bottom of this post. See Official Rules for details.
Photography by Matthew Williams for Gardenista.
Above: The set of dip-dye hand tools—including a garden trowel and fork—is just one of the book's ten easy DIY projects to create the Ultimate DIY Workspace. (The chapter also has step-by-step instructions to make such easy projects as painted cinder block planters, a flower pot pendant light, and a container garden on wheels.)
Above: Using dark gray paint and leather hanging straps, Alexa transformed a generic hand trowel and fork into display-worthy trophies. After sanding the tools, Alexa dipped them in exterior paint in a high-gloss finish.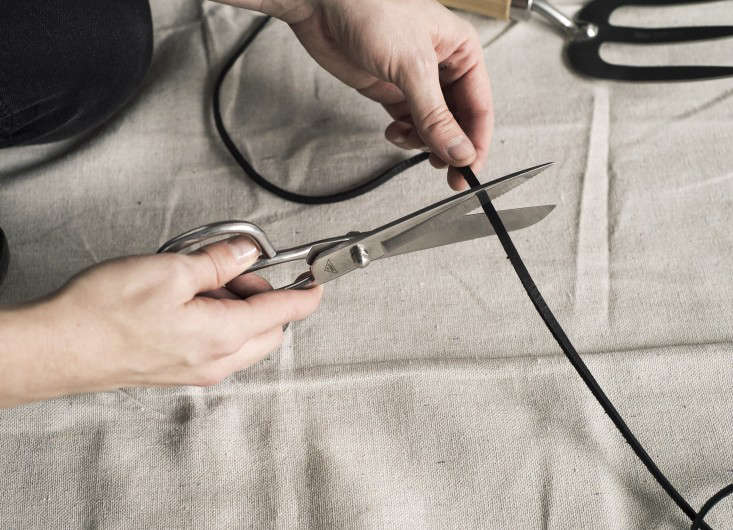 Above: Alexa measured a generous length of leather cord for each tool.
Above: After stringing the cords through the handles, Alexa knotted them securely.
Above:  Rule No. 6 of the Gardenista Manifesto: "If you have beautiful tools, you will enjoy using them for a lifetime."
Above: See instructions for all ten of Alexa's DIY projects in Gardenista: The Definitive Guide to Stylish Outdoor Spaces.
Ordering Information
Gardenista: The Definitive Guide to Stylish Outdoor Spaces is available in bookstores in the United States, Canada, the UK, Australia, and New Zealand. (If you live in Europe or Asia, you can order the book from your local Amazon site or Book Depository.)
US: Order a signed copy from Terrain. Other retailers include Amazon, Barnes & Noble, Books-A-Million, Powell's Books, and specialty stores. To find your closest independent bookstore, visit IndieBound.
Canada: Retailers include Amazon Canada, Indigo (Canada), McNally Robinson, independent bookstores, and specialty stores.
UK: Retailers include Amazon UK, Waterstones, and Book Depository.
Australia:  Retailers include Booktopia, Book Depository, independent bookstores, and specialty stores.
New Zealand: Retailers include Fishpond and to find a stockist near you, visit BookReps New Zealand.
This contest is now closed.


(Visited 29 times, 1 visits today)