Off the coast of Washington state, a 25-acre family compound on Decatur Island feels like summer camp: there's whale watching, and sailing, and hiking, and, in the distance, views of the rest of the San Juan archiepelago.
Designed by Seattle-based architects Hoedemaker Pfeiffer  as a cluster of buildings where family members can both come together and retreat to their own personal spaces, the Nettly Wood Compound has a master cabin, a picnic pavilion, a guest cabin, a writer's hut, and a renovated barn. Sited on a slope to take advantage of views and natural light on the wooded parcel, the structures are connect to one another by a single path:
Photography courtesy of Hoedemaker Pfeiffer.
Above: Porches are deep enough to invite family members to sit outside even in the rain.
Above: The renovated barn.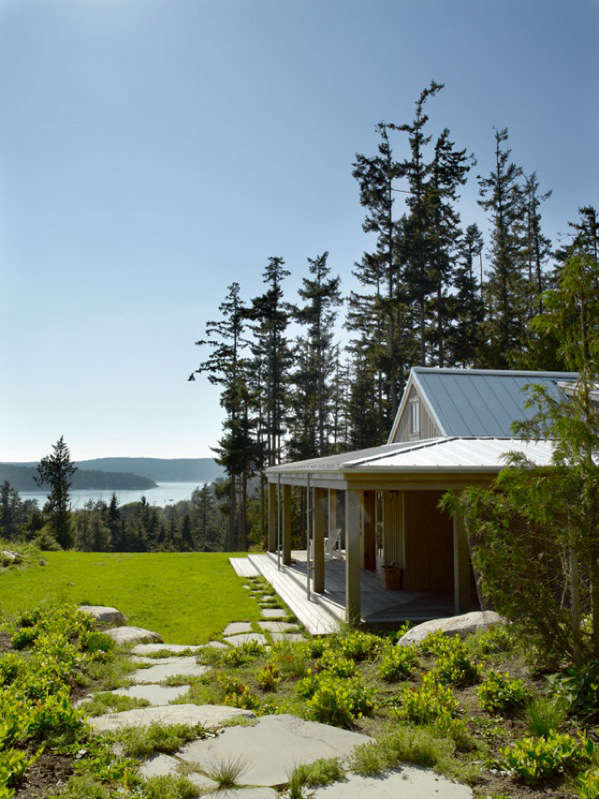 Above: Buildings are connected to one another by a single, continuous footpath.
Above: Trees cut down during construction were milled for timber framing.
Above: The structures were sited for both privacy and scenic views.
Above: A secluded writer's hut is on the edge of the woodland.
Above: Full height windows capture views. (N.B.: For 40 more images of Family Compounds, see our Gallery of rooms and spaces.)
N.B.: This is an update of a post originally published on August 1, 2012.
(Visited 146 times, 1 visits today)