No doubt new landscaping can be a costly home project, especially if it involves high-end materials and large specimen plants. I know this firsthand as a landscape designer who has to supply cost estimates to clients; I often find myself explaining (sympathetically) that plant prices have recently dramatically increased, that certain materials are more expensive than others, and that labor costs can slowly add up—especially if the yard sits on a steep hill.
The bottom line is that landscaping costs can fluctuate depending on the size of your yard, where you live, the materials you choose, and the amenities you want. But with all this said, luckily your new garden doesn't have to completely rock (and sink) your financial boat. What you need to do is approach your project honestly, smartly, and thoughtfully.
Here are some ways to save some money when designing your new garden:
Featured photograph via Foras Studio, from Before & After: A Modern Townhouse Garden in Brooklyn.
1. Research the heck out of it.
This is, perhaps, the most important thing you can do to save money. Start by making your wish list (start big because you can always whittle it down), browse gardening books and magazines for design ideas, visit local nurseries and landscape supply stores to get an idea of what materials cost (and then remember that your landscape designer will probably mark that up). If you're on a strict budget, be mindful and focus on what you actually need (a flat space for a grill) and not what you want (a built-in outdoor kitchen).
2. Splurge on the right stuff.
If I had to list the top things to splurge on, I would say: quality hardscaping like retaining walls, patios, and walkways as these are the bones of your garden and will look good all year. Also on my list: nutrient-dense planting soil or compost to get your plants off to a healthy start (never skip on proper soil prep) and an irrigation system with a smart controller to automatically supply the right amount of water to your plants. Where to save? Consider buying plants in smaller sizes (think 4-inch instead of one gallon, and 5 gallon not 15 gallon) and buying less plants at first and adding them on slowly as your budget allows.
3. Reuse and upcycle.
Asses what materials you might already have and what can be repurposed. Also scour yard sales and local neighborhood online sites and see if someone is offloading bricks, pots, or patio furniture. You may have to change your design a bit based on what you discover, but adopting this mindset can really help your bottom line.
4. Buy in bulk (and on sale).
If you're trying to fill a bunch of pots or amend large areas, don't even think about reaching for bagged soil. Get a truckload delivered, and if you have extra you can always store it and save it for the next time you need it. Also, if you can be patient, wait for sales at nurseries to buy some of your plants like annuals for pots, herbs, and veggies for your beds and ground covers to fill in bare spaces.
5. Plan a garden that gives back.
By including a veggie/herb garden into your design, you will save money on store-bought produce and be able to harvest what you need. (How many wilty, half-used heads of cilantro or lettuce do you have in your fridge?) Be realistic, though, about how much time you have to tend to and harvest your crops; otherwise that is a money- (and food-) waster. Try also incorporating plants that do a job, like lemon balm to repel mosquitoes, rosemary to keep away munching invaders like deer, or flowers that provide seeds you can save to grow more plants. Last, consider adding perennials and bulbs good for cutting and making homemade bouquets.
6. Think low-maintenance.
A garden that is relatively easy to take care of either by you or a crew will save on maintenance costs. Plan for trees, hedges, and shrubs that don't need routine shearing to look tidy; avoid fussy annuals and perennials that need constant deadheading; and abandon the large lawn idea that will need tons of water and fertilizer to look green. A water-conscious garden that incorporates natives, succulents, and drought-tolerant plants will also translate into a money saver.
7. Assess your abilities before you DIY.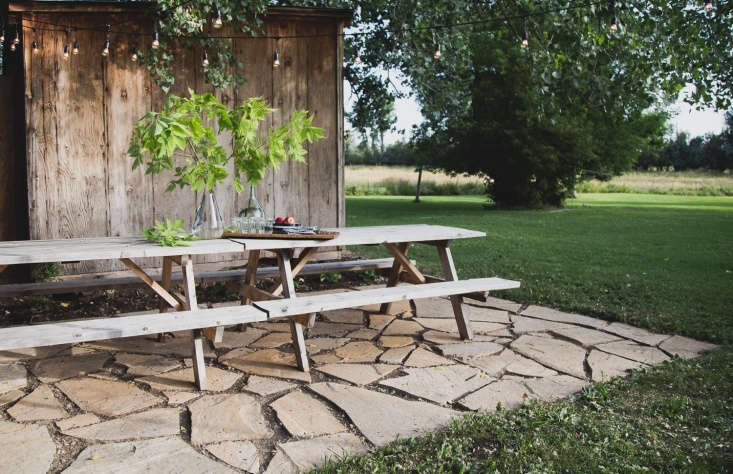 You may be tempted to DIY it all in the interest of saving money, but before you assign yourself the role of head contractor or lead horticulturist, write yourself a reality check and acknowledge that you'll likely have to let the professionals do at least some part of the project. You can certainly do some of the work yourself, but if done improperly it could actually cost you more in the long run. One thing to remember is that it's okay to call in favors if your aunt is a architect or your brother works in a nursery. I believe in the 'It takes a village' philosophy, so don't be shy. Ask for help. And remember that people usually love a homemade pie as a thank you.
For more ways to save money on your landscaping, see:
(Visited 445 times, 1 visits today)