Deepa Natarajan, an anthropologist by training but a colorist at heart, had an epiphany not long ago: many of us are acutely aware of where our food comes from, but we really have no clue about the source of color.
Natarajan's family hails from South India, and cloth and color are very much part of her family history. Natarajan has always been interested in color, so much so that she now works at the Permacouture Institute, a Berkeley-based nonprofit that explores fashion, textiles, and sustainability, where she spearheads the Seeds to Sew project helping local seed banks tag seeds for fiber and dye plants. We recently asked Natarajan to show us how to create natural dyes for dip-dyeing napkins and paper place cards for an upcoming dinner party (stay tuned). Here's what we learned:
Photography by Mimi Giboin for Remodelista.
Above: Natarajan lays out a batch of napkins dyed with ornamental plum leaves to dry.
Above: Natarajan uses leaves from ornamental plum trees (which require about 20 minutes of boiling) to create a purple dye. Cream card stock turns a mauve gray with the same dye.
Above: We sourced White Classic Linen Napkins from Sur La Table ( $39.95 for a set of four; currently on sale for $31.96) and dip-dyed them with natural olive leaf dye.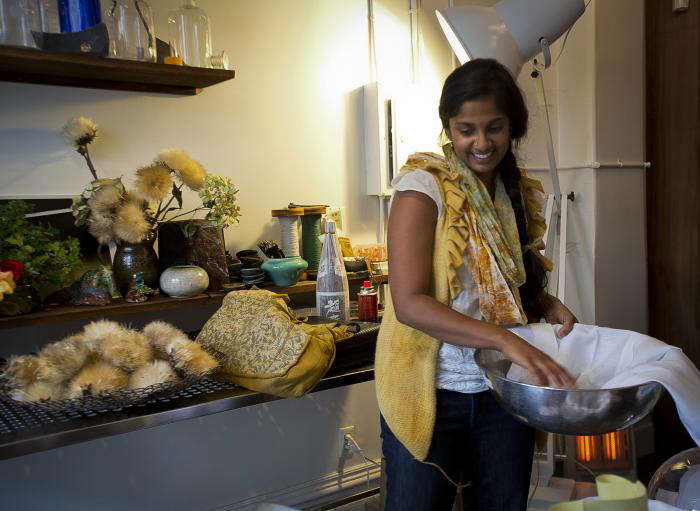 Above: Natarajan soaks the napkins in an alum solution to prepare them for dyeing (she buys the alum in salt form, then dissolves it with water to act as a mordant for the dye).
Above: Natarajan set up an impromptu workshop in our friend Louesa's Hayes Valley Flower Shop; she brought a portable gas camping stove to boil pots of water. To make three batches of dye, she used rosemary (eight sprigs, a foot long each), olive leaves, and ornamental plum.
Above: Natarajan uses tall glass vases to dye the napkins and smaller beakers for paper cards (the thicker the paper stock, the better it absorbs the color). The lidded jar on the right contains an iron solution Natarajan makes using rusted objects picked up at yard sales soaked in vinegar; the solution intensifies the colors.
Above: A rosemary green dye hot off the boil, with napkins and cards submerged; Natarajan made her own stick to stir the dyes using several sections of bamboo tied together with string.
Above: Olive leaves require several hours of boiling to create a strong enough color.
Above: A batch of newly dyed napkins.
Above: Napkins dyed with the rosemary.
For more ideas on how to create natural color dyes, check out Seeds to Sew.
(Visited 6 times, 1 visits today)