When our forager friend Louesa Roebuck (see her flower shop here) mentioned she might be pickling cherry blossoms, we asked her to report in detail. Here's what she had to say:
"My friend Sylvan Mishima Brackett from Peko Peko is committed to seasonal rituals. For the second year in a row, I have brought him cherry blossoms that have been harvested from Point Reyes, to Rockridge. They are a fleeting symbol of spring. This year I asked to be part of the beautiful process of salting them for use in his traditional but modern Izikaya cooking."
Below is an easy tutorial by Louesa of what they prepared in Sylvan's clubhouse and test kitchen.
For step-by-step instructions on how to arrange blooming cherry branches, see DIY: The Magical Powers of White Cherry Blossoms.
Photography by Chloe Aftel.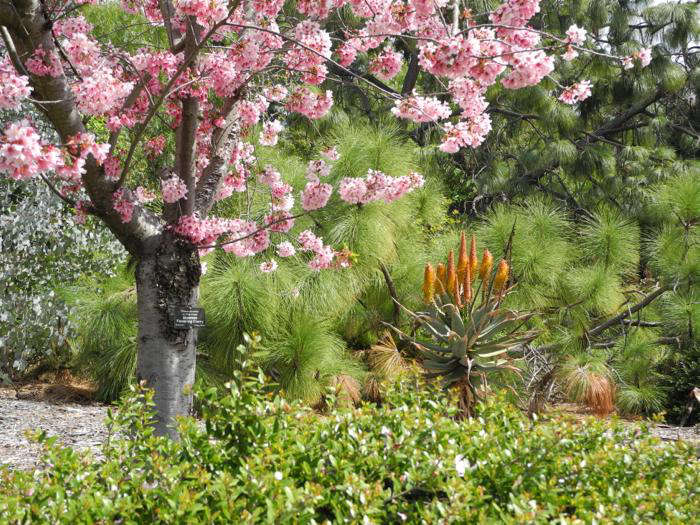 Above: When you are picking blossoms, look for tender young leaves and buds that are still fairly new and tight.
Above: Some may be more open and that's fine. Soak them overnight. The next morning let them drip dry.
Above: Then sprinkle with handfuls of salt, generously (for a pound of leaves, use approximately one cup of salt). Put into a nonreactive container, glass or ceramic. Thenput a weight the top, using something which is at least three times as heavy as the flowers.

Above: As they sit in water, the flowers and leaves will leach to form a fragrant brine. Eventually you want all the flowers submerged in salty brine. Let sit for four days in a cool, dark spot. Then pick leaves and flowers out with your hands, squeeze out brine, and discard brine.
Above: Put flowers and leaves in a clean vessel and pour Ume vinegar over the mix. The ratio should be three blossoms to one leaf, with enough vinegar for them to be barely submerged beneath the weight.
Above: Let sit for another three days. Drain, then spread leaves and blossoms on a bamboo or straw mat. Let them dry for a day in a shaded spot, preferably on a warm day. Pack them in salt to store.
Above: Seal and keep in refrigerator; they will keep about one year. Rinse before use, as you would capers. According to Louesa: "The pickles have a beautiful ume, salty, floral characteristic, unlike anything else, and Sylvan uses them in many ways: as garnish for fish, in onigiri with ikura, or dried and ground to make sakura salt. He most recently served cherry blossom salt with monkey faced eel tempura, for a dinner at Scribe vineyards."
For more on Sylvan and his recipes, visit Eat Peko Peko. For more on Louesa, see A Fearless Forager Opens a Shop in San Francisco.
Do you pickle petals? If so, tell us about your recipe (and what kind of flowers you use) in the comment secion below.
(Visited 338 times, 1 visits today)