Sitting in the office reminiscing about our childhoods (a topic second in popularity at Gardenista only to wondering what to have for lunch and is it too early), we were shocked to learn recently that editor in chief Michelle Slatalla hasn't lived in a house decorated with outdoor holiday lights since the 1970s, when her brother Jack used to shinny up the plum tree with a rake–or some years, a hoe–to drape strings across the highest branches.
This year, inspired by our partner The Home Depot, we decided to show her what she's been missing:
Photography by John Merkl for Gardenista.
Above: Michelle didn't know where to start when it came to figuring out how to deck her one-story stucco Spanish bungalow with outdoor holiday lights. She wondered: How many? What color? How big should the bulbs be? And how do you stick them on, anyway?
To answer her questions, we did a little sleuthing about how to design an outdoor light installation … and then we went shopping at The Home Depot for supplies. Here's what you need to recreate the look:
Materials: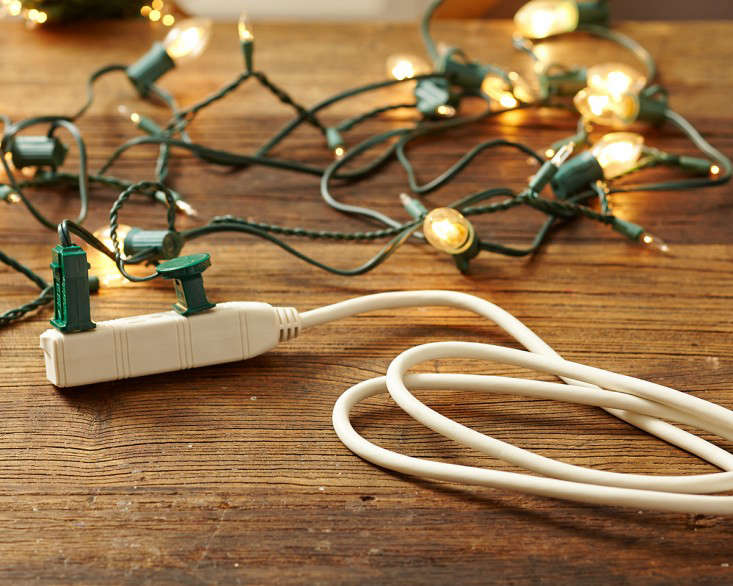 Above: For indoor use, a 15-Foot White Banana Extension Cord (Shown) is $12.98. For outdoor light installations, you can use a 50-foot Landscape Extension Cord ($15.97).
Question No. 1: How many?
Imagine you have baked a gingerbread house. Next step, icing. The same architectural details that you would define with white frosting–windows, doorways, chimney, roof line–are the ones we wanted to outline with lights on Michelle's house.
Our first step was to take measurements: the length of the roofline facing the street; the height and width of four casement windows on the facade; the vertical sides of the building facing the street, and dimensions of the porch windows and entryway. Then we bought enough strings of light to cover those distances.
Above: A C7 25-Light Clear String Light Set is $6.98 apiece.
Questions No. 2 and 3: What color and what size bulbs?
We decided to keep the palette simple and to use clear lights–by this point, we were thinking "starry gingerbread house"–and needed two sizes: strings of large-bulb C7 lights to define the roofline and vertical walls of the facade, and miniature lights for the smaller scale features (windows and doorways).
In addition to the facade, we wanted to light another area on the property and chose a tree at the edge of Michelle's driveway to wrap. Here is a simple tip: when designing an outdoor holiday light display, light up a second focal point, at a distance from the house, to create depth in the landscape. We used clear miniature lights on the tree, as well.
In all, we needed 800 clear miniature lights 100 linear feet of C7 lights.
Above: An Arrow Fastener Heavy-Duty Staple Gun is $17.76 and works with six sizes of staples, including (Shown) Arrow Fastener 3/8-Inch Crown Galvanized Steel Staples; $3.22 for a box of 1,250.
Question No. 4: How do you attach the lights? There are several techniques you can use to attach outdoor holiday lights. To outline wood-framed windows, you can discreetly staple a string of lights to a corner of the trim; you don't need many staples because gravity makes a string want to hang straight without extra help.
To attach lights to stucco or tile, you can use a dab of glue from a hot glue gun. (After the holidays, you can remove the lights using a dab of glue solvent.)
Bonus points: You can buy strings of outdoor lights with cords of various colors–green or white cords are the most common. We used both on Michelle's house, white cords against the stucco walls and green on her green windows, black handrail, and tree trunk.
We connected the strings to each other, plugging the end of one string into the beginning of the next. We used an outdoor-rated extension cord to connect the lights to an electrical outlet on a side wall of the house.
We wrapped the tree trunk tightly, to a height of 12 feet.
Dusk fell, the lights came on, the house glowed, and a neighbor walking a dog saw Michelle standing in the street admiring the display. "You should leave them up year round," the neighbor said.
"Oh my God, yes," Michelle said, turning to us to plead: "I want to live in a gingerbread house forever." Have we created a monster?
Looking for more holiday decorating ideas? We recently shopped at The Home Depot to create a surprisingly Easy and Elegant Thanksgiving Tabletop.
(Visited 188 times, 1 visits today)