Cornichons: Small and crisp, sour and French. They transform a baguette into a picnic, a plate into a party. They can elevate a tuna sandwich from the mundane to the artisanal in a trice. These petite, pickled cucumbers, preserved whole, have a distinctive crunch. In bistros and on French-inspired lunch breaks, cornichons are a classic accompaniment to patés, terrines, charcuterie, and rillettes. (And across the culinary channel, they have an English twin, the diminutive and acerbic gherkin, an essential partner for sharp cheese, whether stuffed into a cheddar sandwich are tossed atop a ploughperson's platter in a pub). Ready-made cornichons are easy to buy, of course, but they are satisfying to make, to be enjoyed minus the preservatives.
Read on for my cornichon recipe, and a tip to keep cucumber pickles crisp.
Photography by Marie Viljoen.
Cornichons are different from other cucumber pickles in that they are preserved whole when very small. The smaller, the better. The brine for cornichons is usually white wine vinegar-based. By contrast, a classic New York-style deli pickle, for example, will probably have been lacto-fermented, and is chubby. Bread and butter pickles are sliced before being brined, and dill pickles, well…there's the dill. There are as many cucumber pickle techniques as there are pickle eaters, and we're not choosing sides or favorites. But cornichons are undeniably cute.
Until relatively recently, it was impossible to find store-bought fresh, baby cucumbers (at least, in the US). That is changing. Sunset Qukes™ seem to have taken produce aisles by storm. Brighthouse Organics and NatureSweet's mini cucumbers might be sold at a supermarket near you. They are described as "ideal for dipping" and or "great for small hands." Fine. But pickling potential? That's exciting.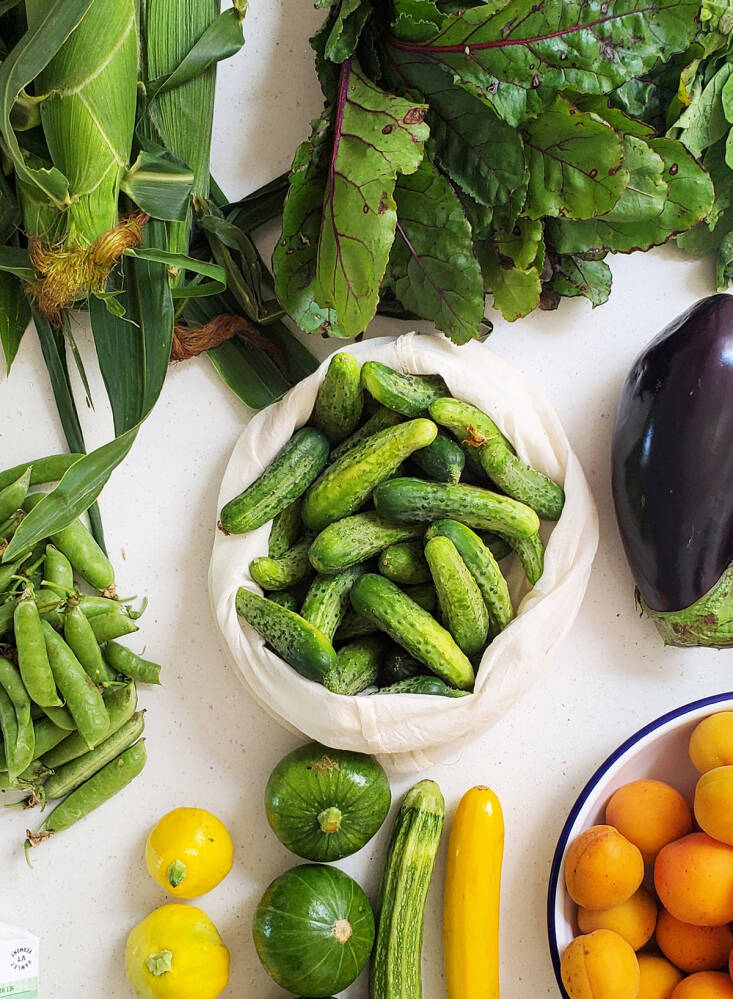 My own cornichon-making journey began locally, one hot July day at the Grand Army Plaza greenmarket in Brooklyn, where Willow Wisp Organic Farm, a New York grower, sells impeccable produce. Their irresistible, not-inexpensive baby cucumbers inspired me to pounce, which in turn required a method to preserve them, whole, without ruining my investment or their very good looks.
My previous whole-cucumber pickle attempts had resulted in flabby pickles. I didn't want a repeat. Another farmers market shopper advised me to trim off the cucumbers' blossom ends, where pickle-softening enzymes are alleged to reside. Online sleuthing corroborated her advice and also suggested a salt-rub, to help keep the pickles crisp. I did both, and added a pre-soak to restore the little cumbers to freshness after hot hours in the baking market-tent. The result? Perfect cornichons. Making them is now a summer ritual. Eating them is a quiet pleasure.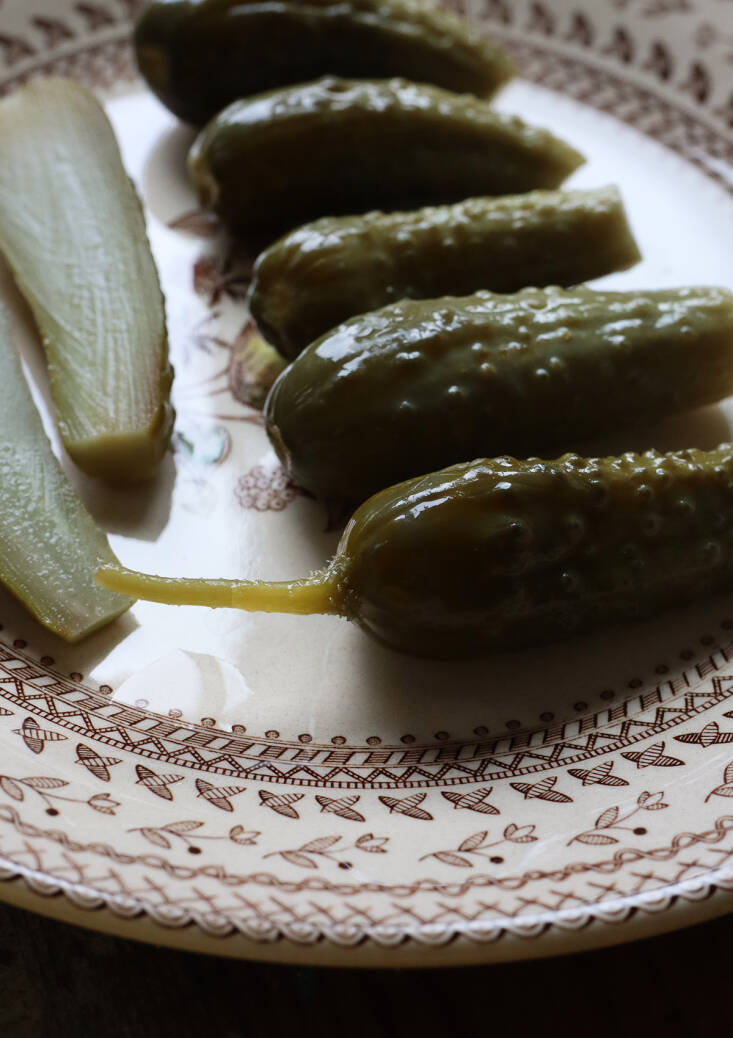 There are other methods for retaining crunch (including the appealing addition of fresh, tannin-providing grape leaves), but since achieving this pickle perfection, I'm not deviating from that holy trinity (soak, trim, salt). I have tested the cornichons at one week, three months, one year, and two years. Firm. Tart. Silkily sliceable.
Any condiment that can transform cottage cheese into a mouthwatering meal is a keeper. But cornichon-deployment is limited only by your imagination and pantry staples. Chop the little pickles into potato and egg salads, dice them into tartare sauce to accompany cooked or smoked fish, cut them to dress an opened can of good, olive-oiled sardines, spear them into a Virgin Mary, or slide them into a cold Martini. Accompany slices of sharp cheddar cheese with chubby cornichons. They gussy up any kind of open sandwich (which you must call a tartine, because, French).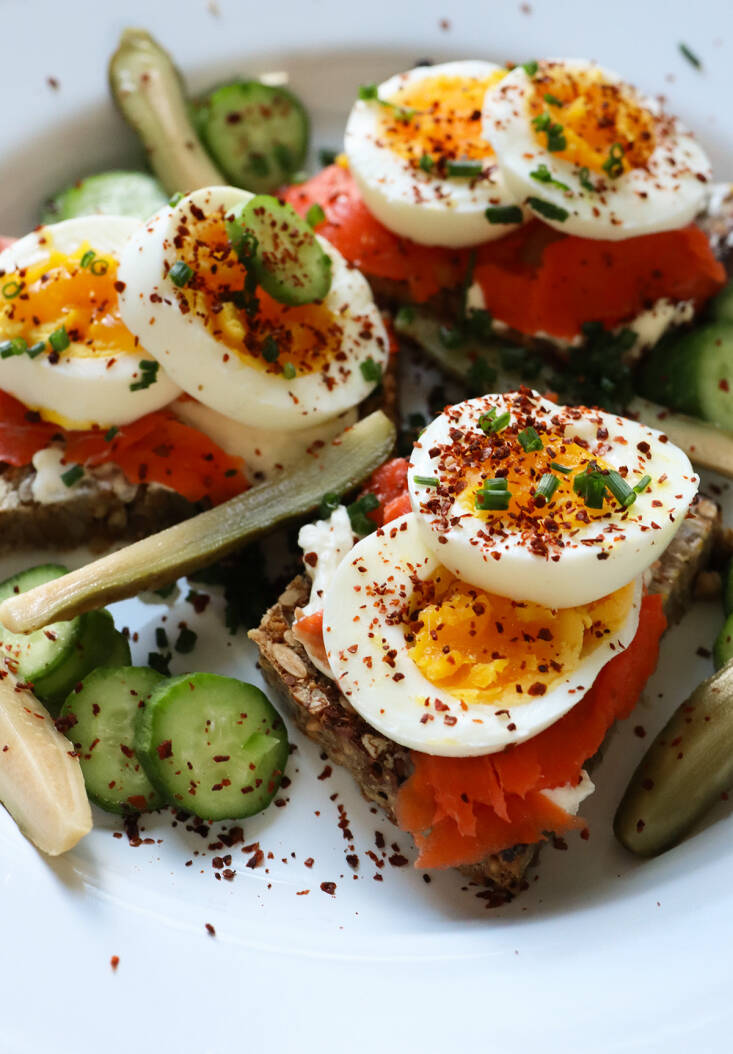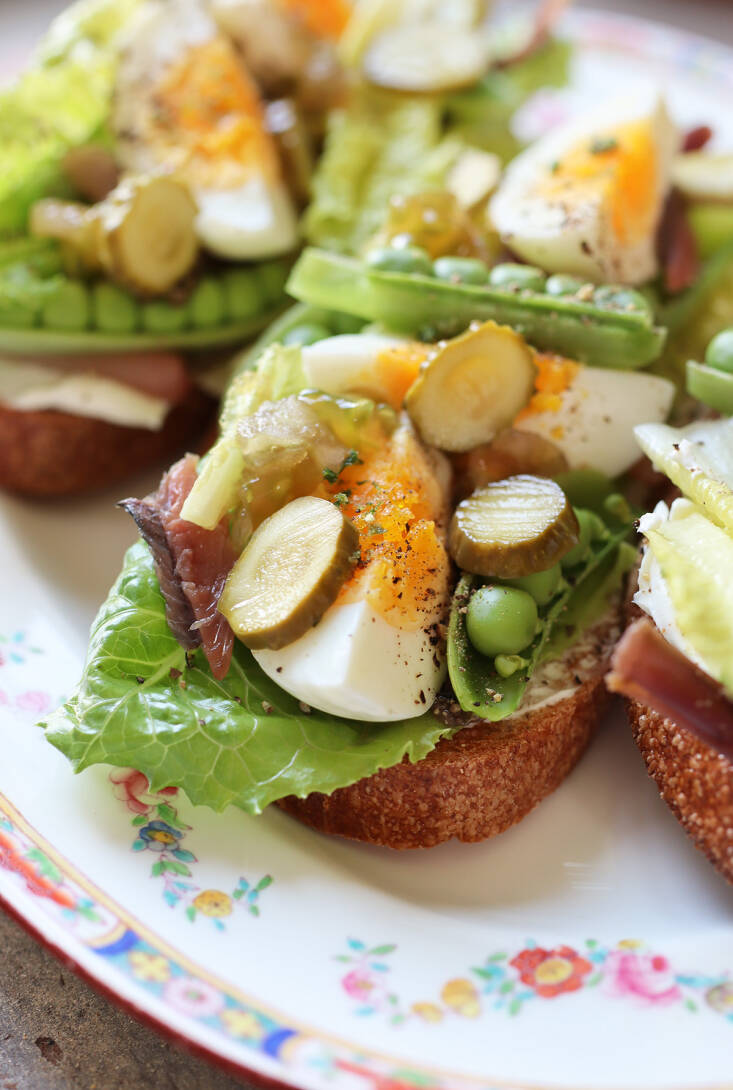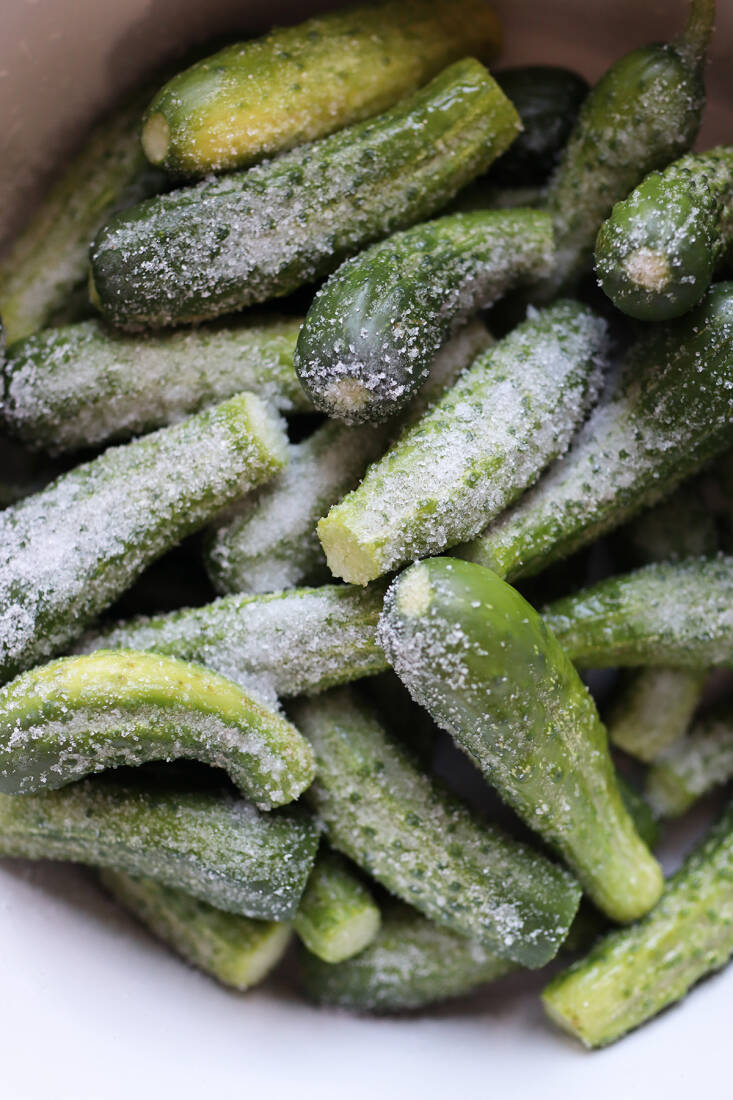 Cornichons
Use any small cucumbers. While baby cucumbers are perfect, mouse melons (also called cucamelons) are adorable, and even regular-size Persian cucumbers would work, as long as your jars can accommodate them. I use a cold brine unless additional spices are used, and these pickles have proved shelf stable for over a year, because of the high acid content. (The salt I used for pickling is fine table salt: either sea salt or rock salt.)
Cucumbers
1½ lbs baby cucumbers, ideally less than three inches long
2 Tablespoons salt
Brine
2 ½ cups white wine vinegar
6 Tablespoons sugar
4 teaspoons salt
Optional spices
1 Tablespoon mustard seeds
1 teaspoon black peppercorns
Wash the cucumbers, then soak them in a large bowl of water for three hours. Drain them, pat them dry, and slice off their blossom-ends. Return the cucumbers to the bowl and toss with the salt. Refrigerate the salted cucumbers for 3 hours. Drain off the exuded liquid (save for stirring into a drink, if you like) and pat dry.
Using just-washed hands, place the cucumbers in sterilized jars.
Combine the brine ingredients* in a bowl or measuring jug and stir until dissolved. Pour over cucumbers. Screw the lids on tightly.
* If using the mustard and black peppercorns, bring the brine to a boil for a minute, cool completely, then pour over the cucumbers.
See also:
(Visited 6,001 times, 21 visits today)
Frequently asked questions
What is the recipe for making cornichons?
To make cornichons, you will need the following ingredients:
- 1 pound of mini cucumbers or pickling cucumbers
- 1 cup of white wine vinegar
- 1 cup of water
- 1 tablespoon of pickling salt
- 1 tablespoon of sugar
- 2 cloves of garlic, thinly sliced
- 1 teaspoon of dill seeds
- 1 teaspoon of mustard seeds
- 1/2 teaspoon of black peppercorns
Here's how you can make the cornichons:
1. Start by thoroughly washing and drying the cucumbers.
2. In a saucepan, combine the vinegar, water, pickling salt, and sugar. Bring the mixture to a boil.
3. Meanwhile, in each jar, place a few slices of garlic, dill seeds, mustard seeds, and black peppercorns.
4. Pack the cucumbers tightly into the jars.
5. Pour the hot vinegar mixture over the cucumbers, ensuring they are fully submerged.
6. Allow the jars to cool to room temperature, then cover and refrigerate for at least 24 hours before serving.
Enjoy your homemade cornichons!
How long should I refrigerate cornichons before serving?
It is recommended to refrigerate the cornichons for at least 24 hours before serving. This allows the flavors to develop and the cucumbers to fully pickle in the vinegar mixture.
Can I use regular cucumbers instead of mini cucumbers for making cornichons?
Yes, you can use regular cucumbers as an alternative to mini cucumbers for making cornichons. However, pickling or mini cucumbers are preferred due to their smaller size, which results in a more desirable texture and taste for cornichons.
Is it necessary to use pickling salt for making cornichons?
Using pickling salt is recommended for making cornichons. Pickling salt is free of additives like iodine or anti-caking agents, which can affect the taste and appearance of your pickles. However, if you don't have pickling salt, you can use a non-iodized salt as a substitute.
How long can I store homemade cornichons?
When stored properly in airtight jars in the refrigerator, homemade cornichons can be enjoyed for up to several months. However, for the best quality, it is recommended to consume them within 3-4 months.
Can I adjust the seasoning in the cornichons recipe?
Absolutely! The seasoning in the cornichons recipe can be adjusted according to your taste preferences. Feel free to experiment with different herbs, spices, or even add chili flakes for a spicier version. Just make sure not to overpower the delicate flavor of the cucumbers.
Are cornichons the same as regular pickles?
Cornichons are a type of pickle, but they are typically smaller in size and have a more tart and tangy flavor compared to regular pickles. They are usually made from pickling or mini cucumbers and are often served as a condiment or snack.