Steel factory windows and doors frame the views in some of our favorite gardens. New or salvaged, their industrial style mingles well with both modern and traditional architecture to add free-spirit informality to even the grandest garden. Here are 11 of our favorites:

Above: Photograph by Dustin Aksland.
Architect Elizabeth Roberts replaced the back wall of a townhouse in Fort Greene, Brooklyn with two floors of full-height windows. On the ground floor, the entire window wall swings open to the garden. For more of this project, see Indoor/Outdoor Living, Brooklyn Style on Remodelista.
Above: Photograph by Felipe Fontecilla courtesy of Ricardo Torrejón.
In Chile, Santiago-based Ricardo Torrejón Architects designed an outdoor room tucked between the kitchen and dining area, framed by steel windows and protected from the region's fierce afternoon winds.
Above: Photograph by Matthew Williams courtesy of XS Space.
In Manhattan's Greenwich Village, Brooklyn-based architects Khanna-Schultz connected a ground floor kitchen to a back garden with accordion-style steel windows. Garden designer Julie Farris of XS Pace reinforced the connection between indoors and out by using the same paving material—use the same kitchen paving material— Valders Limestone—on the patio.
For more of this garden, see Before & After: From "Fishbowl" Backyard to Private Oasis in Manhattan.
Above: Photograph by Hufton & Crow courtesy of Gundry & Ducker.
London architecture firm Gundry & Ducker chose double glazed steel windows for their 1930s look. The architects sourced windows from Clement Windows in the UK. The EB24 Range by Clement are designed to match the appearance of historic steel windows, but they're upgraded with 21st century technology.
Above: Photograph by Chris Tubbs, courtesy of Charles Mellersh.
Steel-framed glass windows open to a brick courtyard in a London townhouse. For more of this project, see A Notting Hill Townhouse Tailored for Family Living on Remodelista.
Above: Designed by Remodelista Architect and Designer Directory member landscape architect Susan Wisniewski, a garden for a Manhattan townhouse has layers of texture–stone, wood, and greenery–to create an illusion of greater space. For more of her work, see Landscape Architect Visit: A Hudson Valley Farm, Pond Included.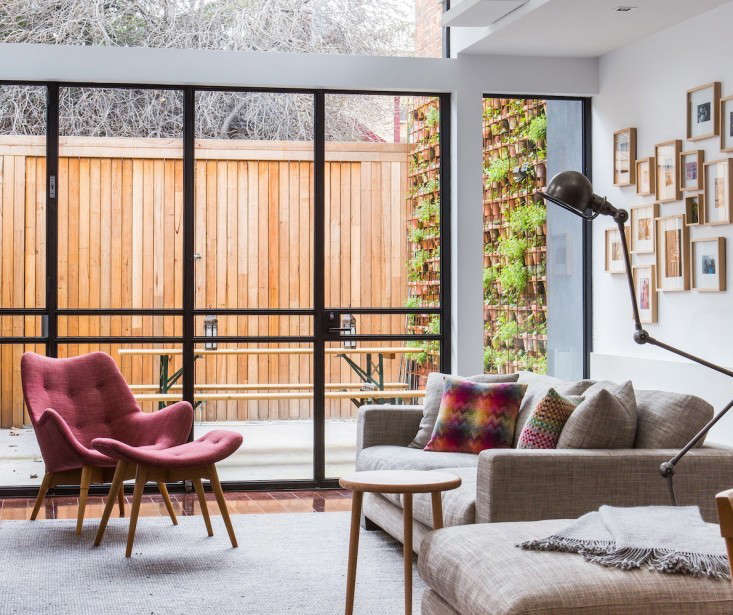 Above: Photograph by Sean Fennessy courtesy of Claire Larritt-Evans.
In Australia, a wall of steel windows and doors lures sunlight into a townhouse living room. For more photos, see Design Sleuth: Vertical Garden of Terra Cotta Pots.
Above: Photograph by Sean Fennessy courtesy of Claire Larritt-Evans
Interior designer Claire Larritt-Evans created a vertical garden wall on a small balcony.
Above: Factory-style French doors open onto an outdoor terrace at La Granja Ibiza hotel. For more of this project, see Hotel with a History: A Landscape of Sun and Stone. Photograph courtesy of Design Hotels.
For more window strategies, see:
Finally, get more ideas on how to upgrade your home's facade with our Hardscaping 101: Exteriors & Facades design guide.
(Visited 782 times, 2 visits today)