This year's Best Edible Garden contest resulted in a tie. Today we profile co-winner Judy of Somerset, in the UK.
Her project was chosen as a finalist by guest judge David Stark, who said: "This garden is not only functional but romantic and visually stunning. The details–the stained, raised beds, and the natural accessories–all work hard to make this garden a natural extension that complements the cottage perfectly."
N.B.: This is the second of seven posts spotlighting the winners of the 2015 Gardenista Considered Design Awards. Go to this year's Considered Design Awards page to see all the entries, finalists, and winners, and have a look at Remodelista's Considered Design Awards, too.
Judy's Design Statement: "For Christmas, my boyfriend bought me a 'Constant Garden' from Rocket Gardens, essentially six deliveries over the spring and summer of plug-plants for a vegetable patch. With only grass and apple trees around the cottage, I had to act quickly and prepare some ground for the imminent first delivery."
Q: Where do you live?
A: I live in Somerset, which is in the South West of England. The cottage is on the edge of a village and surrounded by fields of cider apple trees and sheep.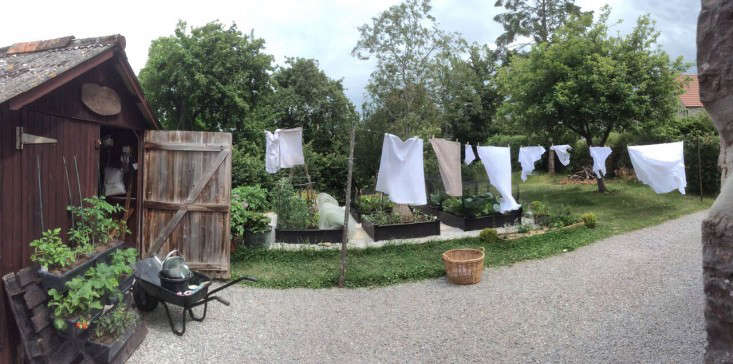 Q: What were your practical goals for the project?
A: When I first moved here last autumn, I didn't plan to change the garden, which was a simple affair with two apple trees and grass. Then for Christmas, my boyfriend bought me a gift voucher for a series of vegetable plug-plants to be delivered through the spring and summer, and I had nowhere to put them. It was rather romantic, as I have often "waxed lyrical" about my old gardens, and he could sense that I really loved them, even though I said I didn't want to start another one. So I had to design and build something quickly to take a lot of plants in a small space. I wanted it to be practical and easy to manage year-round, so I put it next to the house. But then it needed to be beautiful, because it would be next to the house! It also needed to be as eco-friendly and organic as possible. I built it nearly all by myself, over several weekends in the spring, just in time for the first delivery of plants in May.
I profiled the entire design and gardening process–including before and after photos–on my blog, Dig My Veg. 
Q: What solutions did you find to your design problems?
A: Having built vegetable gardens before at previous homes, I knew that investing in the "bone structure" of the garden right at the start would pay off in the long run. The main things were:
Making sure the kitchen garden was positioned to get maximum sunlight (I had to remove an old apple tree to do that).

Ensuring that the raised beds were easy to maintain, would wear well, and were spaced so a wheelbarrow could get in between.

Choosing gravel for the paths to make it reasonably dry to walk on all year round and to deter weeds, grass, and slugs. (It also looks good and lasts forever.)

Filling the beds with the best top soil for vegetable growing.

Investing in a quality mulch. (I use Strulch.)

Complementing the kitchen garden with plants and flowers that will attract bees and butterflies and make the garden a pleasure to be in.
Q: What are your favorite features of the project?
A: My favorite features are, by far, the vegetable and fruit plants themselves, and the bees they attract. They are constantly changing, and every day I wonder at their form and beauty. I sometimes find it difficult to harvest them, as I want to see what they do next!
Q: What advice do you have for someone undertaking a similar project?
A: Planning and preparation, and thinking things through practically, are key to good design. And "less is more." Utilizing and up-cycling materials from the shed, garage, or salvage yard is especially rewarding and can make your garden uniquely "you." Also, take lots of photographs along your journey–it's amazing how quickly things change, and to take visual notes during the season is a useful record.
Gardeners are often solitary hobbyists, but there's a huge desire to share the joys of the garden! So it can also be really rewarding to document your progress and thoughts with others through a blog.
Q: Where did you cut corners?
A: I bought inexpensive wooden raised beds, and then stained them with a quality eco-stain, which transformed them. I also have a couple of composting systems on the go: two wormeries and bokashi bins. Both create the "caviar of compost" from kitchen waste, for free.
Q: Where do you get your design inspiration?
A: I love to visit old gardens, especially if they have walled vegetable gardens, and we have many here in England to choose from. I recently visited the more modern Piet Oudolf gardens at the Hauser & Wirth gallery in Somerset, which were amazing.
Q: Which garden designers, gardeners, or landscape architects do you admire?
A: In contrast to the lush Somerset Levels, I absolutely love Nicole de Vésian's dry hillside garden in Provence. I also love Arne Maynard's gardens–spectacularly beautiful and romantic. And the garden photographer Clive Nichols is a genius–just stunning photography.
Finally, learn how to successfully design and create an edible garden with our Hardscaping 101: Edible Gardens guide.
(Visited 365 times, 1 visits today)