When I asked Alea Joy Bessey, co-owner of Solabee Flowers and Botanicals in Oregon, how she first became interested in houseplants, I knew straight away that she was a woman after my own heart. Even as a child, Alea says, she would collect woodland botanicals to bring indoors: "I've always been fascinated by the living world and having plants in my home. They are beautiful, and make a room feel healthy and alive. Over the years I have refined my taste and found that I take great joy from the learning process that comes from caring for them and seeing them thrive."
I decided to tap into Alea's experience with houseplants and ask her a few questions about how to get a houseplant collection started.
Photographs from Solabee.
Above: An assortment of houseplants at Solabee's Kenton shop. With business partner Sarah Helmstetter, Alea has opened two Solabee shops: one in Kenton, Oregon and the other in the heart of downtown Portland.
GD: Any rules of thumb for selecting houseplants?
AB:  During the actual selection process, it's important to look the plant over really closely. Make sure there are not pests and that the plant seems strong and healthy. I also check to see if there is any new growth; that's a good sign that the plant itself is strong, giving you a better shot at success. While you are shopping, it's also important to keep in mind the type of plant you are purchasing and look into the ideal soil you'll need for repotting. The needs for succulents and cactus are very different than those of ferns and begonias. A little planning when you first get your plant will go a long way in its overall health when you bring it home.
GD: What are some of the first things that people should consider when choosing houseplants? Light conditions? Space? Personal taste?
JB: There are a lot of factors involved in picking the plant that will be best for your space, and more important, thrive in the environment you can give it. After all, a healthy plant is a beautiful plant no matter the type. The first thing I always ask my clients is about the light they can provide. There are beautiful options for both full sun windows as well as lower light areas. All plants do need some level of light however (we are actually asked quite often about this)! Once you know that, the rest of the factors (care, personal taste) can be navigated quite easily by the staff at your local nursery or plant shop.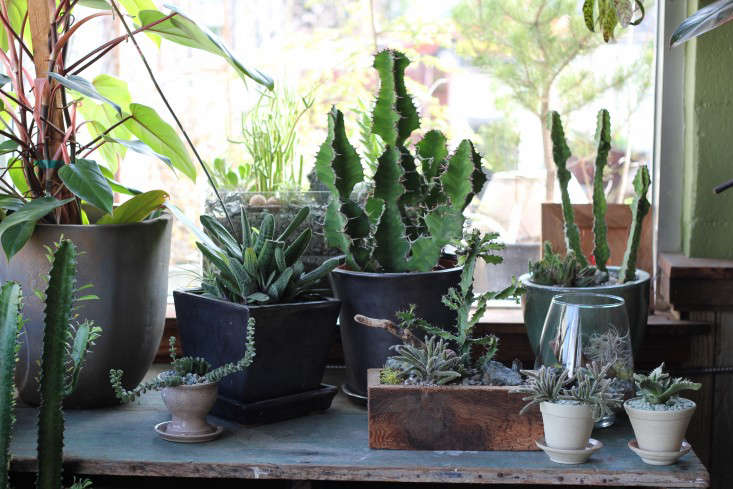 GD: If you could choose one houseplant for your own home, which would it be?
JB: I think I opened a plant shop initially because I couldn't choose just one plant for my home and had an embarrassingly large collection! It's such a big world, my current collection now spans the succulents, cactus, tropical, begonia, and fern worlds and is much paired down. I love the mix and the different needs of each. I don't know one would ever be enough for me.
Looking for something specific? We suggest you let Fat Plants woo you. Or something a little bit old-school? This week we're really pushing the African Violet.
Finally, get more ideas on how to plant, grow, and care for various houseplants with our Houseplants: A Field Guide.
(Visited 355 times, 1 visits today)