The Danish architectural firm Lykke + Nielsen has launched a side business called Moenhuset building modular summer cottages. Created from a simple modular template, the houses can be in place within six months of ordering, configured to fit the buyer's needs. Mix and match room modules–a bedroom, a kitchen/bath, a living room–and join them by adding a breezeway module.
Here are two examples that caught our eye. To learn more, go to Moenhuset. Now we just need an architect in the US to riff off this idea, and we'll be all set.
Photographs courtesy of Moenhuset.
Above: A breezeway connects two living areas in this modular house, located in the countryside south of Copenhagen. We like the way the exterior door props open to create a windbreak.
Above: The cottage with the door closed. The siding is tar-treated larch.
Above: This larger cabin was built in a forest an hour north of Copenhagen. It's made of two modules that sit at right angles; the deck extends the length of the living area.
Above: Over-sized windows allow plenty of light in.
Above: Black metal window frames and an iron wood-burning stove provide visual contrast with the all-white interior.
Above: The living room seen from the sleeping loft.

Above: The streamlined kitchen, white with black accents.
Above: The downstairs bedroom is easily opened up to the outdoors.
Above: A wall-mounted vanity gives the small bathroom a spacious feel.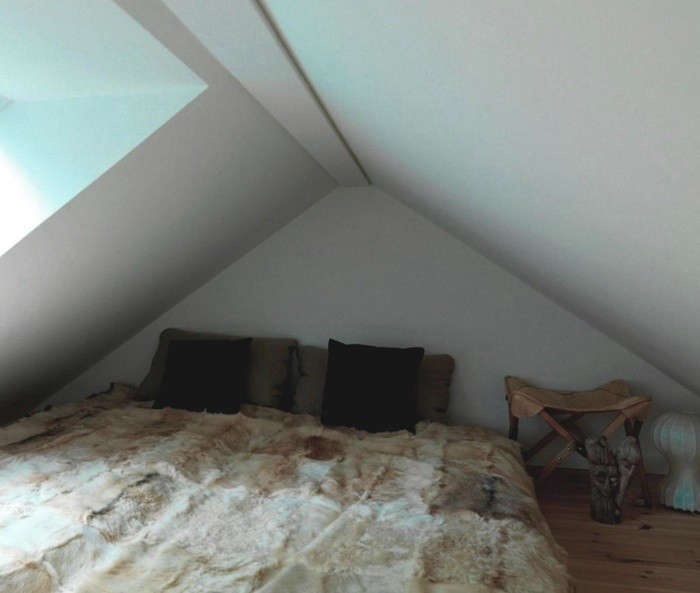 Above: The sleeping loft has skylight windows and is reached by a ladder.
For a Scandi-inspired garden design, see A Danish Summerhouse Garden.
(Visited 2,199 times, 9 visits today)