When a modern-design fan purchased a plot of land approved for construction of a traditional Slovenian hut, his architects created a very modern cabin that still technically follows the rules.
The property in question is located inside Slovenia's Triglav National Park, where strict rules of design and construction are enforced. The building site came with a permit for a traditional Alpine hut, and though the owner wanted a modern design, he did not want to attempt to change the permit. So Slovenian architects OFIS Arhitekti designed a cabin with the same dimensions, roof pitch, and materials as were mandated in a traditional hut–but with a decidedly modern take. From a distance, the hut blends into the surrounding architecture, but up close the tiny home is a shining example of modern design.
Photography by Tomas Gregoric courtesy of OFIS Arhitekti.
Above: The second floor is cantilevered above the ground floor and acts as a shade from the summer sun.
Above: Environmentally friendly features include extra thermal insulation between the wooden cladding and vertical pipes inside beams that collect rainwater from the roof.
Above: The kitchen is small but entirely modern.
Above: Unlike a more traditional hut, in this version windows and doors were sited to maximize views.
Above: The ground floor has an open floor plan with kitchen, dining, and living rooms, and storage tucked under the central staircase.
Above: Vaulted beam ceilings are hallmarks of the traditional local architecture.
Above: The homeowners mixed occasional antique pieces like this armoire with the rest of the hut's simple modern furnishings.
Above: To maximize views and minimize furnishings, the architects extended the windows to meet low bench shelves that function as sofas. Sun-facing corner windows mean no heat is required on sunny days.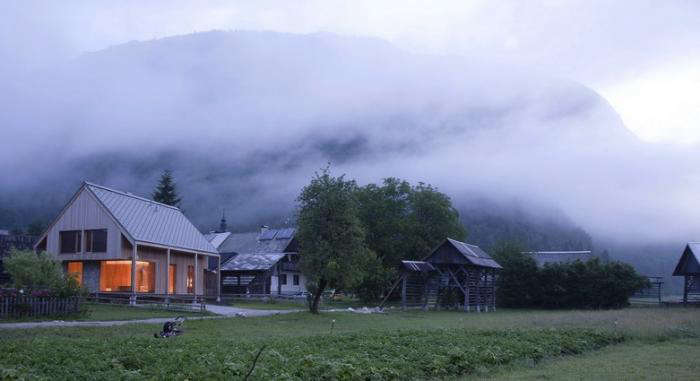 Above: Exterior features like stone and wood columns came from local sources and echo the region's architectural vernacular.
N.B.: This is an update of a post originally published December 12, 2012.
You need to login or register to view and manage your bookmarks.