Some plants look good at every stage: hydrangea comes to mind, and veronicastrum. Tall airy plants like the calamagostris grass and veronicastrum can work well in small gardens. Nectar-rich flowers with subtle colors, attracting pollinators to even the most elegant garden: you guessed it. Is there anything veronicastrum can't do?
Above: Photograph by Blueridge Watershed Coalition, via Flickr.
To add to its hardworking attributes, Veronicastrum Virginicum ($5.49 apiece from Prairie Nursery) is generally favored over its coarser sibling v.sibiricum and is one of the most fashionable plants around. It's an icon of the prairie-style of planting which has marked the young millennium. It can be dressed up or down, and though it calls North America "home," it is just as comfortable in forward-thinking European gardens. 
Above: Veronicastrum v. 'Apollo' is $8.75 apiece from Digging Dog Nursery. Photograph by Rrobert via Flickr.
Say the word "veronicastrum" and the name Piet Oudolf will soon follow. At a talk recently in London with superstar garden designer Oudolf as guest, an anxious member of the audience interjected: "I am an American. I like England to be English and this style of planting is disturbing to me."
To garden with an Oudolf-esque plant like veronicastrum, it is not necessary to turn your outdoor space into a prairie: you are allowed to keep your flower beds. Naturalistic planting travels well, and veronicastrum holds its own in a formal border with a lawn nearby, as well as in the middle of a lawn which has turned into a meadow. 
Above: Photograph by Sweber4507 via Flickr.
Part of the attraction of these vertical spires is in their unique structure. Whorls of leaves around a tall central stem give veronicastrum an element of intrigue months before the racemes of flowers appear. 
Above: Photograph by Martha D. Moss via Flickr.
After flowering, veronicastrum can be kept as an increasingly skeletal form through autumn and winter. It mixes well, in life as in death with sanguisorba, thalictrum, eupatorium and grasses galore. 
Veronicastrum is easygoing. Its natural habitat is full sun with a moist soil, but light shade is tolerable as is a dry position (though it will need to be mulched).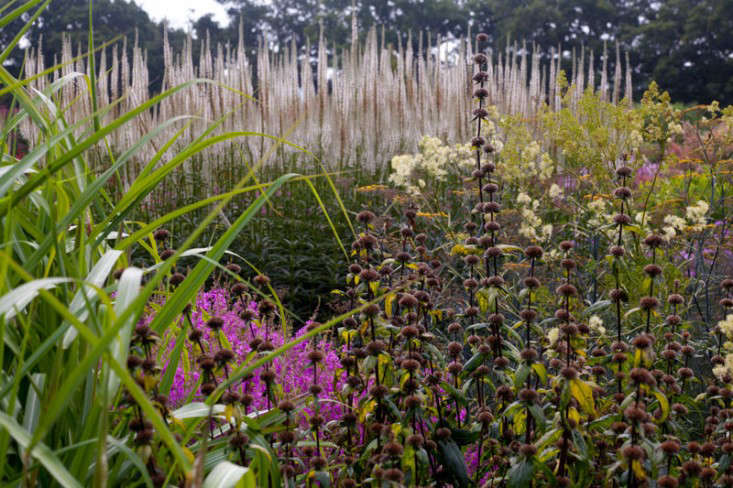 Above: Photograph by Forest Eyes via Flickr.
Forming a pale backdrop, veronicastrum is a tall plant that does not need staking. If you are going to go down the planting-in-drifts route, space your plants 18 inches apart. 
Above: Veronicastrum v. 'Albo-Rosea' is $10 apiece from Munchkin Nursery. Photograph by Adam Woodruff via Flickr.
Veronicastrum in the garden will buzz with life all summer, the small nectar-rich flowers attracting butterflies, hoverflies and bees. 
Above: Veronicastrum v. 'Album' (£2 for a packet of seeds from Special Plants) will grow to be almost 5 feet tall. Photograph by John Brandauer, via Flickr.
Above: Lilac, mauve and palest pink cultivars will add subtlety to a border–or indeed to a prairie. Piet Oudolf, who was a nurseryman for many years, has introduced a few of his own strains, including the white 'Spring Dew' and Veronicastrum 'Adoration' (shown) is £5 apiece at Garden Perennials. Photograph by Stephen Reed via Flickr.
To see Piet Oudolf's own garden in Holland, featuring veronicastrum, go to Steal This Look: Piet Oudolf's Private Garden.
You need to login or register to view and manage your bookmarks.