How does an LA garden look in the rain? Hard to imagine. But once you see the rare moody mistiness, you never forget:
With permeable pebble surfaces, a garden in Brentwood soaks up winter rainfall. In 2008, LA-based garden designers Joel Lichtenwalter and Ryan Gates of Grow Outdoor Design (a member of the Remodelista Architect/Design Directory) created a simple, naturalistic setting for a mid-century house that you would never suspect sits on a busy street.
Photographs by Mitchell Maher courtesy of A Growing Obsession, and Grow Outdoor Design.
Above: The backyard has a hammock in one corner and a decomposed granite track that runs alongside the perimeter of the lawn.
Above: A pair of Sol y Luna Lounge Chairs, designed in 1954 by Dan Johnson for Brown Jordan, are available at Design Within Reach.
Above: At the base of a privacy screen, a variegated Arum italicum 'Pictum' (C) is surrounded by asparagus ferns (L) and oakleaf hydrangeas (R).
Above: Arum italiicum "Pictum," with asparagus fern and oakleaf hydrangeas at the base of the privacy screen.
Above: A Circle Pot from LA garden shop Potted sits atop a circular outdoor dining table.
Above: Granite pavers set in decomposed granite create pathways across the property. Photograph via Grow Outdoor Design.
Above: Under cloudy skies; the leaves of an acadia iteaphylla near the carport turn an intense chartreuse. Leafless in winter, an eastern redbud tree—Cercis canadensis 'Forest Pansy' (L)—stands sentinel next to the driveway.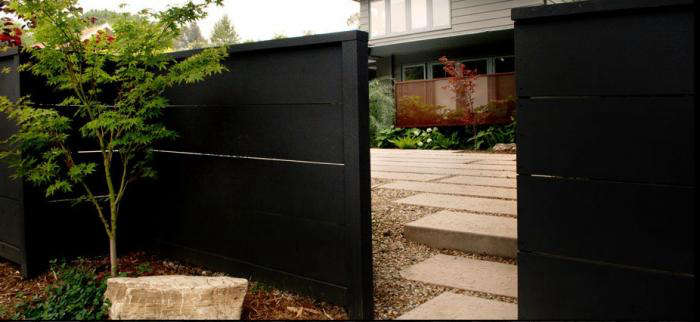 Above: The garden reveals itself slowly. From the street, a glimpse of eastern redbuds and western sycamores and an inviting path. Photograph via Grow Outdoor Design.
For another of our favorite LA gardens by Grow Outdoor Design, see Ask the Landscape Designer: Transforming a Tangle Into an Elegant Entry.
(Visited 63 times, 1 visits today)