When a young Seattle couple with three children toured a 1961 house by locally known architect Ibsen Nelsen, they fell in love with not only its striking style but also the sprawling midcentury garden that filled its 10,700-square-foot lot.
But like so many homes of the era, both the house and garden had elements that didn't fit the family's contemporary lifestyle: The kitchen was compact and isolated, exterior views were framed by small windows, and the layout lacked flow between rooms and between indoors and out. The landscape, though generous, hadn't been updated since it was designed—and a lot can change in the moist Seattle climate over the course of 55 years. Most of the wood fencing was rotting, trees were dangerously tall, and plants were overgrown. The star of the landscape, a courtyard garden visible from the living room, had been commandeered by three "outsized" rhododendrons.
The new homeowners hired architecture firm MW Works and landscape designers Wittman Estes to remodel the house and garden before they moved in. Let's explore their solutions.
Photography by Jeremy Bittermann, courtesy of MW Works.
The owners "appreciate good design and wanted their landscape to be a gracious complement to their midcentury house," says landscape designer Jody Estes.
The original designer of the house and landscape, architect Ibsen Nelsen, was born in Nebraska to Danish immigrant parents. In the 1950s he moved to Seattle, where he lived and practiced architecture until his death in 2001.
A walkway of ipe wood that cuts through the back of the courtyard serves as the daily entryway for the family, direct from the carport to a laundry and mudroom.
A rough-cut limestone volume borders one end of the courtyard, while new windows next to it expose the kitchen, sitting nook, and informal entryway to views of the courtyard.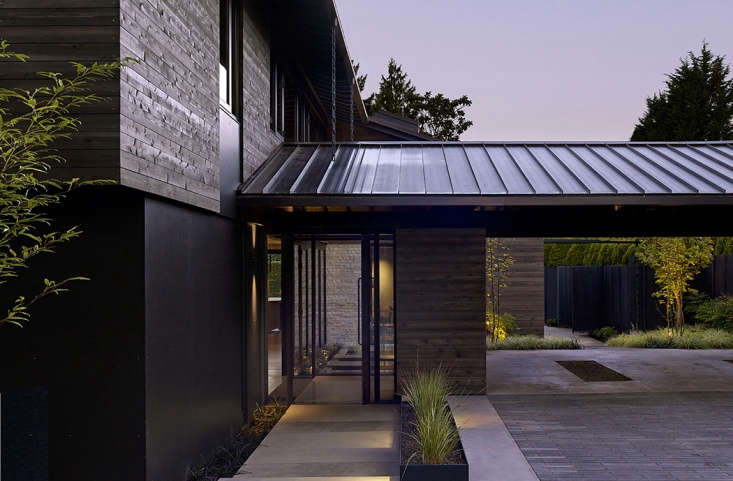 The house is clad in cedar wood with a weathering stain, and cement panels with a dark, integrated pigment. Custom planter boxes of powder-coated plate steel dot the property, and a black-stained cedar fence marks the borders. A new driveway of Stepstone pavers replaced a narrower driveway paved in a basketweave pattern.
Looking to add a deck, patio, or driveway? Start with our Hardscaping 101 guide to Pavers, Decks & Patios, Retaining Walls, and more. Find tips on How to Draw a Garden Plan and Architects' Ideas to Create Privacy in the Garden. For more landscape overhauls, try:
(Visited 670 times, 3 visits today)