Just because they grow in the dirt, that doesn't mean that your houseplants should get short shrift when it comes to their ability to play dress up. Indeed, plunk an ordinary houseplant into one of our five favorite metallic planters and your windowsill garden might just become the most glamorous corner of your home.
Above: Made of thin sheets of metal spun into the shape of traditional terra cotta pots, designer Monica Fí¶rster's Flower Pots come in two sizes with diameters of from 15 to 21 centimeters; prices range from €72 to €192 per pot at Skultuna. Photograph via Fantastic Frank.
Above: Manufactured in Germany, a stainless steel Blomus Greens Round Planter is available in five sizes at prices ranging from $106.19 to $171 at All Modern. 
Above: These polished Brass Pots from Artilleriet will develop a patina overtime, and offer a slightly more understated look while staying firmly in the metallic family. The pots are available in two sizes, 10 centimeters by 10 centimeters for 349 SEK, or 14 centimeters by 14 centimeters for 499 SEK from Artilleriet.
Above: Made of recycled aluminum, a 3-inch-high Mariposa Small Flower Pot And Spade set is $44 from Silver Impressions.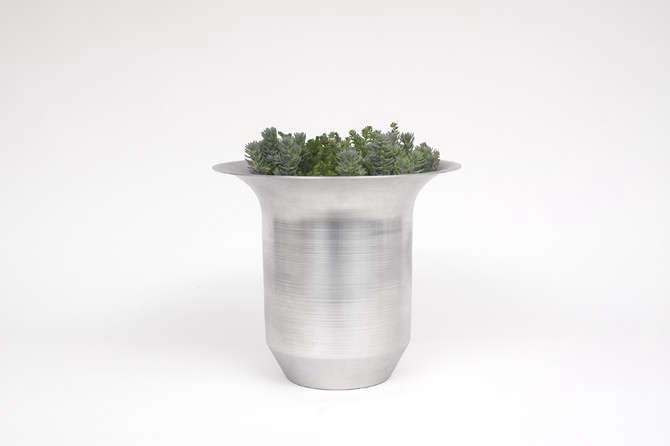 Above: The happy result of a manufacturing mishap, the Spun Metal Planter from Brendan Ravenhill began life as a wastebasket, but morphed into a beautiful fluted vase instead. The vase is 12.5 inches wide by 11 inches tall; $80 from Brendan Ravenhill.
Hoping to make a DIY version? Stay tuned for our roundup of Metallic Paint Colors later this week.
Experience the beauty of metallic details in Remodelista's Steal This Look: A Glamorous London Kitchen (Brass Accents Included). 
Need a plant to pot? Browse all of our posts on Houseplants.
(Visited 218 times, 1 visits today)