You can never have enough hanging planters. I prefer to hang mine close to a window, which keeps the plant happy and makes for good conversation among my neighbors. Here are 10 (well, actually 11) white options that I would hang from my own ceiling.
Above: LA-based TW Workshop offers several hanging planters. For a white look, we like the Snowy Hanging Pot; $65.
Above: Plantorb by Brooklyn-based Perch is $120. The 8-inch diameter ceramic planter comes with a long woven sisal cord.
Above: The Faceted Hanging Tray is $76 by Pigeon Toe. The tray has an unglazed finish and is suspended from a leather cord, which is available in seven different colors.
Above: A set of Three Porcelain and Leather Hanging Containers is $135 from Farrah Sit. The strap is available in a natural, amber, or chocolate tanned leather. The planters can be ordered as a set or individually. There is also a rope hanging version at offer.
Above: A handmade Medium Hanging Planter with a finial by Ingleside Pottery is $80. The planter is made from earthenware clay and has a white matte glaze.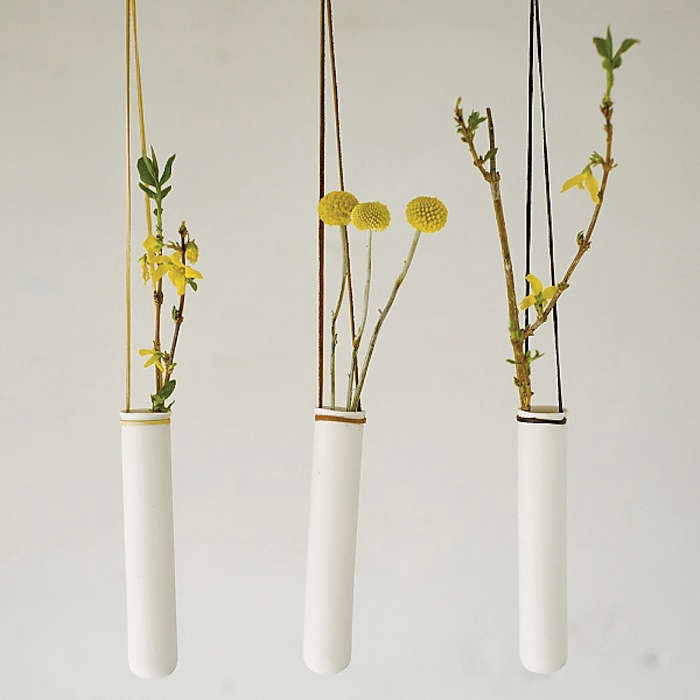 Above: The Hanging Test Tube Vase is $38 for a single vase from Pigeon Toe. Several cord colors are available.
Above: A Small Beaded Hanging Planter with Cup and Natural Wood Beads is $43 by Hruskaa. Several beaded hanging planter versions are offered in their Etsy store.
Above: The Scribble Hanging Planter is $70 from Branch Home. The planter is handmade and hangs from a leather strap.
Above: The Egg Hanging Planter is $34 via Urban Outfitters.
Above: Another Faceted Hanging Planter; $44 from Sprout Home.
Above: A Snow White Bell Hanging Metal Succulent Planter by Plantworks PDX is $35. This planter was once a track light, repurposed into a hanging planter. Best of all, it comes with a succulent.
Looking for something moody and darker? Check out our post 5 Favorites: Jet Black Planters.










(Visited 158 times, 1 visits today)