Tropical thunder is on our horizon for summer: palm fronds, banana leaves, and the occasional jaunty pineapple print. Here are ten fabrics to bring the jungle into your backyard:
Above: Photograph via Lombardi House. Banana palm leaf fabric is a salute to the famous wallpaper at the Beverly Hills Hotel coffee shop. For more, see Garden Visit: A Historic Hollywood Estate Turned Hotel.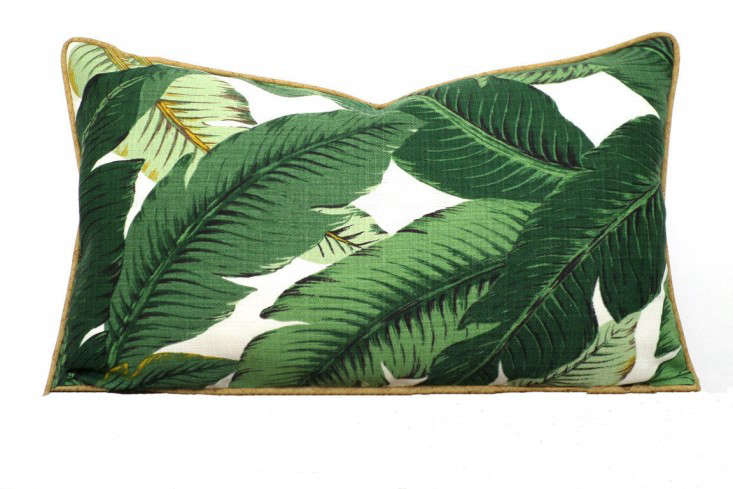 Above: A handmade Banana Leaf Pillow Cover is stain- and water-resistant. It measures 20 by 12 inches and is $33 from Anita's Casa via Etsy.
Above: A Mid-Century Chair newly upholstered in designer Peter Dunham's fig leaf fabric is $1,750 on 1stdibs.
Above: A Floor Pillow from Gallant and Jones is $199 (marked down from $259) via Etsy.
Above: Hand screen printed by designer Fanny Shorter in the UK, a travel bag (or summery clutch), a Passiflora Wash Bag is 30 centimeters long, 18 centimeters high, and 10 centimeters deep; £40 from the Barbican Shop.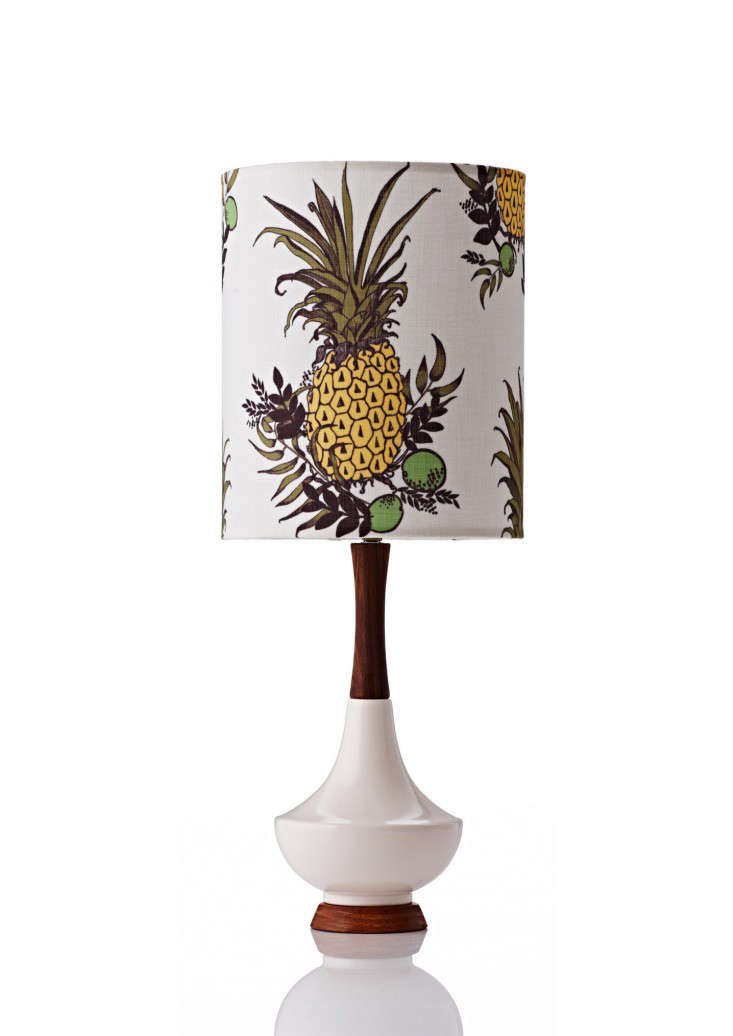 Above: Made in Melbourne from earthenware and blackwood, a Small Electra Lamp is available with a variety of fabrics, including a pineapple print (as shown). It is $455 from Retro Print Revival.
Above: The exuberant pattern on Ikea's 98-inch linen Syssan Curtain panels brings to mind designer Josef Frank's floral kaleidoscopes. A pair is $59.99.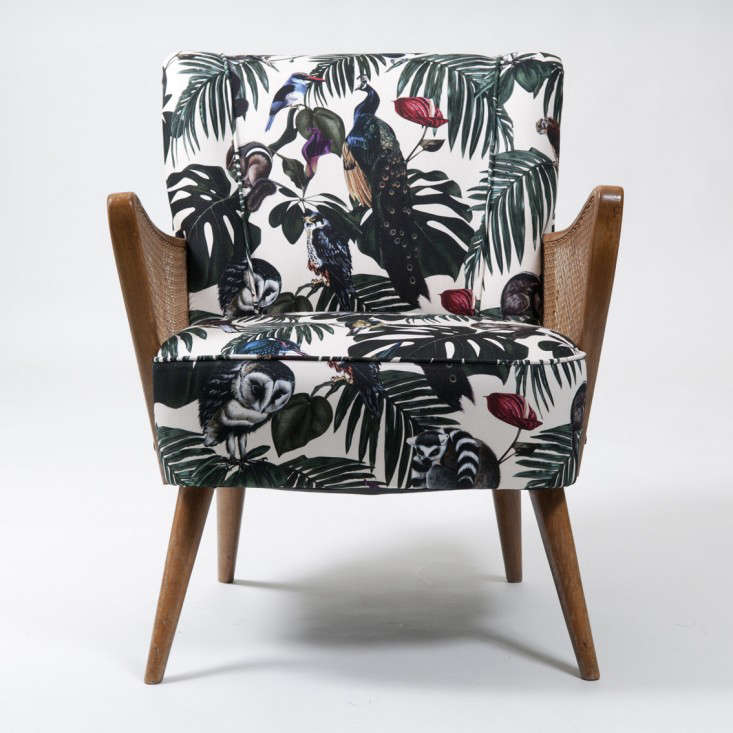 Above: For fabric by the bolt, Amazonia Light Cotton Half Panama is printed in England; suitable for upholstery, curtains, and cushions, it is £90 per metre from Witch and Watchman.
Above: Designed for outdoor use, a 16-by-30-inch Palm Leaf Patio Pillow made of mildew-resistant fabric is $88 from Terrain.
Above: Made to order in England, a bespoke Jackie Elmore Parasol is covered in a Palmeral palm print. The linen-cotton-nylon blend stands up to the elements; wipe it clean with a soft cloth. It is £1,975 from House of Hackney.
Above: Available in custom sizes, tropical print Botany Wallpaper from South Africa-based Lemon is printed with eco solvent inks. For more information and pricing, see Lemon.
Above: An outdoor Tropical Palm Printed Pillow measures 14 by 22 inches and is "sewn of weather-loving spun polyester and plumped with fast-drying polyfil." It is $69 from WS Home.
For more summery fabrics, see 10 Easy Pieces: Indigo Pillows and Cushions and Ode to Southern California: Botanical Fabrics from Lake August.
(Visited 102 times, 1 visits today)