Outdoor furniture wears its age like a badge. And why not? Anything that can withstand the onslaught of rain, sun, sleet, and hail has earned its weathered look. Don't try to hide the scars. Instead, spruce up an old lounge chair with a crisp new pillow. Then lean into it for the first outdoor nap of the season.
In shades of indigo that look just right against a backdrop of greenery, here are ten of our favorite summery pillows and cushions (some covered in weatherproof fabric and others which will need to be brought indoors if it rains).
Above: A linen Half Moon Deepwater Pillow measures 12 by 18 inches; printed and made by hand in LA, it is $150 from Lake August.
Above: Made from recycled rag rugs woven on a hand loom in India, a cotton 17-by-32-inch Shaba Bolster Pillow is $120 from Nicky Kehoe.
Above: Made in India, a Camille Pillow is available in three patterns—Mosaic, Diamond, and Scroll—and three sizes at prices ranging from $68 to $78 from Serena & Lily.
Above: From Mali, a one-of-a-kind African Vintage Indigo Pillow measures 32 by 18 inches; $325 from Hot Moon.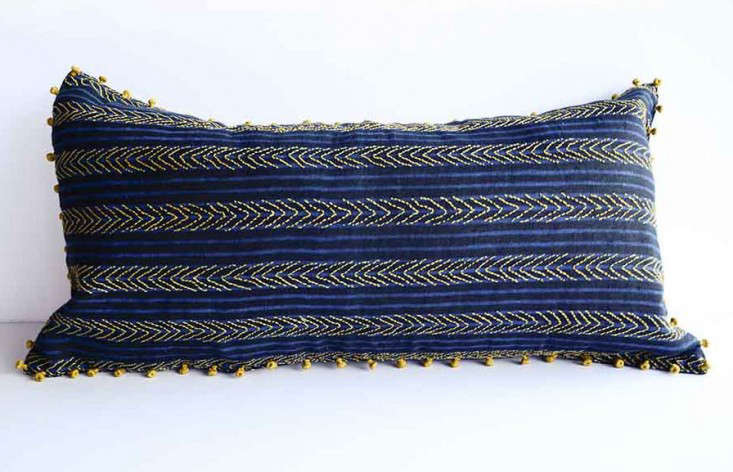 Above: Printed by hand, dyed, and then embroidered, a 12-by-24-inch Indigo Royal pillow has a pom-pom fringe and is $59 from Ichcha.
Above: A handmade French Laundry Grain Sack Pillow with a feather-down insert is $60 from Yiayias via Etsy.
Above: Measuring 17 by 32 inches, a machine-washable Primrose Pillow with hand-stitched edging by designer John Robshaw is $248 from Anthropologie.
Above: Woven in India from flax grown in France, a Stinson Handwoven Pillow cover is 14 by 36 inches and comes in four colors including Alpine White With Indigo (shown); $98 from Coyuchi.
Above: An outdoor pillow intended for porch or patio, an Indigo Stripe Patio Pillow in Sunbrella fabric resists stains, moisture, and mildew; it measures 16 by 25 inches and is $68 from Terrain.
Above: Indian Decorative Pillow Covers are available in 11 sizes at prices ranging from $18 to $40 from Pillomatic via Etsy.
(Visited 118 times, 1 visits today)