There's something inherently seductive about a two-seater bench, don't you think? We've rounded up ten of our favorite compact outdoor benches to lure you–and someone you like–to a sunny spot:
Above: A metal Folding Bistro Bench in a soft gray color is £149 from The Balcony Gardener.
Above: Forged in the UK, and Ironwork Garden Bench measures 31.5 inches high by 47.25 inches long by 16.1 inches deep. It's finished with an aged patina and is $1,358 from Terrain.
Above: From Fermob, a Luxembourg Bench With Backrest has an aluminum tubular frame and measures 43 inches wide by 22.05 inches deep by 33.78 inches high. Manufactured in France, it's $685 from French Bistro Furniture.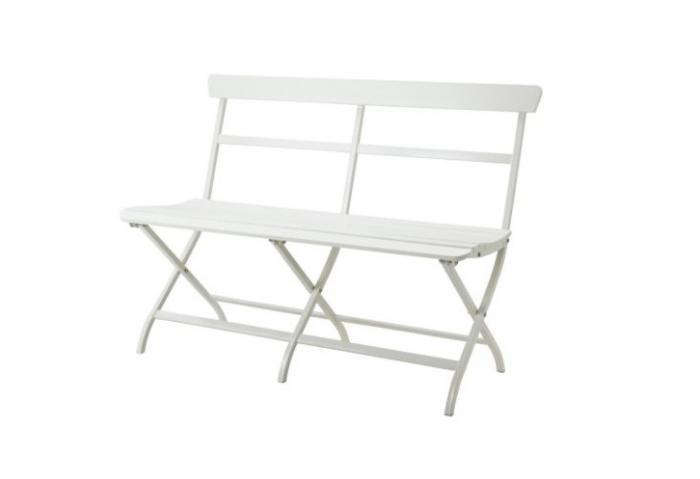 .
Above: The seat and back of the Malaro Bench are constructed of acacia wood and the frame is powder coated steel: the manufacturer recommends protecting it with a weather resistant cover to prolong the lifespan of the finish. It measures 46 7/8 inches wide by 21 5/8 deep and 33 1/2 inches high. It is $69 from Ikea.
Above: A two-seater Brewery Sofa with a white lacquered oak seat and neck rest has a galvanized metal frame; it's 4020 SDK from Grythyttan.
Above: Made of sand cast recycled aluminum and plated in zinc, with a seat of teak slats, a reevesdesign Cast Aluminum Bench is $895 from ABC Home.
Above: A foldaway Natural Wooden Bench has a wooden seat and a rust-resistant iron frame; it's £225 from Cox & Cox.
Above: Made of acrylic, a Long Grill Bench from design house Spectrum West is sanded, buffed, and polished by hand; it measures 47 inches long and is $3,125 from YLiving.
AboveӼ: An African Teak Folding Two-Seat Bench Without Arms is $854.69 from Wayfair.
Above: Made of wet galvanized steel strip with an oiled robinia wood seat and back rest, the Elefant Beer Garden Bench can be folded and stacked. It is 358 from Manufactum.
For more outdoor seating, see 10 Easy Pieces: Outdoor Folding Chairs.
(Visited 181 times, 1 visits today)