We're in a transitional season, when the weather still is warm enough to leave the door open but a sudden gust of strong wind may slam it shut. Doorstops to the rescue.
To thwart autumn breezes, we've rounded up ten modern classics—made of stone, iron, wood, and  rubber:
Above: An antique cobblestone has a 90-degree recess padded with felt to cushion a door. The Doorstop Stone is an idea borrowed from Japan, where the designers "recently saw, in a sushi restaurant in Tokyo, a simple way of keeping heavy doors open: a large stone with the pull-cord for moving it tastefully wrapped around." It is €98 from Auerberg.
Above:  Izabella was the first one in our office to discover the natural stone Borne Door Stop; designed by Koray Ozgen and made in France, it has a leather handle and is €50 from ODC.
Above: A Cast Iron Door Stopper from Japan-based Koizumi Studio has the smooth texture and shape of a perfect river rock. It is $70 from Nalata Nalata.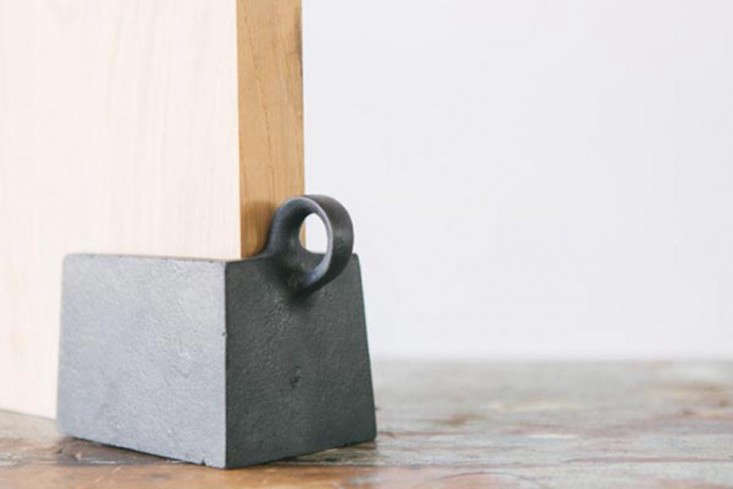 Above: Made in New York and weighing in at 10 pounds, a Cast Iron Door Stop from Black Creek Mercantile & Trading Co. is $375 from Alder and Co.
Above: Industrial Facility's set of two Twin Stopper doorstops made of silicone  is $28.75 from Y Living.
Above: Designed by Mads Felding and Jeppe Ørskov, a small rubber Door Stopper comes in several colors including white; $9 from Scandinavian Design Center.
Above: An Aji Stone Doorstop constructed of black-and-white speckled stone found in Japan's Takamatsu region is portable, thanks to a handle of tied jute rope. It is $65 from Canoe.
Above: A Wooden Door Stop from England measures 7 inches long; $10 from Ancient Industries.
Aboe: Christine found the the little wooden bird doorstop before any of the rest of us: "With the irresistible bird-shaped Tjirp Doorstop by Belgian Designer Cas Moor, it's form, function, and fun rolled into one. Owners beware: If your house is full of small children, it's highly likely that your Tjirp Doorstop(s) will be seconded for other purposes," she cautioned. It's €29 from Cas Moor.
Above: Made in England, a set of five Oak Door Wedges is $19.97 from MJ Knobs and Knockers via Etsy.
Door fashion alert: don't miss Alexa's favorite 10 Easy Pieces: Black Door Knockers.
(Visited 608 times, 2 visits today)