Get a jump start on your spring garden. During winter, a cold frame will warm tender plants and early seedlings, protecting them from life-threatening wind, temperatures, frost, and snow.
Here are 10 of our favorite cold frames—made of wood or with metal frames—with options to place them directly on the ground or to raise them on legs.
Wooden Cold Frames
Above: Measuring 2 by 4 feet, a Farmer D Cold Frame can sit directly on the ground or be fitted with Farmer D's Bed on Legs Kit; $199.95 and $299.95 respectively from Williams-Sonoma.
Above: From Veg Trug, a raised Cold Frame on legs has shatter-proof polycarbonate lids and is €59.99.
Above: A Small Cold Frame with plexiglass glazing is made of treated European pine and measures 34 by 50 centimeters; £94.99 from Primrose. A Large Cold Frame measuring 60 by 57 centimeters also is available for is £234.99.
Above: From Maine Growing Products, a Cold Frame Growing House made of eastern white cedar is 4 by 4 feet and is $325 from Great Garden Supply.
Above: Designed for small gardens and made of western red cedar, a Cedar Baby Coldframe is £369.99 from Crocus.
Above: A Cedar Cold Frame with a rot-resistant base and a rot-resistant cedar base has an aluminum and polycarbonate top and measures 8 feet by 2 feet and is $225 from Gardeners.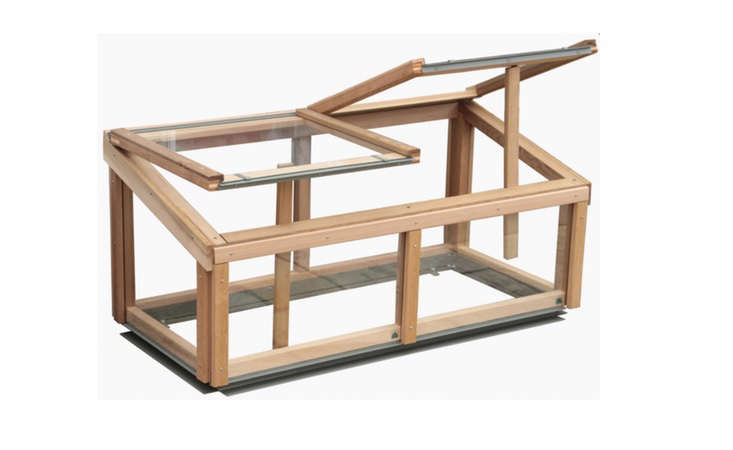 Above: A 4×2 Cedar Cold Frame with cedar capping and sliding and hinged lids is £299. from Greenhouse People.
Metal Cold Frames
Above: The Steel Frame Hotbed Tunnel offers cold weather protection with a steel tubing and UV-stabilized PE foil construction that is stable but very lightweight, offering great mobility. The cover opens either manually (it can be locked in any position), or automatically with the help of an activation device. The tunnel is placed over the desired garden bed and fixed with galvanized steel ground anchors; €179 at Manufactum.
Above: Made with an aluminum frame, a Single Cold Frame with two hinged sliding vents. It is 39 inches long and 24 inches wide and is $94.99 For dealers, see The Greenhouse Connection.
Above: An unused aluminum and polycarbonate Greenhouse Cold Framewith four lids comes in original packaging is £44.95 from eBay UK.
N.B. This is an update of a post that originally ran on December 11, 2012.
For everything you need to know about how to use cold frames in the garden, see Hardscaping 101: Cold Frames.
(Visited 266 times, 1 visits today)