Did you just sneeze? You did? Bless you. Late summer and fall allergies kick in when wind-pollinated plants shed their fine powder. While ragweed is well known as a main cause of seasonal allergies in North America, some identification issues persist. Especially this one: What is yellow and showy, often in bloom against a backdrop of early fall grasses and reddening foliage? That would be goldenrod. Because it blazes so brightly it still tends to be blamed for the seized-up sinuses caused by inconspicuous, allergy-inducing ragweed. Goldenrod is not to blame. Nor is ragweed the only culprit.
Here's a quick review of ragweed versus goldenrod, with a side of mugwort.
Photography by Marie Viljoen.
Goldenrod
Goldenrod is the common name for species of Solidago, which number over 100. Most are native to North America. They are valued for the beauty of their vivid flowers and for supporting the pollinators that visit them in droves when they begin to bloom in late summer and into autumn.
Goldenrod does not cause allergies because its pollen grains are too bulky to be tossed around by a breeze and inhaled by us. Its vivid little flowers evolved to be seen and are designed to lure pollinators. Bees, wasps, hornets and hover flies, beetles and butterflies all find pollen-rich goldenrod flowers irresistible, and that is the point. The pollen is heavy and sticky and clings to the insects' legs and bodies and is carried by them to the next flower, and, poof: Pollination happens.
(And this is true of all conspicuous—bright, beautiful, obvious—flowers. They are pollinated by creatures. Not by wind.)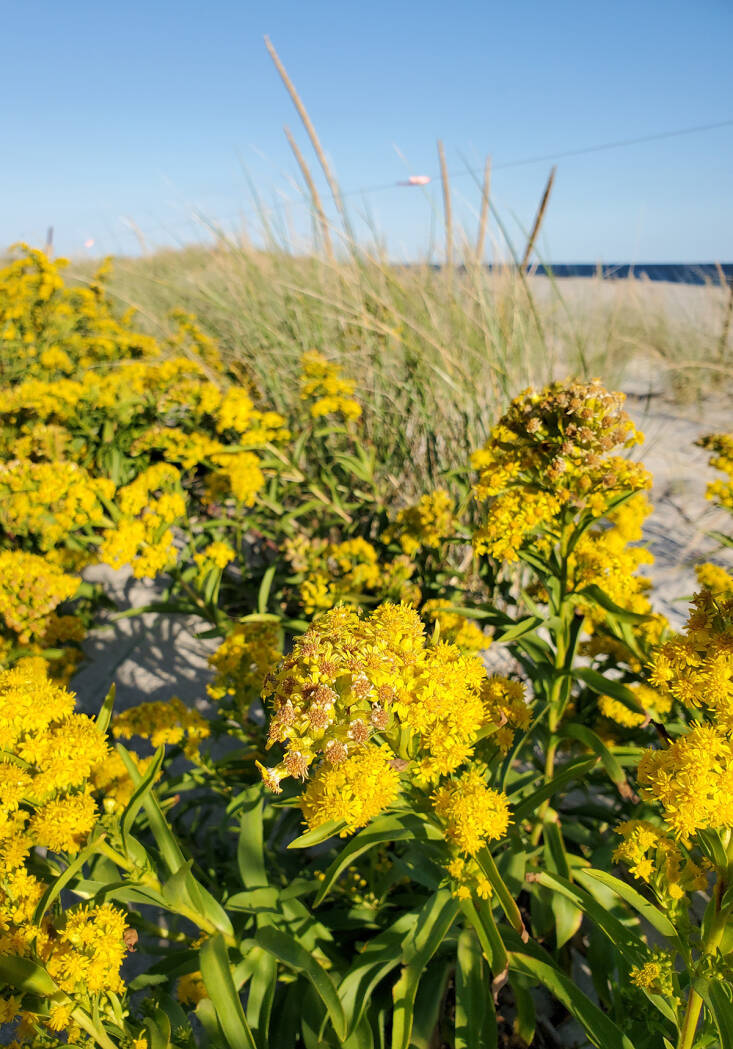 Ragweed
Unlike goldenrod, ragweed (Ambrosia spp.) is a wind-pollinated plant. It produces clouds of fine pollen that irritates humans as the season shifts to autumn. But because goldenrod amplifies its presence at the time that ragweed blooms, its fireworks of yellow flowers often get the blame.
While goldenrod is showy and bright, ragweed flowers are aesthetically unexciting. Their tall green male flower spikes look more like seedheads than blooms. They call no attention to themselves and need no pollinating visitors. All they need is some moving air.
The pollen in male ragweed flowers is released by a whisper of wind. It is fine enough to travel hundreds of miles. (The female flowers are on the same plant, below the male flower spikes, hidden in clusters in the leaf axil, where the petiole joins the stem.)
If it's any comfort to the seasonally afflicted, ragweed can be eaten. Curious? Visit Ragweed: Allergen or Appetizer.
Mugwort
And then there is mugwort (Artemisia vulgaris). Unlike native ragweed and goldenrod, it is an introduced and invasive species that grows prolifically in some regions, like the Northeast. Mugwort's tiny, demure flowers mean one thing: They are wind-pollinated. Any pollen designed to travel by air is very, very fine (think tree pollens, in spring). Mugwort is also an irritant when ragweed is causing headaches, and is sometimes more prolific than ragweed. (Read more about mugwort in Invasivore: Mugwort the Weed vs Mugwort the Herb.)
Fall Allergies at a Glance
Any wind-pollinated plants can cause allergic reactions because their pollen is very fine.
Wind-pollinated flowers tend to be inconspicuous because they don't have to attract pollinators.
Pollen from flowers pollinated by animals and insects seldom is seldom allergenic.
Goldenrod has bright yellow flowers pollinated by insects, not wind.
Goldenrod blooms in late summer through fall.
Ragweed has demure green flowers born on spikes.
Ragweed blooms in late summer and early fall.
Mugwort is wind-pollinated and blooms in late summer and early fall.
See also:
(Visited 6,414 times, 2 visits today)