Garden sheds and garages don't always get the respect they deserve. They should be as lovingly organized as your kitchen, with tools in the right place and plenty of work space in case a sudden DIY urge hits. But sometimes things get out of hand. A messy coil of hose here, a pile of hand tools there, and before you know it you can barely open the door without having something rusty (and possibly harboring a spider) hit your head.
We're not saying Remodelista editor Julie Carlson's garden shed falls into that category. (She is a design maven, after all.) But it is true she asked us the other day if we could send over Gardenista editor Michelle Slatalla to do an emergency shed consult.
No problem, we told Julie. Watch out for spiders, we told Michelle.
Armed with a roll of Velcro One-Wrap tape from our partner Velcro, within a few hours Michelle corralled the clutter and restored serenity to Julie's shed. Here's how you can get the same look:
The first thing that happened after Michelle opened the shed door was an avalanche. This is a common problem with sheds because gardening is messy. Power tools have ungainly cords. Hoses flop all over the place. Bamboo stakes sprawl like pickup sticks. Where to start?
Armed with a 12-foot-long roll of Velcro One-Wrap ($6.27 from Amazon), Michelle restored order.
Step One: Using a pair of household scissors, Michelle cut strips of Velcro tape to wrap around bundles of hand tools.
Step Two: A hammer and nail is all you need to get a Velcro One-Wrap bundle to perform double duty as a wall hook. Michelle hammered a nail through the end of each strip holding a bundle of tools and secured it to the shed wall.
Step Three: Michelle bundled bamboo garden stakes with another Velcro One-Wrap strip, cut to order.
Michelle also replaced Julie's old stakes with a sturdy set of 25 Bamboo Poles; they're $34.95 from Gardener's Supply.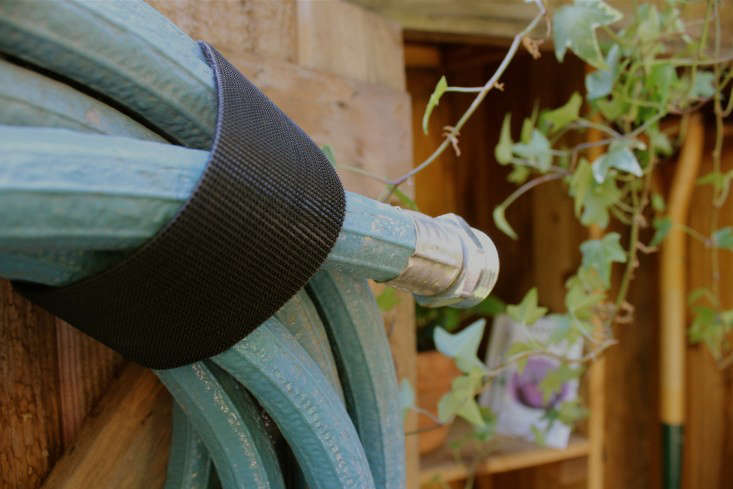 Step 4: Wrap hoses, cords, irrigation tubing, and other messy coils with Velcro One-Wrap strips cut to length. The Velcro strips are easy to pull off (no knots to untie) and easy to re-wrap securely when it's time to return the hose to storage.
Julie's GatorHyde Drinking Water Safe Garden Hose is made with 50-percent recycled polyurethane and nickel plated ends; $54.47 for a 50-foot length from Amazon.
A pair of West County Classic gloves is available in four colors including lime (Shown); made from recycled materials, the gloves have reinforced thumb pads and are $24.50 from West County Gardener.
After the makeover, Julie's shed has plenty of open work space, including a shelf where she can pot plants.
A Nickel Plant Mister (Above) with a smooth operating pump is $20 from Terrain.
Hyacinth (L) and iris bulbs, discovered in a bag behind a pile of hand tools, are ready to go into the ground. For similar bulbs, consider Hyacinthus Blue Jacket, hardy in growing zones 4-8; six bulbs for $10.95 from White Flower Farm.
(Visited 133 times, 2 visits today)