Trillium, Trillium: "Jewels of the Spring"
With their exotic-looking blooms, it is easy to see why trilliums are one of America's most prized wildflowers. Alas, due to habitat destruction and poaching, it's quite rare to see these striking natives in the wild anymore. Furthermore, gardeners wishing to propagate these spring-time jewels are often frustrated by either poor stock or the fact that the plants can take up to eight years to mature.
Undaunted, we turned to the New England Wild Flower Society to learn more about how we might grow and care for these native gems. The Society, which will host its annual Trillium Week beginning May 6, features dozens of specimens in its woodland showcase: Garden in the Woods. There guests may purchase mature trilliums from the stock beds, taks tours, and attend workshops with Dan Jaffe, the official propagator and stock bed grower at the society and coauthor of the society's newly published guide, Native Plants for New England Gardens.
For those of you who can't travel to New England next week, we offer this succinct guide to everything you need to know about these jewel-like wildflowers.
Photography by Justine Hand, unless otherwise noted.
Trillium Grandiflorum: Beginner's Plant
Native to North America, trilliums are found in nearly every woodland region of the country, ranging from USDA zones 4 to 9. The early spring flower enjoys the dappled sunlight that filters through the trees. Therefore they are an ideal plant for a shade garden. Trilliums enjoy the rich, moist, well-drained soil (with a neutral to acidic pH) of the forest floor. They also love bark or leaf mulch.
Trilliums thrive in a deciduous forest where the soil has a more neutral pH. T. grandiflorum prefers limey soil, while Trillium erectum likes more acidic soil. Soon after blooming, trilliums go dormant, so it is best to plant them among plants with a summer growth cycle. But note, though trilliums love spring's wet weather, they do not like to be overwatered in the summer.
Because trilliums produce heavy seeds, which drop near mature plants, they often exist in colonies. If you are trying to propagate your own trillium bed, be aware that trillium seedlings will not develop their characteristic three-leaf structure until the second or even third year. So if you see lots of long, thin leaves poking out of the ground around your trillium, do not pull them out. Plant Delights Nursery has an instructive video that shows trillium seedlings in first- and second-year growth.
Trillium Grandiflorum 'Multiplex': Showboat
A most sensational form of Trillium grandiflorum, 'Multiplex' has multipetaled blooms. Unlike standard T. grandiflorum, 'Multiplex' does not attract pollinators and therefore does not turn pink. To encourage helpful insects, Dan Jaffe recommends planting 'Multiplex' alongside other trilliums.
'Jeweled Wakerobin': Shy Star
There are two main types of trillium: Sessile varieties have flowers that rest directly on the leaves, and pedicellate trilliums have a bloom that sits on a stalk. Of the pedicellates, there are two main forms: upright or bending/nodding.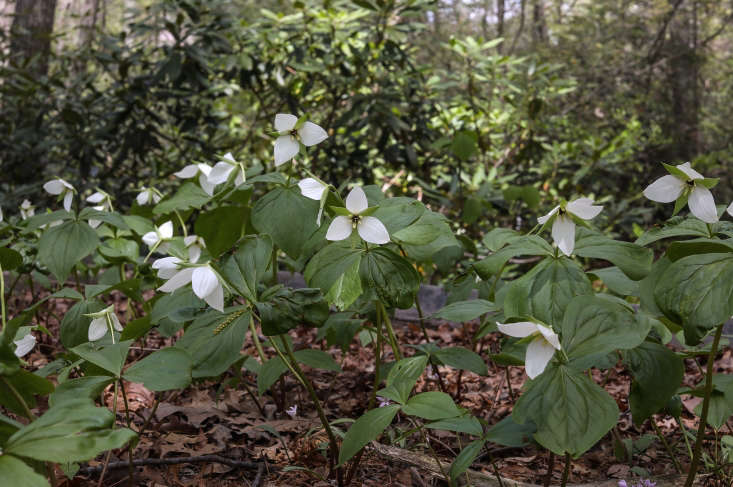 Many trilliums are protected by law so never "steal" plants from the wild. Instead always buy live plants from reputable nurseries or native wildflower societies.
Vaseyi and Erectum: Scarlet Beauties
For more advice on trilliums, watch Dan Jaffe's helpful video featuring some favorites from Garden in the Woods.
Sessiles, the Mottled Leafed Trilliums
With flowers that rest directly on the leaves, Sessile trilliums are quite distinct from their pedunculate cousins.
Cheat Sheet
Trillium is a native wildflower that thrives in woodlands across the US.
An early bloomer, trilliums flower from late April to May, then go dormant in the summer.
Trilliums look best planted among other shade-loving ground covers or woodland plants such as ferns, Celandine poppy (Stylophorum diphyllum), Virginia bluebells (Mertensia virginica), or Solomon's seal.
Keep It Alive
Hardy in zones 4 to 9, this native woodland flower prefers full to partial shade, well-drained soil, and a neutral to acidic pH. Trilliums are ideal under deciduous trees. If planted near pine, add lime to the soil.
Buy live plants, not boxed ones (which are often already dead), and plant in spring.
Avoid overwatering dormant summer plants.
Divide 'Multiplex' and replant in late summer. Add leaf or bark mulch in the fall.
Beware not to pull up seedlings, which may resemble grass or weed violets.
For more planting and care tips, see Trilliums: A Field Guide. Looking for something to plant with your trilliums? See Wild Flower Society: 10 Outside-the-Box Native Plants, Native Perennials for a Shade Garden: 9 Favorites for Cold Climates. Also, see more of the Garden in the Woods collection of trilliums and other woodland natives: Walk on the Wild Side: A New England Woodland Garden.
For more shade-loving ground covers, see our curated design guide to flowering Ground Covers 101, including Lungwort, Sweet Woodruff, and Coral Bells.
(Visited 423 times, 1 visits today)