Designer Lisa Lee Benjamin of Urban Hedgerow collaborates with artists, master woodworkers, and horticulturalists to create beautiful, one-of-a-kind habitats for bees and other beneficial insects. She describes the insect houses as Bug Boxes. We call them beautiful.
Urban Hedgerow's insect boxes are made to order and can be commissioned by contacting Bug Boxes. Here's a closer look at a few of our favorites (and the materials inside them):
Photography via Urban Hedgerow except where noted.
Above: Insect house as art. A custom Bee Wall by master builder Kevin Smith was built specially for Flora Grubb Gardens in San Francisco.
Above: Built of foraged and found materials (including recycled scrapwood), the insect house has partitions, holes, and crannies sized to attract different species of beneficial insects. For more information (or to commission your own), visit Kevin Smith.
Above: Photograph via SF Gate.
Built with twigs, moss, bamboo, and other natural materials, the bug houses prove irresistible to beneficial insects.
Above: A miniature bug house hangs from a branch in London.
Above: A bug house at the edge of a city street in San Francisco.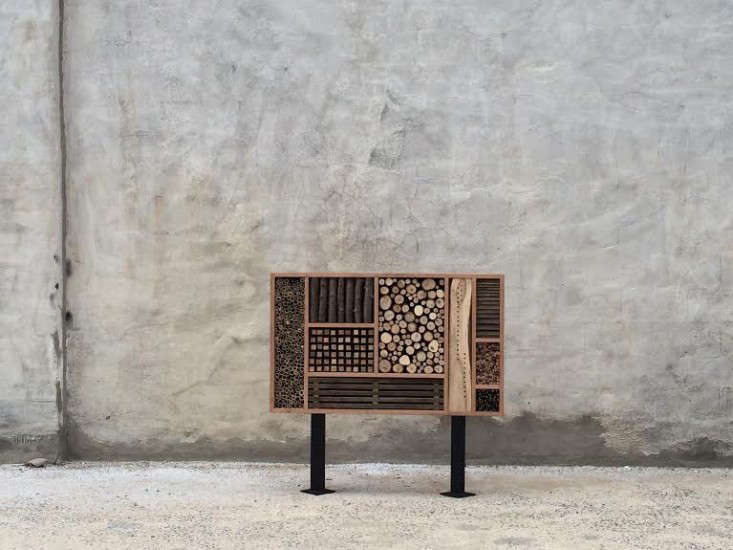 Above: Commissioned by Brooklyn Botanical Gardens for its Discovery Gardens, Urban Hedgerow's Bug Habitat "has sections filled with materials which provide a host of opportunities for wild nesting bees, lady beetles, lacewings, butterflies and spiders."
At the Brooklyn Botanic Garden's Discovery Garden, "we noticed that praying mantises were laying eggs between the slats of the benches in the Native Flora Garden, so you'll see there's one section here that mimics those slats," says garden and family program manager Ashley Gamell.
Above: Lisa Lee Benjamin fills bamboo stalks with small sticks to help create a bug habitat. Photograph via SF Gate.
Above: A Bug Box built by UK-based designer Geoffrey Fisher (who also happens to be the maker of our favorite Trook wooden hooks).
(Visited 16 times, 1 visits today)