When you sow seed that fails, do you blame yourself? It's a little known fact that the seeds of some of our favorite plants need to be sown fresh. On tearing open your carefully chosen seed packets in spring there is a strong possibility that they haven't a hope. In the UK we are lucky to have American-born Derry Watkins of Special Plants near Bath who's something of a fresh seed enthusiast. Here are a few tips on sowing fresh:
Seeds are available in the UK directly from Special Plants; for US gardeners, Seedaholic has an impressive list of these unusual plants.
Photography by Jason Ingram.
Above: Most members of the Umbelliferae and many of the Ranunculaceae make gardeners feel bad about themselves because they don't germinate. You haven't done it wrong, but you may have been sent seed that has gone into dormancy because it's not as fresh as it should be. The seed of biennial umbels like Molopospermum peloponnesiacum will only work for six months or so after becoming ripe; fresh seed will be available in July from Special Plants.
Molopospermum is very similar to Angelica except in the foliage. For US readers, Angelica archangelica is available from Seedaholic for $1.90 per seed packet.
Above: The not so-humble-umbel Selinum wallichianum; a packet of 20 seeds is available for £2 from Special Plants.
Seeds of plants which need to be sown fresh include the very popular but maddening (for reasons stated above) Anthriscus sylvestris 'Ravenswing' ($2.98 for 25 seeds from Seedaholic), Eryngium, Astrantia and Pulsatilla (all available from Seedaholic, prices vary). Also, Hellebore, Aconitum, Anemone and Actaea. The list goes on.
Cold is imperative for the germination of these "time-limit" seeds. Sow them without further delay and put them in a cold glasshouse or cold frame for six weeks or so. If the temperatures near you are warming rather rapidly, sow them into a jar of damp vermiculite and keep them in the refrigerator. Check for signs of life and then empty the contents into a prepared tray of seed compost.
Above: Giant fennel (Ferula communis) and friends can also be pushed into germinating at unexpected moments. Before the seed becomes papery and desiccated it can be collected, pre-ripe, and sown straight into a tray of compost in summer, keeping it damp. The seed has had no chance of contemplating dormancy at this stage and may kick into action immediately. Fresh Ferula communis seed is due in August from Special Plants.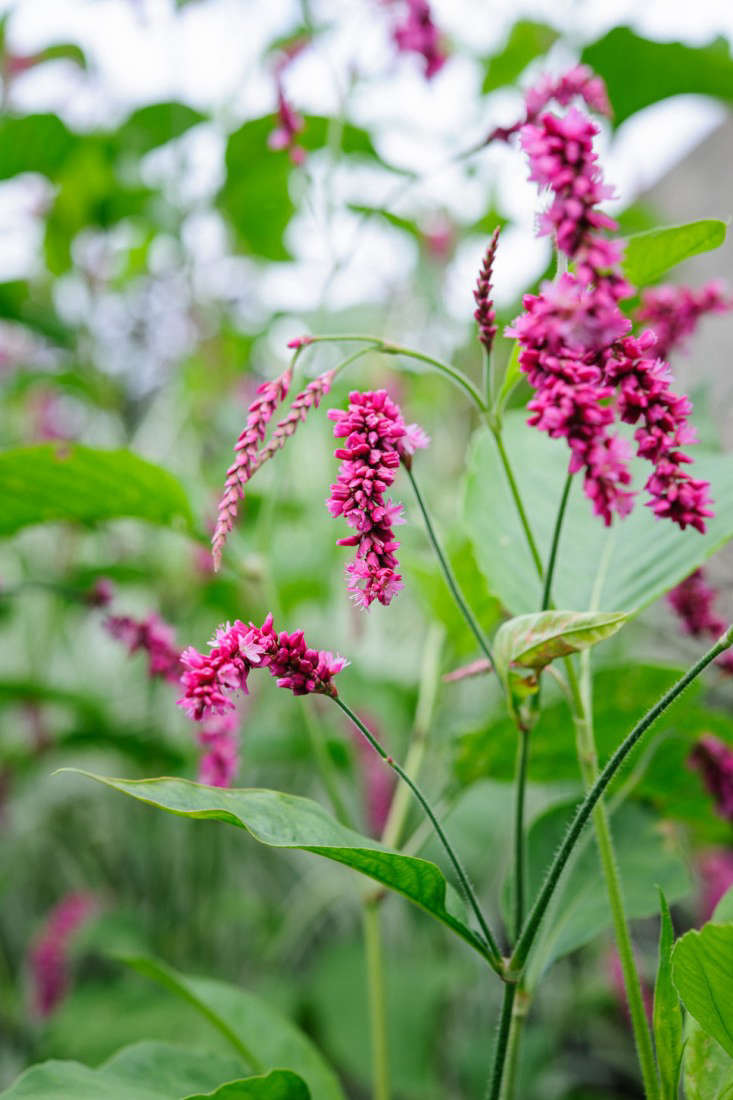 Above: Persicaria orientalis (available for £2 per packet from Special Plants). More commonly known in the US as Kiss-Me-Over-the-Garden-Gate, seeds for this statuesque plant are $2.50 for 25 seeds from Baker Creek.
All of the plants here are literally covered in seeds. Imitate nature and sow them when they are ready, instead of storing the seed and forgetting about it, or buying old, dusty seed. Needs a period of cold.
Above: A flower arranger's favorite, Smyrnium perfoliatum flowers in the UK from April. Find a friend who grows it in the next few months and keep a covetous eye on its seed development. Fresh Smyrnium perfoliatum seed is due in June from Special Plants.                                       
Above: Bunium bulbocastaneum, £2 for 20 seeds from Special Plants.
If US gardeners despair of finding these unusual umbels, there are very good annuals that give the same kind of effect. Ammi majus, aka Queen Anne's Lace is available from Burpee ($3.95 for 500 seeds) and Orlaya 'White Finch' is available from Johnny's Seeds for $3.95 per packet. Added good news is that the seeds of these annuals can be left longer. However: they can still be tricky to germinate. Speaking from experience, obtain a plant and leave it to seed around your garden all by itself.
Above: Special Plants nursery near Bath, in summer. Derry Watkins sends seeds to the UK and around the world. For a list/reminder of seeds that need to be sown fresh, join the Special Plants mailing list.
For more plants that are a bit special, see: The Source: Where to Find the Next "It" Plants.
(Visited 59 times, 1 visits today)