"The county of spires and squires" still works as a description of Northamptonshire, in the middle of England. The old manors and their estates are joined together like dot-to-dot: feudalism lives. People who live in estate villages tend to rent, since everything within view belongs to the squire.
And you'd better like mustard yellow or mud brown, or whatever color the estate has chosen for all the woodwork, from farm buildings to the village hall. The colors, which are a kind of branding, are sometimes there for historic reasons (corresponding with the colors of the local hunt, for instance) but often they are less easy to explain. Rockingham Castle, built on the orders of William the Conqueror, sports a rather unfashionable bright green, and the estate is at odds to explain why they use it: "Basil our archivist has had a chat to a few people who work on the estate and looked through our records but he cannot find a definitive answer."
Above: The village hall at Cottesbrooke, a feudal manor near Northampton. Princess Diana grew up on the estate next door, Althorp. This village hall was put up in 1953 to commemorate the Queen's Coronation, and a portrait of the young queen hangs above the stage in her honor. Photograph by Alex Parker.
Above: A collection of post-1953 chairs at Cottesbrooke. Fortunately for the tenants, the owners of Cottesbrooke Hall are people of taste and use a subtle blue-green for their estate livery. Photograph by Alex Parker.
Above: The pavilion at Hidcote Manor Garden, in Gloucestershire. A very popular paint color, Hidcote Blue, is mixed by Farrow & Ball for the owners of Hidcote, the National Trust. Photograph by Kendra Wilson.
Above: Sulby Park, Northamptonshire, with evidence of this same kind of blue seen with traces of green, found by our paint detective Patrick Baty. The exceptionally well-informed owner of Papers and Paints in Park Walk, Chelsea, has been looking into this blue, so popular now for external woodwork but hardly known traditionally. With age, green turns blue, and it is this hue which people want to use increasingly. Photograph by Patrick Baty.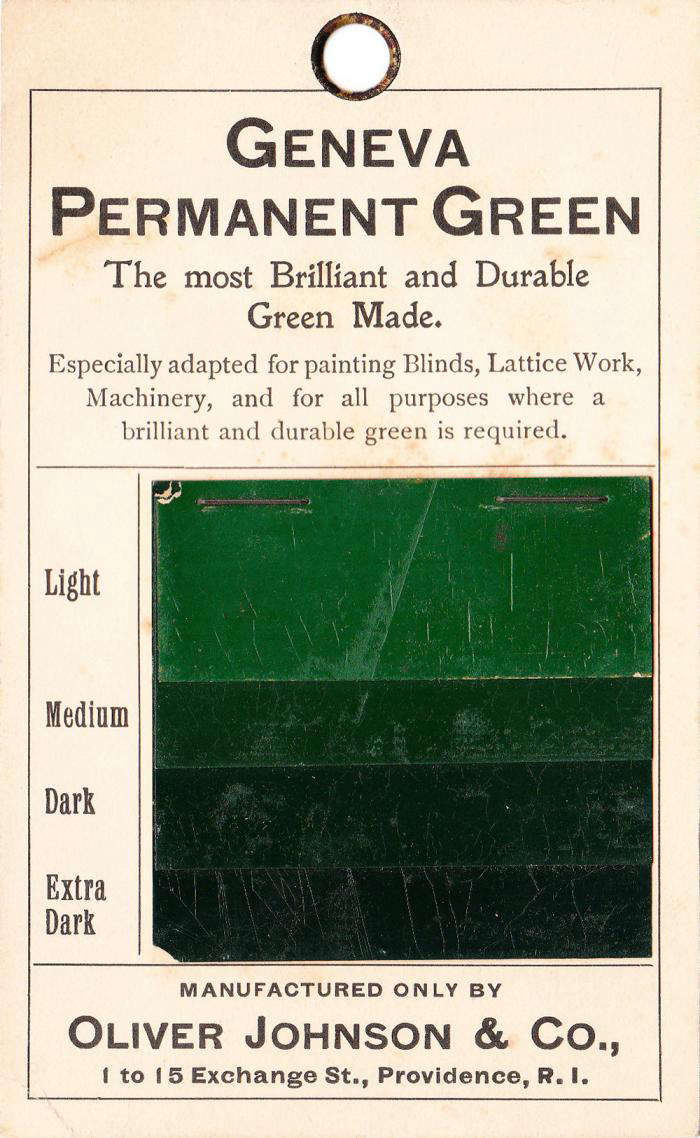 Above: An old color card with versions of Brunswick Green, the early incarnation of Hidcote Blue. Courtesy of Patrick Baty.
Above: Hidcote. Ironically, the point at which green paint is about to mellow into a similar blue to this, is when it starts to peel and could do with a fresh coat of paint. Photograph by Kendra Wilson.
Above: The estate color at Cowdray, West Sussex, which is named "Gold Cup." The first and second viscounts Cowdray were both members of Parliament and chose this "Liberal" yellow for their tenants to enjoy: "The color has stuck ever since." Photograph via the Cowdray Estate.
For more exterior paint, see "5 Favorites: British Front Doors With Style" and "5 Favorites: Daring Red Doors."
(Visited 168 times, 1 visits today)