Medlar is the kind of tree which you find in historic gardens, near a quince or mulberry. It is not clear why medlar is not more widely grown, being a good size, interesting shape, with large blossoms in spring and an intense display of autumn color. Could it be to do with the fruit, politely referred to as "cul-de-chien"?
Photographs by Kendra Wilson.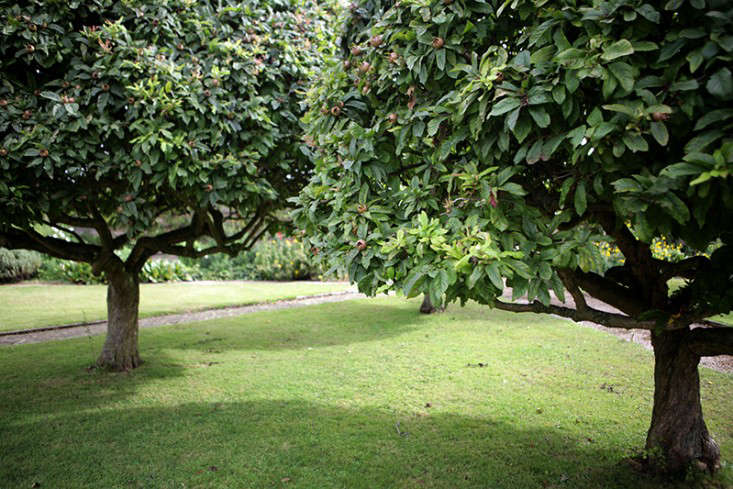 Above: Six medlars grow beside eight quinces in the ornamental kitchen garden of Grimsthorpe Castle, Lincolnshire. Being ornamental, they are all pruned unspairingly into toadstool shapes. Unlike the unfortunate quince, plenty of medlar fruit is left on the tree.
Above: Medlars are grown mainly for the value of the tree over the fruit at Grimsthorpe. The large, apple-like blossoms are allowed to have their display amid long green leaves; then the loppers appear.
Above: Left alone, which is by far the more usual way, medlars have drooping branches, their windy shapes only being revealed in winter. At Grimsthorpe the shaped trees invite you to stand in among them, all year round, for closer inspection.
Above: Even after shaping there is an abundance of the brownish-greenish leathery fruits, the bottom of which make children snigger.
Above: Ah yes, the fruit. They are taken into the big house at Christmas, where Lady Willoughby, grand-daughter of Nancy Astor, has them with port. Medlar is a winter fruit, so it is ready at quite a useful time after the apples, pears, and plums have been harvested. It is "ready" when it has rotted to mush.
Medlars can be picked from the tree when they are still hard in mid-autumn and allowed to rot indoors. Alternatively, allow them to drop from the tree and quickly scoop them up and bring them inside to finish softening up. The technical term for the rotting of medlars is "bletting."
Above: Grimsthorpe, half-Tudor castle and half-18th century palace designed by Blenheim architect Vanbrugh, seen from the ornamental kitchen garden.
Medlars need to "blet" to make them edible: the rotting fruit produces sugar and a more intense flavor, like stewed apples with a touch of date. The flesh of bletted medlars is scooped out with a spoon, after baking the rotten fruit for a quarter of an hour. This delicacy is accompanied with a glass of port. Jelly is a more practical way of dealing with the harvest: use a combination of bletted and unbletted fruit, the latter containing more pectin to help the jelly set.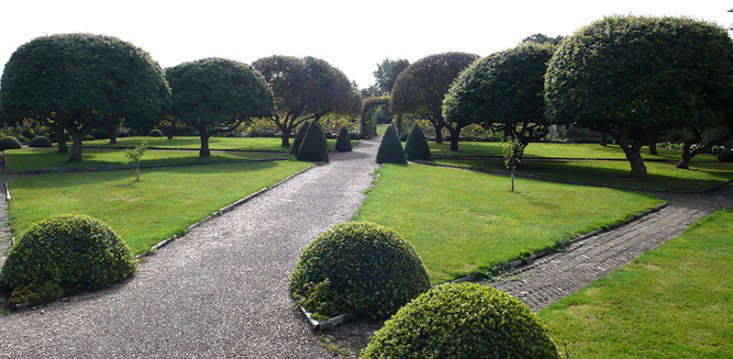 Above: Topiary is very popular at Grimsthorpe, which is why anything green is pressed into service.
Medlars grow to a height of about 15 feet, depending on the rootstock. They look perfectly at home in a small urban garden, as well as a small rural one. Buying a medlar which has been grafted on to quince will give you a more durable tree in damp and wind. The variety 'Nottingham' is the most available variety in the UK; Otter Farm sells the more récherché Westerveld for £30.
Care for a map?
For more unusual fruit to grow, see How to Grow the Delicious Foods You Never Find in Shops.