One year, after patting myself on the back for avoiding chemical products, I rented a power washer to clean the penetrating and slip-inducing Seattle moss from my patio. Not only did I remove the moss, but I also managed to lose pieces of my stone patio and several precious plants. If only I had known about Miracle Brushes.
While their name invokes an empty-promise offering from a bad infomercial, Miracle Brushes are anything but. Created by Burgon & Ball in England (a climate that's home to many varieties of damp-induced mosses and algae), Miracle Brushes are tough outdoor cleaning tools that do the job with out inflicting chemical or physical damage to your garden.
Above: Perfect for small gardens or compact areas, such as garden steps, the Compact Miracle Block Paving Brush is a cleaning and gardening tool in one. It features an FSC hardwood head with three rows of tough wire bristles and a small weeding knife; £9.95 at Burgon & Ball. The Compact Miracle Block Paving Brush is also available in the US for $12 at Garden Shop Online.
Above: The Compact Miracle Block Paving Brush has an 18-inch handle that provides great force and leverage. The full-size Miracle Block Paving Brush is available with a 62-inch handle; £9.95 at Burgon & Ball.
Above: The wire bristles used in Miracle Brushes are heat treated for retaining optimal springiness and maximum life.
Above: Designed for wooden decking, the Miracle Decking Brush has five rows of flexible contoured wire bristles to clean dirt, mold, and algae; £19.95 at Burgon & Ball.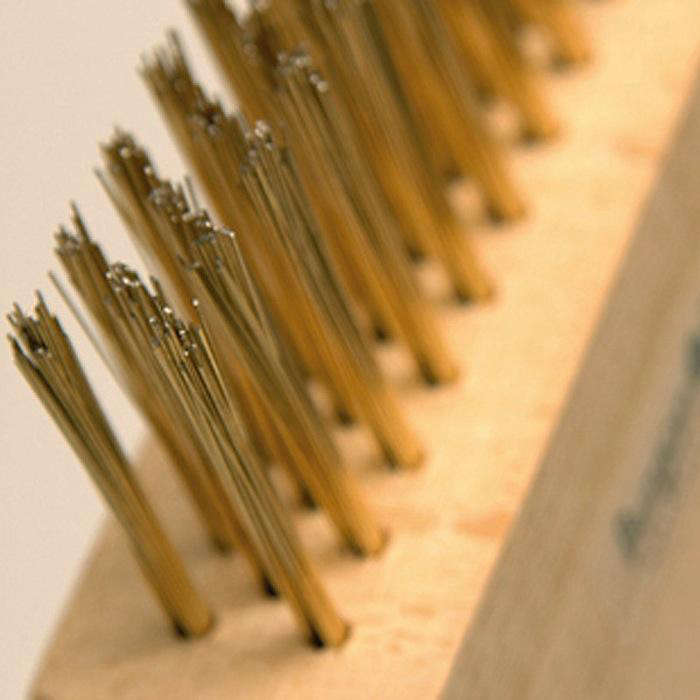 Above: The Miracle Patio Grout Brush has a full-length handle and three rows of straight wire bristles that are effective for cleaning larger areas of patio grout: £9.95 at Burgon & Ball.
Above: You can clean and sweep with the Miracle Patio Surface Brush, a full-sized two-in-one cleaning tool. The brush head features galvanized spring steel bristles for cleaning a patio surface, interspersed among tough but flexible polypropylene bristles that sweep up the debris removed by the wire; £17.95 at Burgon & Ball.
(NB: Visit our gallery to see more than 350 images of stunning Decks and Patios.)
(Visited 10 times, 1 visits today)