Small-space gardeners are always looking for plants that work hard. We expect as much from them as we do from the essential humans in our lives: They must be multi-faceted, versatile, and meet our diverse needs. In short, they must make us happy. For plants, this means good looks combined with multiple seasons of interest, low-maintenance, and, to meet the highest standard, it helps if they are aromatic and edible. Container gardeners have an additional obstacle to overcome, since pots expose plants to more stress than they experience when grown in-ground. Winters and summers are more extreme, watering is more complicated, and becoming root-bound is an ever-present issue.
Two cold-hardy, flowering, and evergreen shrubs satisfy all these requirements and withstand these challenges. Each is renowned for tea. Both have beautiful white flowers, appearing at opposite ends of the growing season: fall-flowering Camellia sinensis, the most famous tea of all; and spring's Rhododendron tomentosum, better known as Labrador tea.
Photos by Marie Viljoen
In my USDA hardiness zone of 7b, fall-blooming camellias extend the season of flowers right up to Thanksgiving. Why not combine blossoms with an added layer of interest? The processed leaves of Camellias sinensis create what is perhaps the most universal commercial beverage in world: quintessential tea.
Evergreen C. sinensis is native to East Asia and reliably hardy from zones 7 – 9. It is essential to grow it in a protected spot out of reach of cold winter winds. High shade, dappled shade, or afternoon shade are best. All camellias grow most happily in slightly acidic soil. In pots, pH is relatively easy to manage (changing in-ground pH is a challenge). While peat moss has been the standard for supporting an acidic environment for plants, it is not earth-friendly or sustainable: Healthy peatlands are carbon sinks, storing more carbon than the world's forests. Destroy them (or strip them for peat moss), and they release greenhouse gases. (For more on the topic, see Just Say No to Peat: It's Time to Rethink the Compost and Soil You Buy.) My home-spun alternative to peat moss is to add a cupful of finely ground coffee—fresh, not already brewed—to a gallon of soil along with shredded hardwood mulch. It has worked well for blueberries in pots, too. (See Gardening 101: How to Use Coffee Grounds in the Garden.)
The flowers of the tea shrub are smaller than the blousy camellias that are purely ornamental, but they are exquisite, appearing profusely from late September through November. A hedge of C. sinensis would be a lovely thing.
My own tea-brewing micro-experiments with two young shrubs are limited to collecting the new growing shoots and young suckers that appear in summer.  With the dried young leaves I make a hybrid of matcha (powdered green tea) and green tea (made with loose leaves).
I won't win any foamy-matcha awards with my tea but how does the flavor compare? Not bad! It is grassy with a bitter note, and a slightly sweet finish. For my next harvest I will toast the green leaves lightly before drying. For the curious, a tiny harvest (0.2 oz dry) yields 2 Tablespoons of green tea powder. The enjoyment factor, though, is immeasurable.
Labrador tea is one of several common names for several similar species Rhododendron with fragrant leaves and clusters of tiny white flowers  In this case, it is R. tomentosum (previously classified as Ledum palustre), also known as bog tea and wild rosemary. Intensely cold-hardy (reputedly down to USDA zone 2a), its gorgeous corymbs of mid-spring flowers are reason enough to grow it. It also appreciates acidic soil pH, but is otherwise deeply unfussy, even tolerating long dry spells. The species occurs in the northern reaches of North America, Greenland, Europe, and Asia.
The leaves of Labrador tea are intensely fragrant. Young leaves have been used traditionally by First Nations and Native American peoples as a beverage for medicinal purposes for the treatment of ailments including lung diseases, rheumatism, colds, and gastritis, as well as a mild narcotic. It became a tea of choice by colonists, in response to the Boston Tea Party, drunk as an alternative to imported tea. The dried leaves for tea can be purchased from specialty stores. It remains an important drink in Native communities in the Yukon.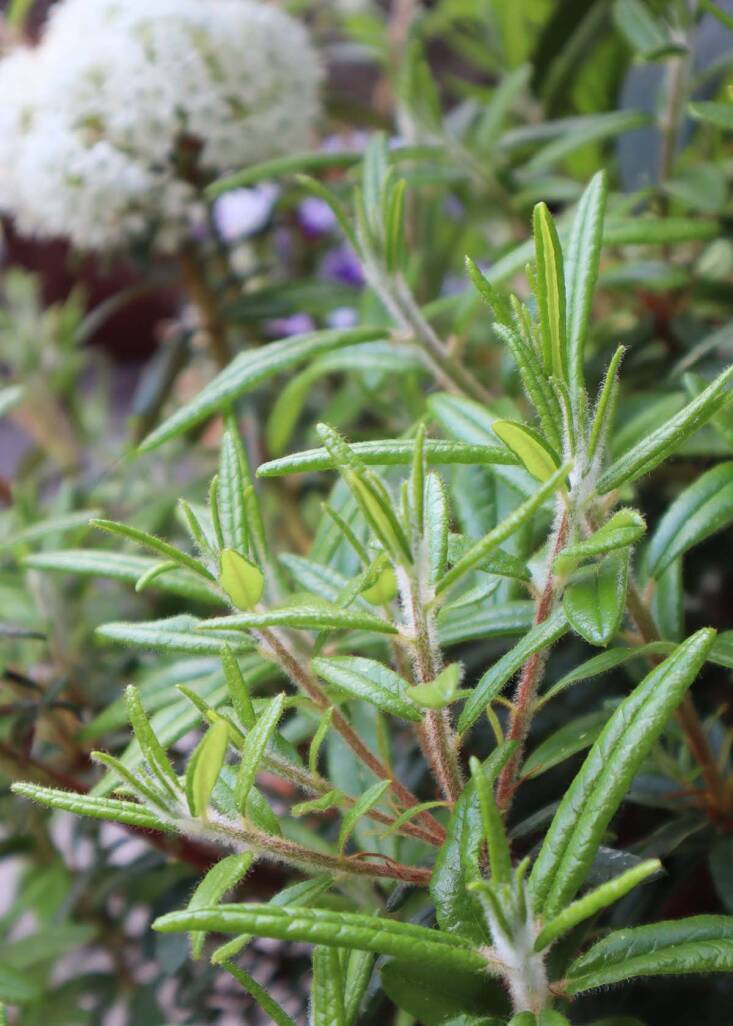 But Labrador tea is a tea plant with serious caveats. Modern research supports the relevance of its traditional uses: It has a high ascorbic acid content, and in laboratory tests its essential oil has demonstrated analgesic, anti-inflammatory, antimicrobial, antiviral, antifungal and insecticidal potential. But they also identify toxins. The leaves and flowers of all rhododendrons (and other members of the Ericaceae family, like Pieris and Kalmia) contain grayanotoxin, associated most famously with so-called mad honey disease, where honey produced by bees that have fed on other species of rhododendron causes serious poisoning symptoms in humans who eat the honey. And there is ledol, low doses of which may be therapeutic but large doses affect the central nervous system. There is no clinical date stipulating what a safe dose is.
The consensus is that moderation is key and that only young tips of Labrador tea should be used. If you do brew your own tea, use only the most tender spring leaves and only drink one serving a day. Pregnant or breast feeding mothers should avoid it. The flavor of the tea is medicinal indeed, and extremely herbal. Sweetened with a dash of maple syrup it is delicious.
Regardless of whether brewed tea is the goal, these two interesting shrubs warrant a spot in our gardens, opening and closing the blooming year with their beautiful flowers, and offering winter greenery when we need it most.
(Visited 310 times, 1 visits today)