The menu at a recent dinner party hosted by Beth Kirby of Local Milk sounded delectable–stinging nettle and ricotta ravioli, yes please–but it was the tablescape she created with Tennessee textile designer Margaret Pate that stopped us in our tracks. In a week that's all about dry gardens, we're looking to her collection of low-water plants and her eclectic dining room as inspiration.
Photographs courtesy of Beth Kirby at Local Milk unless otherwise noted.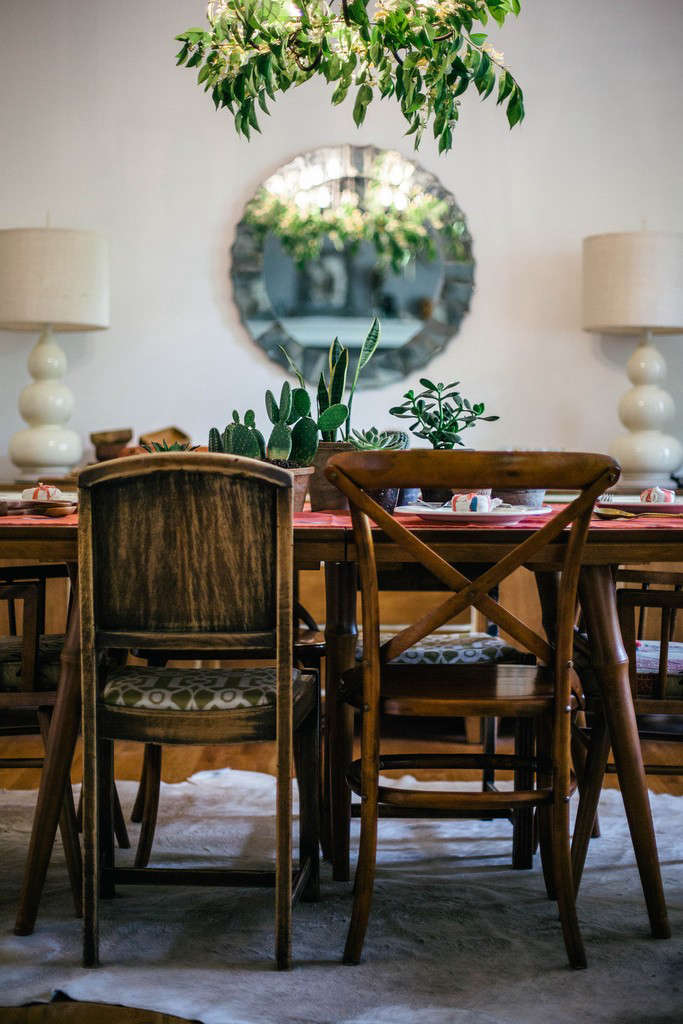 Here are a few key pieces needed to recreate the look:
Above: Beth's tablescape was inspired by the Margaret Pate scarf she used as a tablerunner. A summer-weight version of the Luca Scarf is available at her shop Inks and Thread for $105.
Above: Photograph by Blue Ridge Kitties.
To hide an unslightly light fixture, Beth and Margaret festooned the chandelier with honeysuckle. If you don't have honeysuckle growing in your neck of the woods, consider planting the non-invasive Red Trumpet Honeysuckle. A 1-gallon pot is available seasonally from Gardener Direct for $19.95. (For another honeysuckle-laden design, see Design Sleuth: A Very Green Garage.)
Above: The light-relfecting Howard Elliot Madison Round Mirror is available at Arcadian Home for $249.90.
Above: The Robert Abbey Bone Triple Ceramic Buffet Lamp is $308.91 from Lamps Plus.
Above: The Madeleine Side Chair is on sale for $99 at Restoration Hardware.
Above: A Rustic Terra Cotta Cylinder in Moss Grey is available at Greige for $26.
Above: For a red-hued pot, a handmade clay Hot House Pot is available in three sizes at prices ranging from $10 to $24 at Iron Accents.
Above: We love succulents, but we're especially impressed with Beth's assortment of pint-sized cacti. The Terrarium Cactus Collection from Terrain can provide you with your own instant collection for $35.
Above: Beth served her version of Lavender Soda in recycled glass bottles. A similar Korken clear glass bottle is $3.99 from Ikea. For an entirely different take on our favorite glass bottles, see 10 Easy Pieces: Bottle Vases.
Distracted by the showy mother-In-law's tongue? Try one in your bathroom.
Looking to steal more bright ideas? Check the Gardenista Archive for 80 Posts About Houseplants.
N.B.: This is an update of a post published June 26, 2013 as part of our coverage of Dry Gardens.
(Visited 64 times, 1 visits today)