Drive west across San Francisco as far as possible, to the ocean; you can see the water from the end of the block. In the foggy Outer Sunset surfer district, restaurant owners Dave Muller and Lana Porcello built two potting sheds from wood scraps and old windows. You can too. Here's how to recreate the look:
Photographs by Michelle Slatalla.
Above: Much of the harvest ends up on the menu at the couple's nearby Outerlands restaurant. The key to the design was to be flexible, to accommodate the size and shape of available materials. Builder Jay Nelson helped design both greenhouse sheds and then constructed them, as well, using salvaged redwood and Douglas fir and reclaimed windows. Much of the material came from San Francisco's Building REsources, a non-profit scrap yard and salvage store.
Vintage windows came from nearby Sunset Glass. "These were windows they didn't think they could re-sell," says Porcello.
Above: inside the large shed, wooden wall mounted planters have slanted sides to help with drainage and to reduce the weight of the soil, says Porcello, adding, "But it was largely an aesthetic decision, to give visibility and a cascading effect to the plants."
Above: Made of solid wood and screwed together for stability, a Cedar Wood Wall Mounted Planter Box (L) is available in two lengths, at prices ranging from $50.52 to $52.68 (minimum order size is six planters) from Wood Things. A 22-pound bag of Polished Black Garden Rocks (rock size ranges from 2 to 3 inches) will cover 1.25 square feet at a depth of 2 inches; available for $21.90 per bag from Stone Decorative. (Porcello buys rocks and bags of organic potting soil from Sloat Gardens a few blocks from her house.)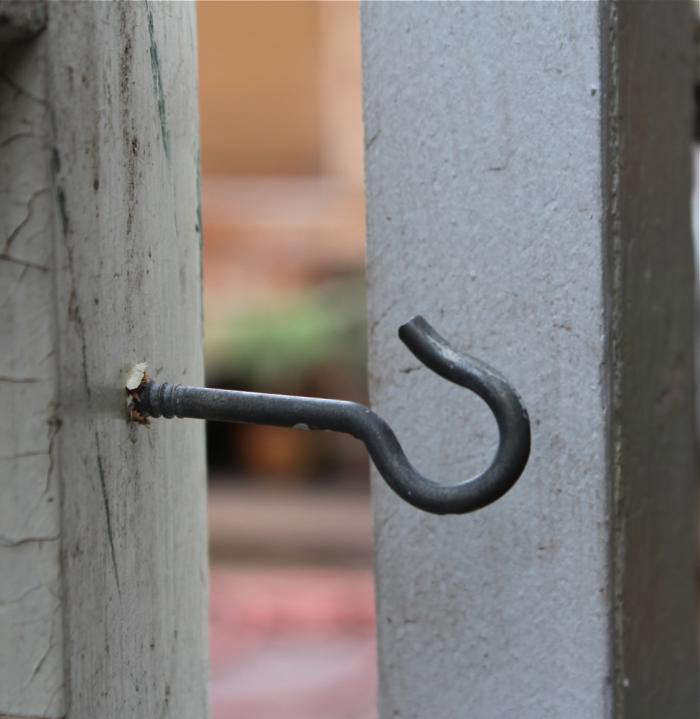 Above: Simple latches, hooks, and hinges came from a local hardware store.
Above: For a similar hook, a three-pack of Hillman Group Screw Hooks is $1.18 from Lowe's.
Above: A similar selection of potted herb plants is a 6-Pack Fragrant Herb Collection in 4-inch pots; $28.95 from Williams-Sonoma Agrarian.
Above: Porcello stores supplies, seedlings and potted succulents on slatted wooden shelves that drain onto the bed of river rocks.
For our favorite potting benches, see 10 Easy Pieces: Potting Benches.
Above: A similar Crassula Potted Plant (L) is $6.99 from Ikea. A Flotbad Plant Pot with a drain hole in the bottom is $7.99 from Ikea.
Above: Sloat Gardens, which has several locations in the Bay Area, sells Glazed Pots(L) made by the Ow family in Malaysia. For more information, see Sloat. A Malaysian Glazed Cloche Pot (R), available in three sizes from Fleet Farm, is $15.99.
Above: Porcello keeps a folding wood ladder in a corner to make it easy to reach the highest row of plant boxes. A similar 6 Ft. Wood Step Ladder is $63.99 from Cornell Hardware.
Above: Above: The second shed has six windows but no door. The greenhouse glass roof is constructed of multiple salvaged window panes.
Above: Two pots of oxalis peek out from beneath the firewood. Eight varieties of Oxalis (False Shamrock) are available, for $12 per plant, from Plant Delights.
Above: A V&O Little Camper Brass Trim Oil Lantern is $14.99 from Amazon.
Above: The glass roofs create a greenhouse effect that makes herbs thrive year round.
For more of Muller and Porcello's house, see An Urban Surf Shack in San Francisco.
N.B.: This is an update of a post originally published November 9, 2012.
(Visited 44 times, 1 visits today)