Designed by Studio Pepe, the Fiat Lounge in Milan is the sort of a fresh, open air space we'd like to emulate in our own backyard. So we asked the designers to help us source the look:
Above: Conceived by the multi-disciplinary, Milan-based design firm of Studio Pepe, the Fiat Lounge was designed to have a constantly changing selection of furniture pieces "in open dialog with the outdoors."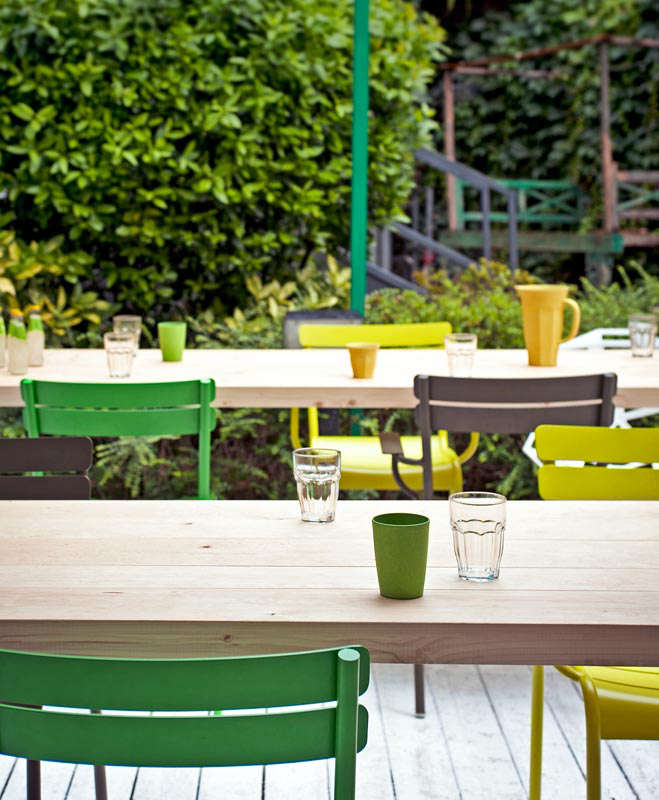 Above: Long, thin communal tables, flanked with summery citrus cafe chairs, encourage both intimate and expansive gatherings.
Above: Fermob's Luxembourg cafe chairs in grass green, verbena, and nutmeg, added a dash of vibrant citrus and cool spice to this summer hangout. Set of 2 is available at Horne; $652.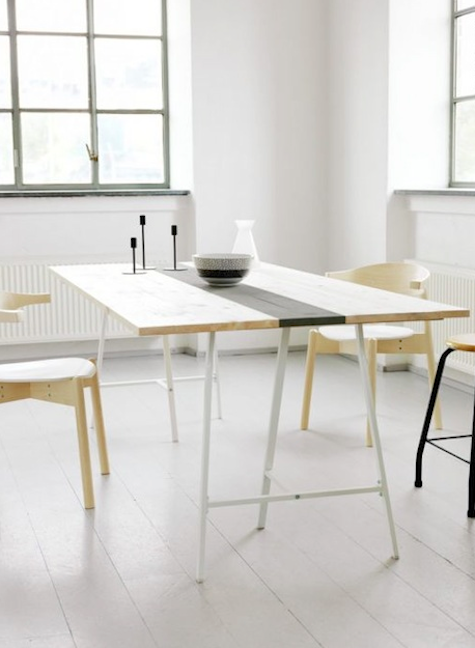 Above: It is relatively easy to make long, custom tables similar to those at Fiat Lounge, using boards from your local lumber yard with Ikea Lerberg trestle legs; $10 each. (See our complete how-to here.) Or for a shorter table, you simply buy Ikea's 61″ Gerton table top, made from solid beech wood; $80.
Above: Konstantin Grcic's Chair One in white provided a more architectural accent among the tables. Available at Hermann Miller as a set of two; $946.
Above: Playful malemine vessels like this Piccardie Pitcher and Cup from Rice dotted the tables. Cups in assorted colors are available at Huset; $7.50. The pitcher is available at Takatomo.de; it's 17€.
Above: In one of the many seating areas at the Fiat Lounge, a lively mix of materials: fabrics, metal and wood, add texture to the space, while the lithe furniture maintains the open feel.
Above: All of the wooden pieces, including this Day Bed, the Cubi Tables, the Wood Chairs around the tables, and the rocker below are made by the Italian firm Plinio il Givone. "Intelligently" designed, these elegant pieces are fashioned entirely by hand, down to the final application of linseed oil. Each piece is made from solid oak, using fine joinery with no glue, making them both sturdy and eco-friendly. Contact the company of purchasing information.
Above: Artemide's Tolomeo light in green is available at Lumens; $400.
Above: Famous for their creative time pieces, the Italian firm of Diamantini & Domeniconi provided the wooden clocks. The small size is available at Allmodern; $122.
Above: This lounge area features one of Plinio il Giovane's graceful, mid-century-inspired Rockers.
Above: Rounding out the eclectic collection of furnishings are Essenti'al's Eco Chairs And Poufs, made from recycled sail cloth.
Looking for more outdoor living inspiration? Visit one of our favorite Garden Lounges in Brooklyn.