One day while hiking in a wooded area, I noticed little red fruits scattered on the ground. They were the size of cherries, but it was too late in the summer for cherry season. I picked one up and smelled it. The scent was fruity and familiar. Then, I did the one thing a forager should never do: I popped the fruit into my mouth.
The yellow flesh had a bright, semi-sweet flavor—these were wild plums, and I was in a forest of them! Some were bright red and the size of cherries, others pale yellow, still others medium-sized and light magenta. I now call it the "wild plum forest," and I'm not sure people always believe me.
Photographs by Marla Aufmuth, for Gardenista.
Above: It is believed that there are more than 15 varieties of wild plums in the United States.
Above: Since my first sighting, I've started spotting them all over my Northern California town as well. The branches hang over streets and small trees border parking lots. These are about the size of cherries, but with yellow flesh and a flavor that's both tart and sweet.
Above: I don't enter private property to forage, but rather pick fruit that's accessible from the street. It seems as if nobody else is picking them, so I don't think the plums are missed.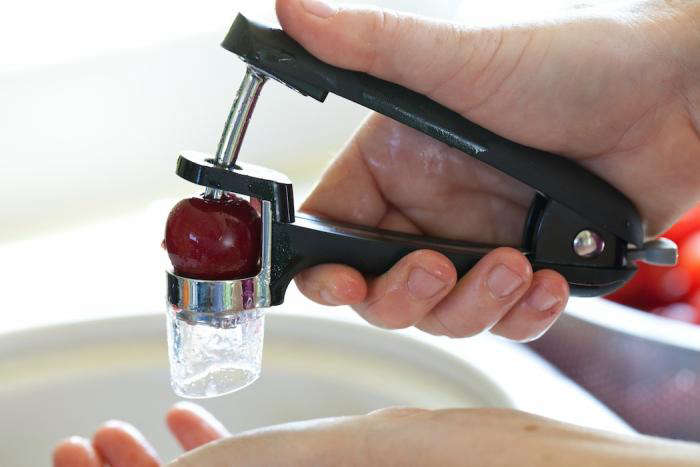 Above: For cleaning these small plums, a cherry pitter comes in handy.
Above: Once pitted, you can make pies, sauces, jams, and chutneys.
Above: For a quick and easy chutney, stew pitted plums with fresh ginger, cardamom, bay leaf, cinnamon, and honey. Bring them to a boil, then let it simmer until it cooks down to the thickness you desire.
Above: If you plan to use the chutney right away, you don't need to give the jars a water bath to seal them. However, for long-term storage you should follow directions here. Serve plums on the side with pork, wild salmon, and curries, or as jam on toast.
(Visited 384 times, 1 visits today)