The imagination of Chelsea veteran Sarah Eberle is reliably unpredictable; she keeps a low profile but her show gardens do not. They reveal a line of enquiry that is concerned with  finding plants and materials that can take us on to the next stage of our ecological journey, and the prosaically-named "Medite Smartply Building the Future" garden is no different in that respect. Waterfalls pour from artificial rock strata made from a type of water-resistant MDF (medium-density fiberboard) called medite smartply, taking the place of mature hardwoods that are allowed to continue the important work of carbon-storing and oxygenating the planet. Below, the woodland edge has its own environmental claims, as well as a high sense of theater in the shapes, textures, and precision-placement of each leaf.
Join us as we tour this unusual and slightly mysterious gold medal-winning garden.
Photography by Jim Powell, for Gardenista.
Birch, conifers, and hawthorn trees were the most popular choices in Chelsea's most environmentally-aware flower show ever. Besides being fantastic for wildlife, each has the design appeal of casting light shade for the woodland- and water's-edge planting that has been prevalent at the show.
The planting is based on the Irish climate, where the wood-alternative product is made. "It is wet, like a temperate rainforest, hardy to zones 8-9, with some areas being very wet with bog planting," explains Sarah. "Buttercups are naturalized but we're taking native species and mixing them further, with exotics like Tetrapanax." (The large leaves by the birch, shown above).
The effusion has a very Irish feel, with plants growing through each other. The color is stubbornly green, and when yellow, cream and the occasional dash of orange make an appearance, they really glow. "The planting is mainly textural," continues Sarah. "There's a lot going on, and color can be very disturbing, in carnival colors. I wanted to calm it down."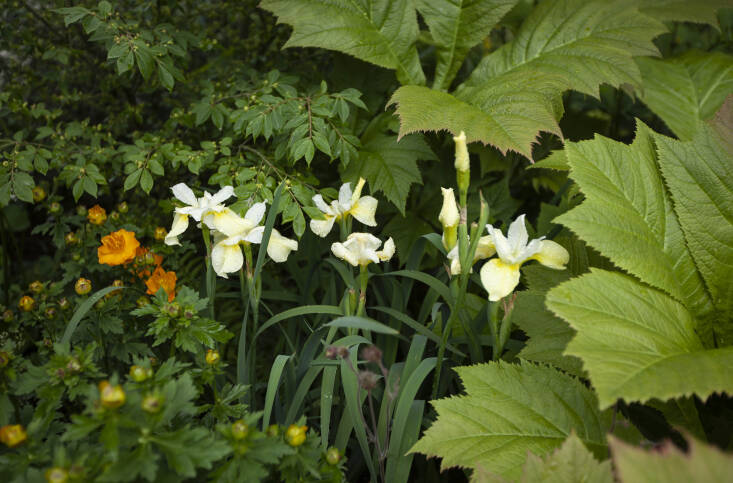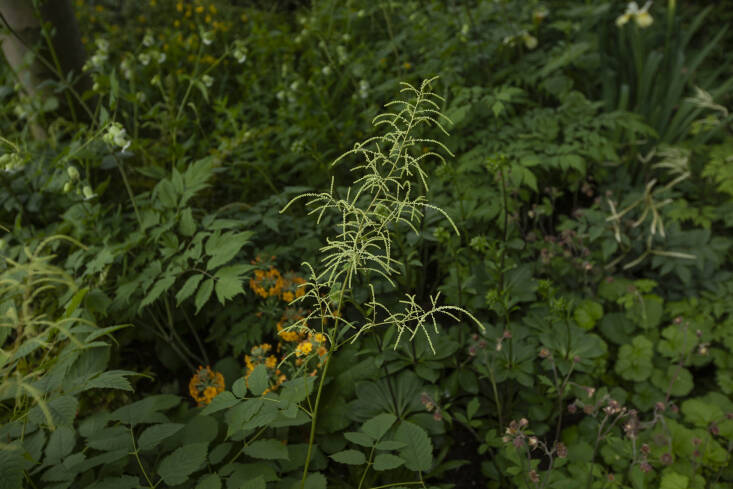 The back of the waterfall, at the back of the show garden, is one of its most theatrical features, with a temperate rainforest of interesting leaf shapes that continues horizontally to the other side of a perfectly raked hoggin path.
"We've got something for plants' people; we've got Asarum canadense, Canadian wild ginger, which is different from the little European Asarum in the wall."
(This is also the year for wild ginger enthusiasts: see Monday's Chelsea Flower Show 2022 Preview: Wilderness and Wattling.
For more on this year's Chelsea Flower Show, see:
(Visited 212 times, 1 visits today)