UK-based gardener Jake Hobson founded Niwaki a decade ago to bring  high-quality Japanese tools to gardeners around the world. The company has grown from offering home-printed brochure with a grande total of three products to its current collection of must-have hand tools that we consider tool bag essentials.
These days,  Hobson visits Japan every year to source new tools from artisans and makers who have small workshops with a cult following. "My wife, Keiko, is Japanese, so it helps," says Hobson, who visits blacksmiths and craftsmen in search of the best hand-forged pruners.
Niwaki, which delivers by Fedex to the US, is offering Gardenista readers a special offer this month: click here for Free Worldwide Shipping.
Here are our favorite Japan-made essentials for a gardener's tool bag:
Pruners
Above: Made in Mimi City, Onoyoshi Secateurs have forged steel blades and come with a spare spring; £49.17 (£59 including VAT).
Above: For shipping in the US, Niwaki's Onoyoshi Secateurs have "beautiful weight, with a smooth, powerful action," says Hobson.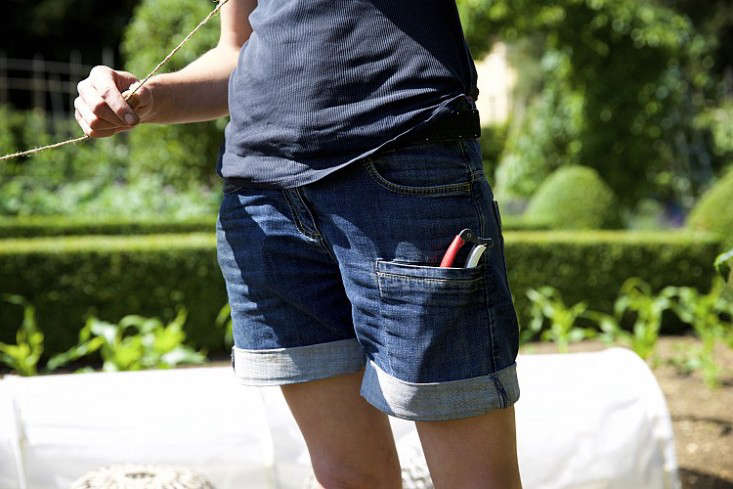 Above: Okatsune Secateurs are "the No. 1 choice for professional gardeners in Japan," says Hobson. "Unlike western brands, which rely on cushioning and gearing for a smooth feel, these have a more direct action, resulting in a very clean, efficient cut." A pair is £36.
Above: "The big chunky catch at the bottom has a crisp action that's easy to use, even with cold wet hands or muddy gloves, and the spring is well secured and never accidentally pops out," says Hobson.
Topiary Clippers
Above: A pair of Wakasaya Clippers is £32.50 (£39 including VAT).
Above: Wakasaya Topiary Clippers have 5-inch blades and a spring action.
Snips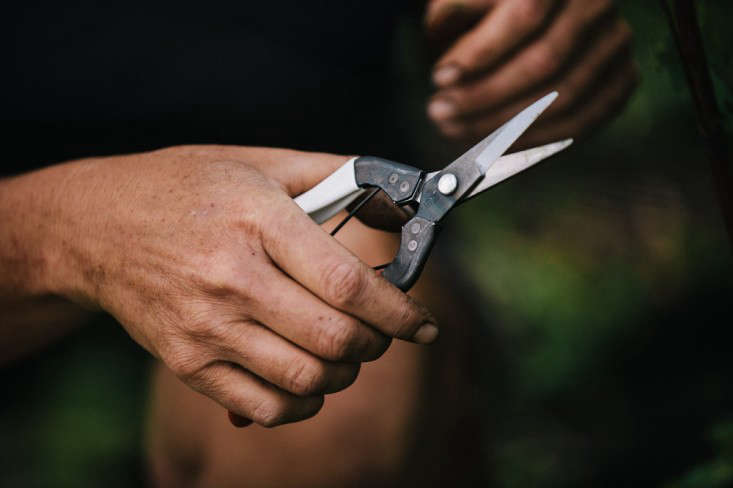 Above: Master blacksmith Tsuneichi Okano founded Hiroshima-based Okatsune 70 years ago to forge high-quality hand tools. The company's collection of snips and shears has distinctive red and white handles. A pair of  small Okatsune Snips (£10) "are absolutely brilliant for flowers, fruit and veg," says Hobson. "They'll even handle light woody growth, but aren't as tough as secateurs, obviously.'
Above: "Pointy ends are great for getting right in for careful snipping, red and white handles show up when you (almost inevitably) leave them lying around somewhere," says Hobson.
Sharpening Stones


Above: A sharpening stone sized and shaped specially for the blades of pruners and snips, the Goukon #1000 has a fine grit for regular maintenance.  Two other grits are available as well: Goukon #220 (coarse) and Goukon #3000 (superfine); £10 apiece or £25 for all three.
Sickle
Above: With a serrated blade, a Herbaceous Sickle works well on grasses; £12.08 (£14.50 including VAT).
Above: To trim grasses, "grab a handful, cut with a single, strong sawing action," says Hobson.
For more of our favorite Garden Tools, see Tools of the Trade: Copper Hand Tools from Grafa and 10 Favorite Garden Forks.
(Visited 87 times, 1 visits today)