It says a lot about the revival of topiary that the professionals are now billed as topiary artists. One of this new breed of super-snippers is Darren Lerigo, who works on private gardens across the UK and beyond—including Charlotte Molesworth's extraordinary topiary garden in Kent—and next month travels to the Madoo Conservancy in the Hamptons to deliver a talk and workshop on tools, techniques, and topiarising with some hands-on clipping. For anyone who can't make it there in person, he's hosting an additional Zoom session on May 12, which happens to be World Topiary Day. For Lerigo, there are some key shifts in how we are using topiary in gardens—and also how we can make it more sustainable.
Photography by Clare Coulson, unless otherwise noted.
Think outside the box.
Along with yew, boxwood has long been the preferred evergreen plant for clipping, but box blight (along with the more problematic box caterpillar) has caused devastation across Europe and has now been spotted in several states in America, too. Lerigo advises a more adventurous approach using other clippable forms such as hebes, rosemary, and lonicera pileata. Whatever you are clipping, take your time: "I liken clipping a box ball to what Anne Lamott called the 'shitty first draft'," he says. "You just clip it all over, take the weight off. Then you have to do a second, third, and probably a fourth 'draft' to make it look beautiful, cared for, and 'well clipped'." But the making of a new shape, or renovation of an old one, is why I love topiary—you have your ideas about what you want to make, but you don't have complete control of what it may become. A branch may die, or break, or be nibbled or struck by lightning…. and you have to adapt.
Embrace deciduous plants.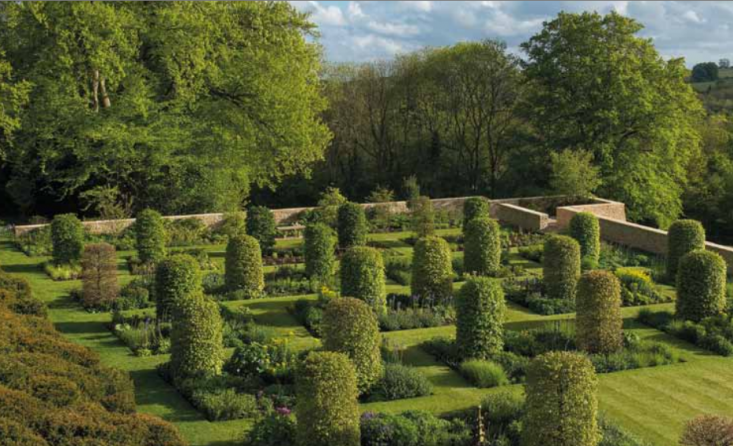 But how about ditching the traditional evergreens altogether? For Lerigo, native deciduous trees and shrubs can be a more interesting addition to the garden and they look more natural in a landscape, too. Hornbeam and beech, which cling to their russet leaves in autumn can be stunning in topiarised form, especially if you position them so that they will be backlit to accentuate their forms in winter. But deciduous trees such as Hawthorn provide more seasonal variation as well. "There's blossom in spring, haws in autumn, the crown of thorns in winter that birds have nested in, the character in the trunk all through the year," he says. "But any deciduous tree will work—all you have to look for is an ability to sprout again because they come back, so you can't go wrong… it wants to grow."
Consider contrasts.
Almost any topiary is improved by contrast, whether it's in size, shape, texture, light. "You could use the same shape all the way along a border, or around the garden—say, a clipped blob 3 feet high—but keep changing up the plant you use," suggests Lerigo. "Pittosporum in one bed, then boxwood in another, then yew, then hebe, then rosemary by the patio…. the eye notes the repetition of shape, of form, but can find a thrill in the different leaf.. it will feel as if the border has movement rather than stasis. This is all for investigation. Topiary is more than a physical act, it is a creative one."
Topiary can connect your garden to the landscape subtly by echoing forms in the near and far distance. Or if can provide a dramatic counterpoint. "I planted a large number of trees on a new project in Hertfordshire last autumn—an orchard of magnolia, which will be left unpruned, and then a number of native deciduous plants including hawthorn, spindle, oak, birch and hornbeam in the garden," explains Lerigo. "The natives closer to the house will be topiarised, while further away as you head towards the fields beyond, the trees will volunteer their own shapes, driven by their own habit and style. So you get a contrast from 'man-made' to natural as you move away from the house."
Sharpen your tools.
Clipping well is made easier with sharp tools. Lerigo uses Okatsune shears for his topiary sourced from Niwaki, and suggests a pair of secateurs and good string (never wire) are the only tools you'll need. "Getting lost in finding the right tool is fun, but it is stalling you from the best part—having to commit to making something and dipping into your imagination and personality to work out what you will make."
Take your cultural vitamins.
Lerigo, who originally studied theater directing and worked as a playwright (and stints as a "terrible" stand-up) but gradually fell into topiary full time, believes in "cultural vitamins," a phrase from one of his early mentors Annie Castledine. It means that what you are looking at, reading, watching, and soaking in from the world will in turn influence what you create. "I think the wider your cultural vitamins the better your topiary can be… because you will be more open to explore new shapes, or investigate how to use a particular leaf, what it might offer you as an advantage when adding 'green architecture' to a garden….And so topiary stays relevant, and useful, and worthwhile."
For more information on commissions and Darren's work see Modern Mint. 
For more on topiary, see:
(Visited 253 times, 2 visits today)