Urban gardener fantasy: If only you could take a train to the edge of the city to reach your own personal edible garden, already planted by farmers who also hang out on the weekends to give you advice and tools to tend your plot.
In Germany, this is not a fantasy. On the outskirts of 16 cities, fields have been neatly divided into 1,600 family size gardens, which you could rent for a season for prices ranging from $230 to $430, depending on how big a plot you wanted. The company behind this is Meine Ernte, which translates to "my harvest." Four years ago co-founders (and city dwellers) Natalie Kirchbaumer and Wanda Ganders had an epiphany—over a takeout meal—that their lives were missing meaning without a connection to the land or an ability to grow their own food. A lot of other city dwellers had the same yearning, it turns out. "They arrive in leather shoes, which they learn to trade for rubber boots," says Kirchbaumer. "They start out with questions. For example, 'Which is the weed and which is the vegetable?' "
Photographs via Meine Ernte.
Above: All the gardens are planted with the same 20 vegetables and flowers, including cabbage, carrots, broccoli, cauliflower, onions, and potatoes.
Above: A zucchini blossom flourishes on the the outskirts of Berlin. Other Meine Ernte locations include Hamburg, Aachen, Hanover, Koln, and Muenster.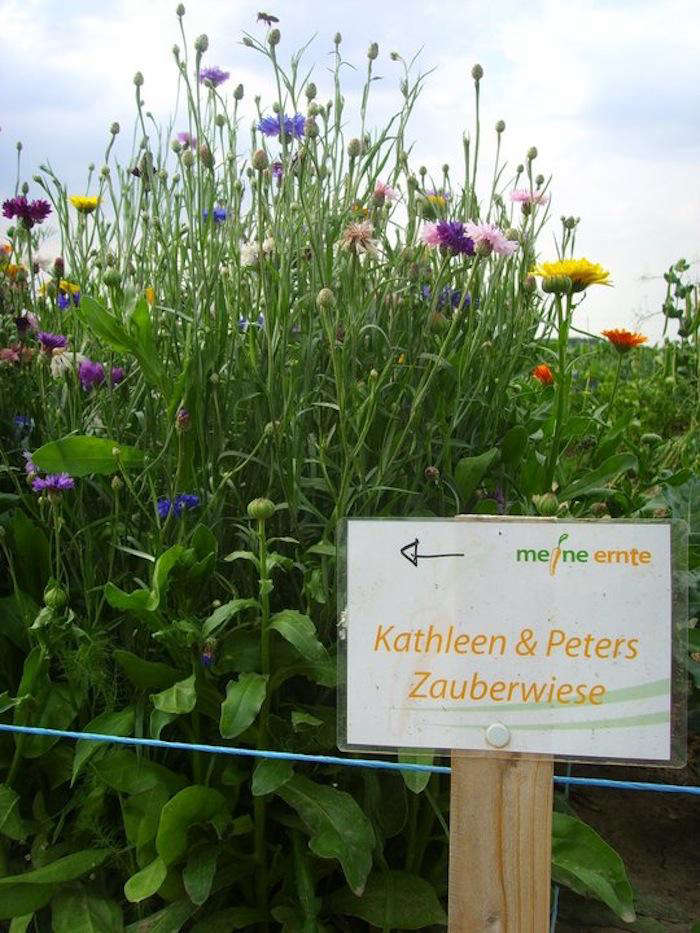 Above: Each plot is marked with names of its owners, who are responsible for weeding, watering and harvesting their pre-planted crops.
Above: Gerbera daisies and other flowers are among the crops in each garden plot. Tools, available for use during the season, are kept in a shed where you can also seek shelter in case of rain.
Above: Meine Ernte co-founders Natalie Kirchbaumer (L) and Wanda Ganders at a Meine Ernte field near Dortmand.
(Visited 123 times, 1 visits today)