We spotted a most springlike winter kale salad via our friends Nathalie Myrberg and Matilda Hildingsson, the Swedish graphic design team (and excellent cooks) at Babes in Boyland.
They've created visual step-by-step instructions for making it (see below) and offer this explanation for how they came up with the recipe: "Black and red cabbage, beetroot, orange, apple and pomegranate are some of the great vegetables and fruits that are in season right now. Perfect ingredients for a winter salad. The salad can vary, of course, depending on which vegetables and fruits you have at home and what you like."
See below for a list of ingredients:
Photographs courtesy of Babes in Boyland.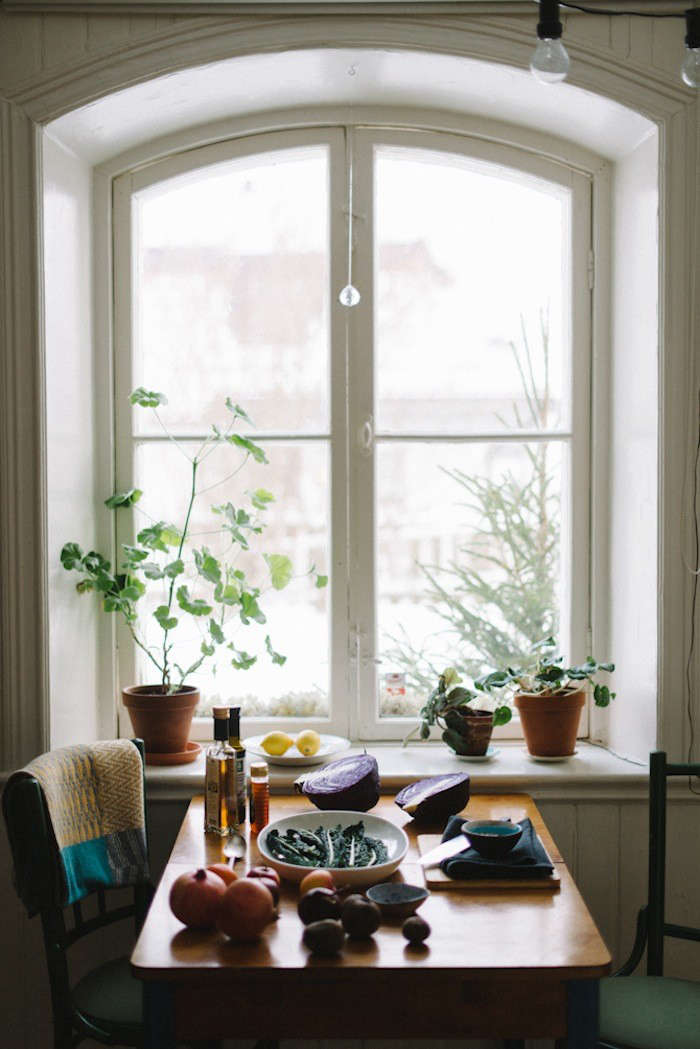 Above: "The different tastes blend well together, especially the sweet beetroot with salt feta cheese and honey," say Nathalie and Matilda. "The oranges and the pomegranate give the salad a freshness. The cabbages and the baby spinach are full of good stuff."
Above: Kale and apples are key ingredients.
Above: Core and thinly slice apples. Cut slices in half.
Above: Tear kale into bite-size pieces.
"Buying organic groceries can feel obvious for most, but it's absolutely something worth mentioning. For us it's a given, both for the environment and our bodies' sake," say Nathalie and Matilda. "So let's boycott the fruits and vegetables with creepy chemicals and enjoy some real food in a reinforcing salad."
Above: Slice a head of purple cabbage in half.
Above: Slice the halves in half, and then tear apart gently into bit-size pieces.
Above: Cut red onion in half and slice thinly.
Above: Peel oranges and slice thinly.
Above: Cut a pomegranate in half and separate seeds from the pith; add seeds to salad.
Above: Peel a beet and slice thinly.
Above: Sprinkle feta cheese on top.
Winter Salad
Serves 4
Ingredients:
(Quantities may vary to taste)
Kale
Purple cabbage
Baby spinach
Red cabbage
1 red onion
1 apple
1 orange
1 beetroot
1 pomegranate
Feta cheese
 For serving:
Pumpkin seeds
Balsamic vinegar
Olive oil
Salt and pepper
Finally, get more ideas on how to successfully plant, grow, and care for kale with our Kale: A Field Guide.
Interested in other edible plants for your garden? Get more ideas on how to plant, grow, and care for various edible plants (including flowers, herbs and vegetables) with our Edible Plants: A Field Guide.
You need to login or register to view and manage your bookmarks.